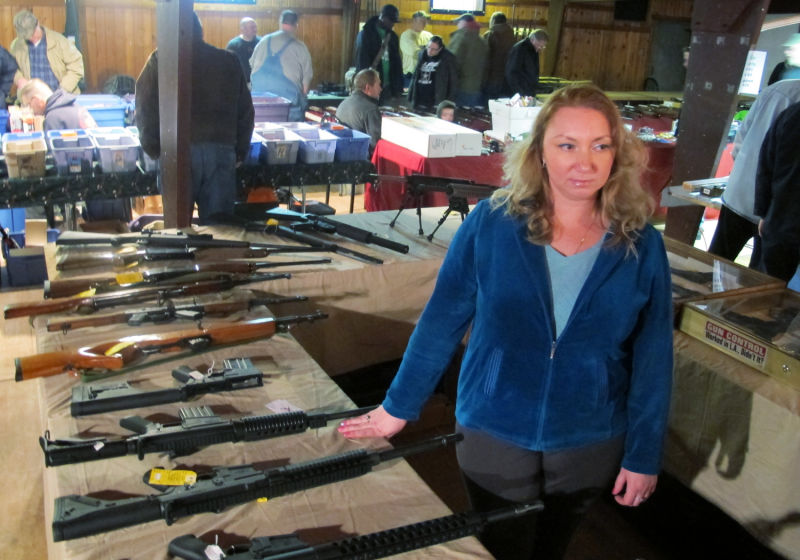 Wisconsin Democratic lawmakers, law enforcement officials and victims' families on Thursday called for criminal background checks for gun buyers.
The group unveiled a proposal at a state Capitol news conference that would prohibit people from selling or transferring firearms unless transactions occur through a federally licensed firearms dealer and involve background checks of prospective buyers.
The draft bill, sponsored by Rep. Jon Richards, D-Milwaukee, Rep. Terese Berceau, D-Madison, and Sen. Nikiya Harris, D-Milwaukee, would cover transactions at gun shows and flea markets, on the Internet, and between individual owners.
Current federal law does not regulate private transactions, but does require background checks for people who purchase weapons from federally licensed firearms dealers.
Dane County Sheriff Dave Mahoney, Milwaukee Police Chief Edward Flynn, Milwaukee Mayor Tom Barrett, Elvin Daniel, whose sister Zina was shot and killed by her estranged husband at a Brookfield spa five months ago, and others joined the lawmakers to urge the Legislature to pass the bill.
A spokesman for Senate Majority Leader Scott Fitzgerald, R-Juneau, indicated he would not join Democrats in pushing for the bill's passage in the near future.
You have free articles remaining.
"Most state legislatures would be wise to hold off on any legislation until we know what the federal government plans to do," Fitzgerald spokesman Tom Evenson said.
Republican leaders, including Gov. Scott Walker and Assembly Speaker Robin Vos, R-Rochester, have focused on addressing mental health issues rather than calling for gun control measures. Walker also proposed a measure requiring that some people who have domestic violence restraining orders issued against them be placed under GPS monitoring.
But Daniel and other advocates for the bill stressed the urgency of requiring background checks.
"I truly believe in the bottom of my heart that had there been a universal background check done back then, there's a pretty good chance that my sister Zina would still be with us this day," Daniel said.
His sister had received a restraining order against her husband, which prohibited him from buying a gun from a dealer, but that didn't stop him from purchasing one from a private seller.
Supporters of the measure include Madison Mayor Paul Soglin and Madison Police Chief Noble Wray, who said Thursday he hopes action is taken on the federal level, but that the state shouldn't wait to close gun loopholes.
The bill would make some exceptions, including for sales or transfers to firearms dealers and gifts to family members.