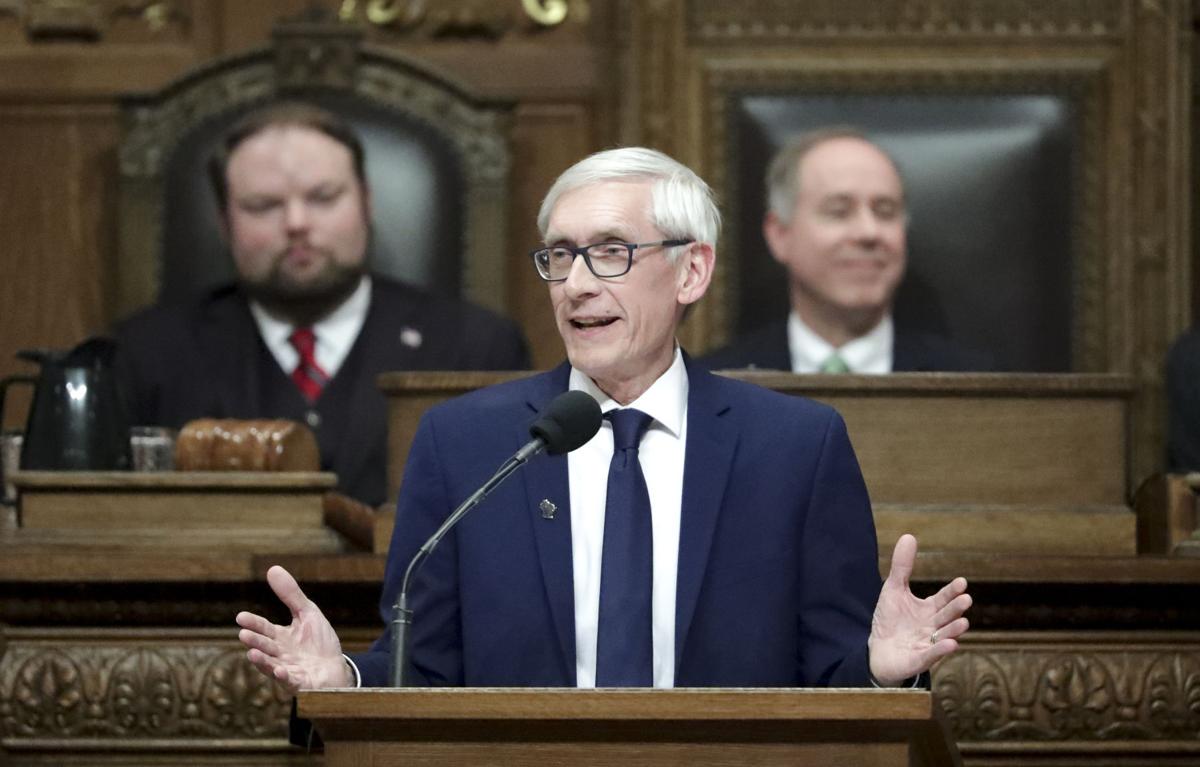 Gov. Tony Evers on Tuesday vetoed a number of bills authored by Republicans that would have placed new restrictions on Wisconsin voters after former President Donald Trump's election loss last year.
The bills would have made significant changes to Wisconsin elections, such as requiring most people who are "indefinitely confined" — unable to get to the polls by themselves — to provide a photo ID to vote. The legislation would also have required all people who vote absentee to present a photo ID every time they vote, not just the first time.
GOP lawmakers have said their election bills would help build trust in elections, but they were panned by Democrats and many other organizations, including disability rights advocates. Some of the measures failed to get full Republican support.
Through the legislation, Republicans sought to prohibit or otherwise limit a number of election practices used in the November 2020 election that they believe were either unfair or undermined public trust, including private election administration grants to certain cities and Madison's Democracy in the Park absentee ballot collection event.
President Joe Biden won Wisconsin by about 20,000 votes — a similar margin to Trump's 2016 win. There is no evidence of widespread fraud and courts have rejected several lawsuits filed by Trump and his allies attempting to overturn the outcome.
Despite that fact, Wisconsin Republicans have launched several investigations, costing at least tens of thousands of dollars, into the election. On Friday, the Assembly's elections committee chair sent Milwaukee and Brown counties subpoenas for election materials, but it's unclear whether they are legally valid.
Evers on Tuesday said he would advise Milwaukee and Brown counties not to comply with the subpoenas.
"My advice to them would be to get legal counsel and this will likely end up in court," Evers said.
Highlighting the importance that Democrats have placed on blocking Republican attempts to change election laws, Evers signed the vetoes at a news conference, as opposed to in private, as is typical for most vetoes.
The bills Evers vetoed Tuesday follow efforts from Republicans across the country to limit in-person and absentee voting in dozens of states.
"When I ran for this office, I pledged to work to protect the right of every eligible person to vote. That's what I'm going to do here today," Evers said. "They're trying to make it harder for every eligible person to cast their ballot."
The six GOP-authored bills Evers vetoed would have imposed a litany of restrictions on voters and elections administration. Among them were measures restricting who can return an absentee ballot on behalf of a voter, limiting the use of indefinitely confined status when applying for absentee ballots, and prohibiting clerks from correcting minor errors on absentee ballot application materials.
Republican leaders slammed Evers for vetoing the bills.
"The governor is making another momentous mistake with his veto pen," Assembly Speaker Robin Vos, R-Rochester, said in a statement. "While he claims these bills are 'anti-democracy,' his actions speak louder than words. He is satisfied with the status quo and refusing to improve future elections. These bills closed loopholes, standardized procedures, established uniformity, guaranteed only the voter can correct their own ballot and protected votes of seniors in long-term care."
Senate Majority Leader Devin LeMahieu, R-Oostburg, said Evers is "standing in the way of restoring the trust in our process that has been lost."
Ballot collection
One of the bills took aim at absentee ballot collection events used during the 2020 election, such as Madison's Democracy in the Park, in which more than 10,000 absentee ballots were collected by city election officials.
The bill would have restricted such events to occurring as close as possible to the local clerk's office, required the clerk or local election officials to staff the event, and prohibited absentee ballot collection events from occurring before the in-person absentee voting window, which is generally two weeks before Election Day.
Madison's absentee ballot collection event happened before that window.
The bill also would have restricted which people can return an absentee voter's ballot. Under the bill, only the voter, voter's legal guardian, immediate family member or a designated Wisconsin registered voter would be allowed to return an absentee ballot. The bill would make it a felony for anybody else to return an absentee ballot on behalf of a voter.
Absentee voting
Another bill would have placed a number of new restrictions on voting absentee. Current law requires most absentee voters to provide a photo ID the first time they apply to vote absentee, but the bill Evers vetoed would have required it for each election and associated primary.
It would also eliminate the photo ID exemption provided to indefinitely confined voters, and indefinitely confined voters would be limited to automatically receiving absentee ballots for the calendar year, not indefinitely.
The bill would also eliminate the option to have ballots automatically sent for the calendar year, requiring delivery be renewed for each election and associated primary.
Last year, the Wisconsin Elections Commission sent nearly 3 million eligible Wisconsin voters absentee ballot request forms, but the bill would have prohibited the commission from doing that again.
After last year's presidential recount in Dane and Milwaukee counties left some Republicans complaining about not being able to observe the recount closely enough, one of the bills Evers nixed would have mandated that recount observation areas be placed within 3 feet of tables where ballots and other election-related materials are being examined.