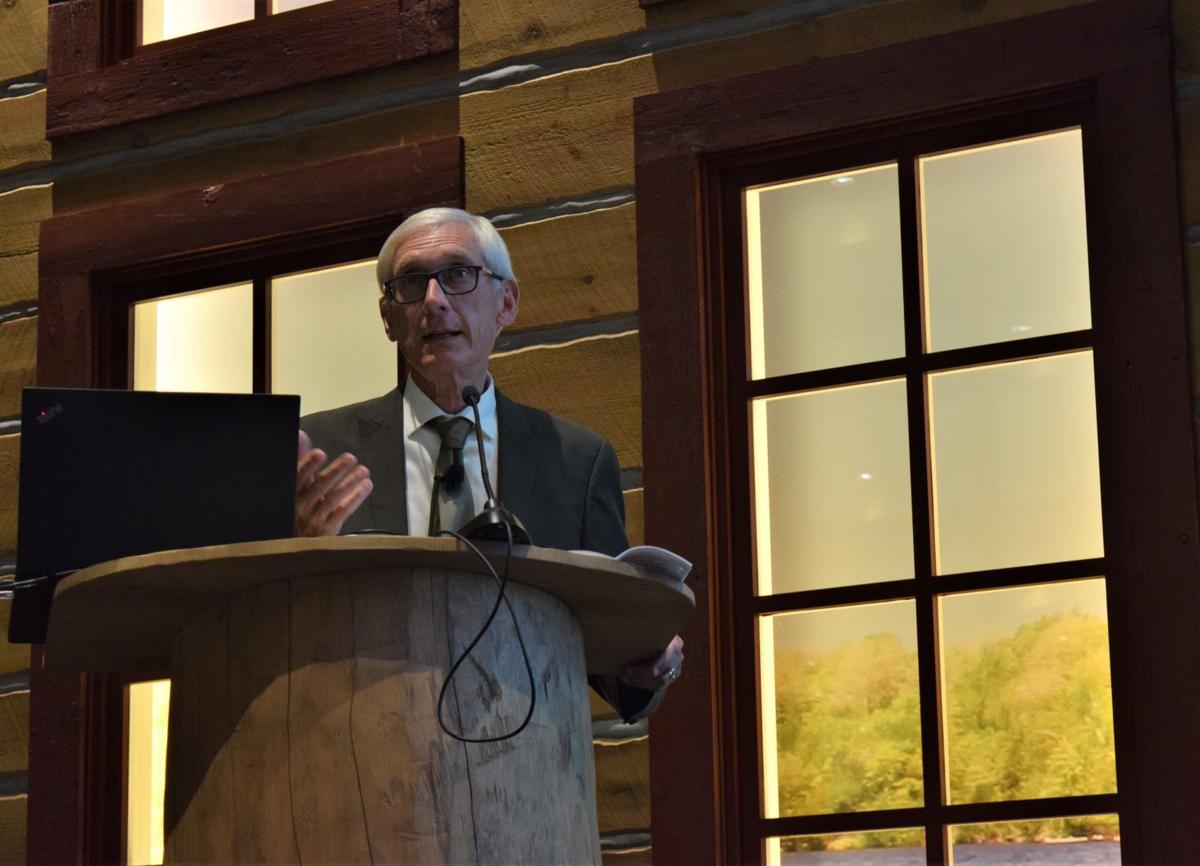 Despite having his efforts stricken from the budget earlier this year, Gov. Tony Evers has pushed forward his plan to have Wisconsin utilities carbon-free by 2050.
Describing it Friday as "an important first step," Evers — joined by Lt. Gov. Mandela Barnes and Public Service Commission Chairwoman Rebecca Valcq — signed an executive order for the Department of Administration to create the Office of Sustainability and Clean Energy. The office will be charged with working with other state agencies and utilities to achieve carbon-free energy within the state by 2050.
"For far too long, clean energy has not been a priority in our state, and we're going to change that," Evers, a Democrat, said during a news conference. "The bottom line is this: Economic development and protecting our environment are not mutually exclusive. They should be working in tandem."
Evers first proposed carbon-free electricity in this year's budget, but the item was stripped out by the Legislature's Joint Finance Committee.
Officials did not have specifics on the number of staffers or cost associated with the new sustainability office, but said resources will be reallocated, primarily from the DOA office. Barnes will lead the office.
The executive order is not a mandate, but Evers said he is confident the office will work with utilities to achieve its goal.
Valcq said officials will closely monitor the costs associated with transitioning away from fossil fuels into a larger renewable portfolio of wind and solar energy.
"As new capital investments are made in new (energy) generation, that's also going to have ratepayer impacts," Valcq said. "We have to look at this very carefully, and we at the PSC understand that everything that is going to be occurring between now and 2050 will have a customer impact ... and we are ready and willing to find all sorts of different solutions."
Tyler Huebner, executive director of Renew Wisconsin, a nonprofit organization pushing for more renewable energy in the state, said the cost of utility-scale renewable energy has dropped — by nearly 90 percent for solar energy and almost 70 percent for wind — over the last 10 years.
"Utilities across America and in Wisconsin are finding that it is less expensive to build new solar and wind energy facilities than it is to keep operating some existing coal power plants," Huebner said in an email. "If the cost of solar and wind continue to decline, a transition to 100% clean energy could also be a boon to customers."
Xcel Energy last year became the nation's first major utility to announce plans to eliminate all carbon emissions by 2050.
In May, Madison Gas & Electric Co. set a goal to eliminate or offset all carbon emissions from the power it sells by 2050. Officials with the investor-owned utility said reaching "net-zero carbon" electricity would require considerable technological upgrades.
In addition, investor-owned utilities We Energies and Alliant Energy also have pledged to cut their carbon emissions 80 percent by 2050.
A handful of states including California, Hawaii and Washington, along with Washington, D.C., and Puerto Rico, have enacted 100 percent clean or renewable energy standards by 2050 or sooner.
Rep. Mike Kuglitsch, R-New Berlin, and chairman of the Committee on Energy and Utilities, was not available for comment.
Get Election 2020 & Politics updates in your inbox!
Keep up on the latest in national and local politics as Election 2020 comes into focus.