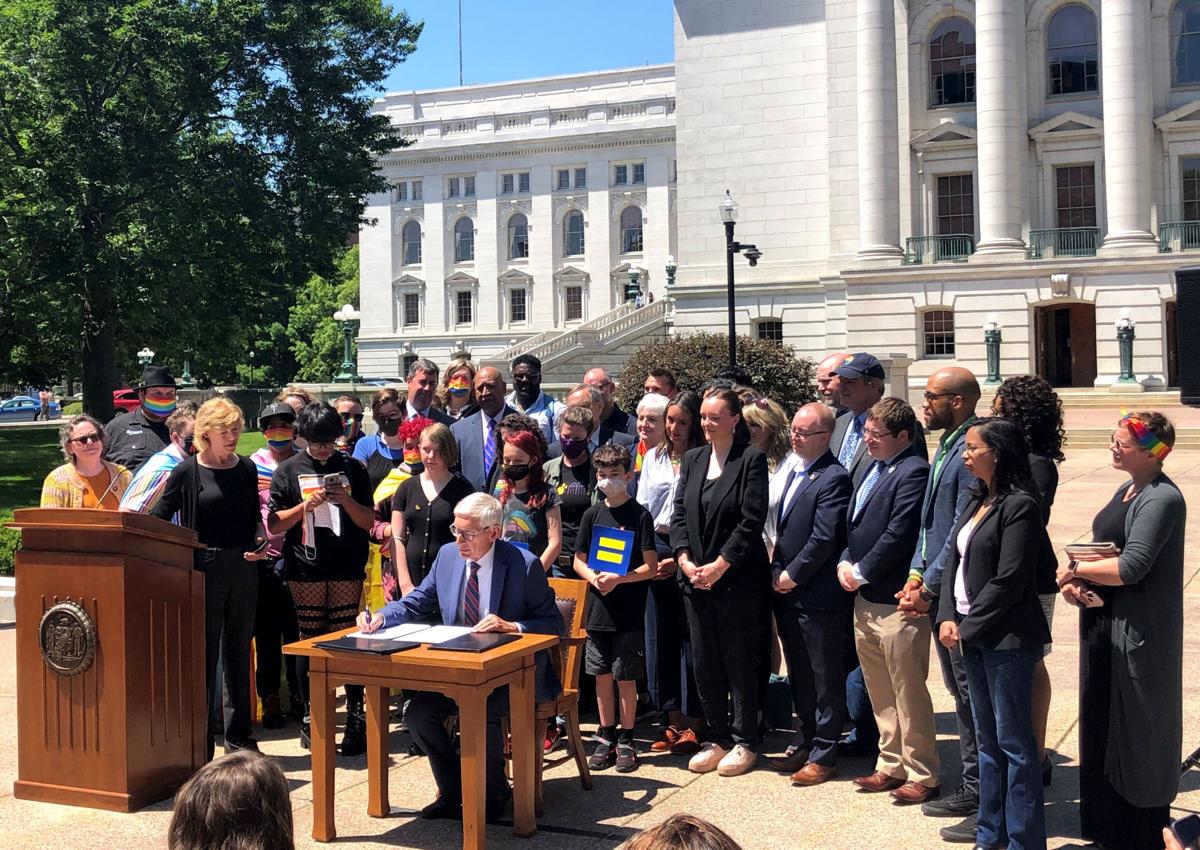 Gov. Tony Evers said Tuesday he is considering vetoing the entire state budget after Republicans voted to authorize less than a tenth of the K-12 education funding he requested, a move that put $1.5 billion in federal education funds at risk.
Also, at his administration's third annual raising of the gay pride flag at the state Capitol, Evers signed a host of pro-LGBTQ executive orders and signaled he would veto a pair of Republican-authored bills that would ban transgender girls from K-12 and college girls' sports.
Evers said he's keeping a full veto of the GOP-authored state budget on the table if Republicans don't provide enough funding to qualify for the federal education money.
The $128 million in K-12 funding Republicans have allocated in their budget proposal isn't enough to qualify for the full $1.5 billion in education funds in the latest stimulus package. In order to qualify, the state's nonpartisan Legislative Fiscal Bureau estimates the state would need to increase the funding from the current budget by at least $387 million over the next two years.
"That's too early to tell, but that is always an option," Evers said. "That is on the table."
Republicans have also allocated $350 million in their budget to the state's rainy day fund that could potentially be directed toward education, but it's not guaranteed to be tapped. On Friday, the U.S. Department of Education said simply putting that money aside won't help qualify the state for federal education funds if it's not directed toward K-12 education.
"I'm asking them to invest more," Evers said. "What the Republicans have put forward is not only inadequate, but even if they meet those federal guidelines, it's an inadequate response."
In a statement, Assembly Speaker Robin Vos, R-Rochester, said the Republican budget, if accounting for the rainy day fund allocation and the more than $2 billion in federal stimulus for education, is four times larger than the increase approved in the last budget.
"Given this massive amount of money, issuing veto threats before even sitting down to negotiate with the Legislature shows his inability to lead and his willingness to score political points using our kids and tax dollars as pawns," Vos said.
But under the budget committee's action, the $350 million allocated to the rainy day fund isn't guaranteed to go toward education, and the state may not see all of the federal education stimulus dollars it was supposed to receive because the GOP funding commitment may be too low.
The two-year budget Evers signed in 2019 provided an increase of more than $550 million for K-12 education.
Two years ago, during debate over his first budget, Evers left open the possibility of a full budget veto, which hasn't happened since at least 1931. Ultimately he signed the bill with 78 partial vetoes.
LGBTQ flag
For the third year in a row, Evers, flanked by Democratic lawmakers, advocates and LGBTQ children, signed an executive order authorizing the gay pride flag to be raised above the state Capitol in June and allowing it to be flown at other state buildings and local government institutions across Wisconsin.
"In addition to celebrating the resiliency and joy of the LGBTQ community, Pride also offers an opportunity for us to reflect on how the state and our communities can be better allies," Evers said in a statement. "These executive orders today recognize the work we have to do as a state to protect, support, and celebrate all LGBTQ Wisconsinites, especially our kids, and ensure our state is a safe, inclusive and just place where every person has the resources and support to thrive."
Besides authorizing the pride flag to be raised, Evers signed two executive orders directing state agencies to use gender-neutral language in their external communications and blocking any future state or federal funding from being used for the discredited practice of so-called "conversion therapy" for LGBTQ minors.
One of the orders will direct state agencies to use gender-neutral language whenever practicable in external documents, which includes not only using gender-neutral terms but also drafting to eliminate the need for pronouns and omitting superfluous gendered words.
Evers said he's not aware of any state or federal funds currently being directed toward the practice of conversation therapy for LGBTQ youth but said the measure is meant to prevent it. The executive order requires the Department of Health Services, which oversees the state's Medicaid program; Department of Corrections; and Department of Children and Families to "expressly disallow" payment of state and federal funds allocated for conversion therapy for minors.
Trans athletes
Evers also indicated he would veto a pair of Republican bills that would ban transgender athletes from participating in girls and women's sports at the K-12 and college levels. The bills received public hearings last week.
"I can tell you one thing for sure," Evers said. "As governor, I will veto any bill that's going to negatively impact our kids, period. In fact these sorts of harmful bills and hateful policies are 'solutions' in search of problems that don't exist. They're based on some hypothetical stories about somebody else, someplace else, rather than the evidence right in front of us and the harm they can do to LGBTQ kids, neighbors and loved ones."
Proponents of the bills say the measures, which mirror ones passed by other Republican-led states, would help maintain women's equality in sports carved out by 1972's Title IX, which gives women athletes the right to equal opportunity in sports in educational institutions that receive federal funds.