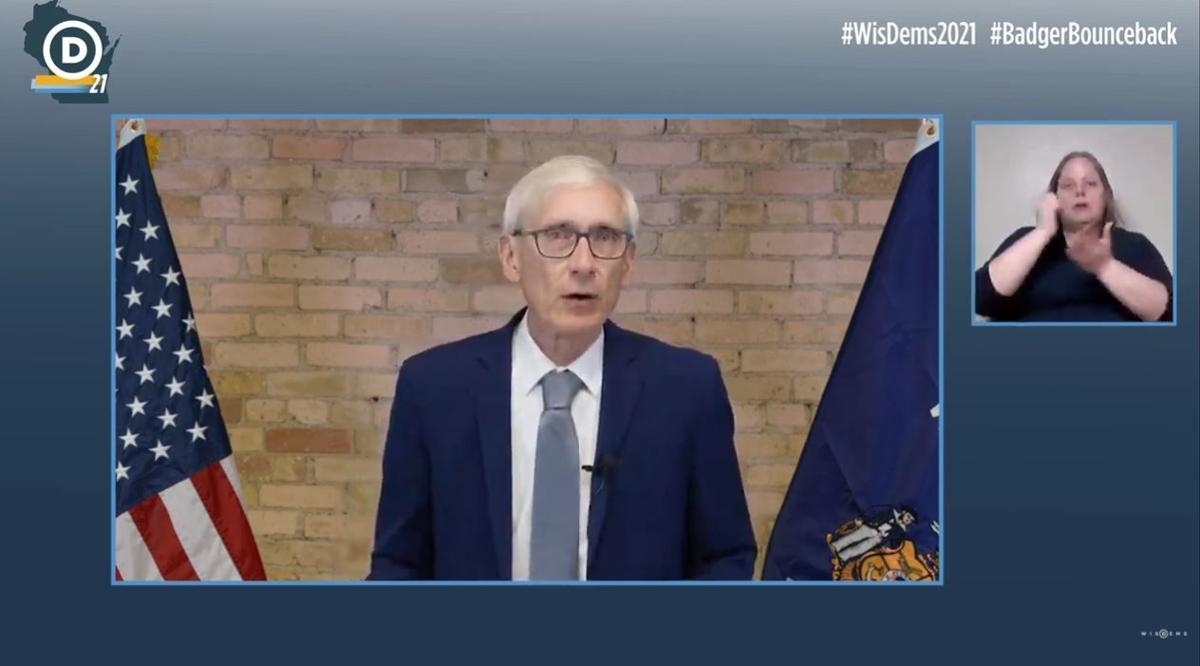 In an expected move, Gov. Tony Evers on Saturday announced his bid for reelection at his party's annual convention online, officially kicking off a gubernatorial race that will put the state Democratic Party, emboldened by a recent presidential victory, to the test.
The midterm elections about 1½ years away will present a significant challenge for the party, which will face the stark realities of off-year elections, when the party not in the White House tends to pick up seats.
In announcing his bid for 2022, Evers coined himself "the real education governor" and underscored the high stakes of the election, listing off a litany of Democratic priorities, such as protecting a woman's right to an abortion, safeguarding protections for preexisting conditions in health care, acknowledging climate change and defending American democracy.
Before winning election as governor, Evers served as the state superintendent and knocked former Republican Gov. Scott Walker for coining himself as a "pro-education governor" during his unsuccessful reelection bid in 2018.
"Wisconsin, I'm in. I'm running for re-election," Evers said. "We've accomplished a lot in the last few years, but we're just getting started. We have more work to do, together.
"This is the moment where we can choose to fix the big problems in Wisconsin and bounce back stronger than ever before. That means doing what's best for our kids, creating good-paying jobs, fixing our infrastructure, supporting small businesses, and making sure everyone has access to quality, affordable health care — all the things we want for our state."
Evers said he'd work over the next election cycle to keep veto authority in Democratic hands, a power he's used to stop Republican attempts to limit abortion access, cut income taxes and direct stimulus funding.
"They've taken me to court, they've jeopardized federal relief, they've gutted our budgets, they've tried to override my vetoes — and failed every time, by the way — and they're going to continue playing politics with our recovery and doing what's best for our state," Evers said.
Evers said Democrats aren't just fighting against the threat they believe Republicans pose to the nation, but are also presenting a positive vision for the future, emphasizing economic and racial equality, and good health care and infrastructure.
Evers highlighted a few of his perceived strengths: amending the Foxconn economic development deal, dropping the state's involvement in a lawsuit against the Affordable Care Act and helping protect women's health care. Democrats also championed the economic relief provided through the American Rescue Plan, the nation's vaccination campaign and the state's reopening from the pandemic.
Evers and other Democrats railed against Republicans, and said they will present a significant challenge in 2022.
"We know Republicans aren't going to make this easy," Evers said. "The one predictable thing about this pandemic — and heck, ever since November of 2018 — is that Republicans will do everything in their power to stop our success, to keep us from getting things done, to keep Wisconsin headed in the right direction."
Republicans railed against Evers' entry into the race.
"Over the past three years, Wisconsinites have suffered the consequences of an administration fraught with mismanagement, incompetence and a governor who has been asleep at the wheel," said Republican Party of Wisconsin chairperson Andrew Hitt in a statement.
"Tony Evers had no plan to handle unemployment claims after shutting down our state's economy, no plan to address the violence in Kenosha after refusing federal assistance, no plan to reopen schools while students were struggling, and now has no plan to address the labor shortage while business owners are begging him for help. Evers has nothing to run on except a record of abysmal failure and absent leadership."
Challenges ahead
Evers will face a number of challenges in his reelection bid, chief among them the lessons of political history, which indicate Democrats will have a hard time maintaining power statewide in 2022.
Another potential complication in the race is whether Evers' lieutenant governor, Mandela Barnes, will join him in his reelection campaign or dive into the already crowded Democratic primary for U.S. Senate. During his convention speech Saturday evening, Barnes didn't indicate which path he intends to take.
Republicans also point to what they view as a legacy of failure that Evers embodies heading into his reelection. In particular, they point to severe delays in getting unemployment benefits to out-of-work Wisconsinites during the worst of the COVID-19 pandemic, and blame him for the damage wrought by riots in Kenosha last summer.
They also criticize Evers for a pandemic mitigation plan they charge was ineffective and that kept schools closed for too long.
"His only record of accomplishment is he's really good at blaming Republicans," Hitt said.
Talking points
During the convention, however, Democrats countered that they've led a state that is a leader nationwide for the vaccination rate, and are pushing an agenda that prioritizes health care, education, compassionate immigration policies and justice for all.
During his time in office, Republicans have blocked much of his agenda, but Evers during the last budget cycle said he still helped push forward Democratic priorities, particularly an increase of more than $550 million in funding for K-12 education, despite a Republican-controlled Legislature.
Evers has so far failed to gain Republican support for some of his chief policy items, which include expanding the state's Medicaid program to cover more low-income Wisconsinites and legalizing marijuana.
During this year's budget negotiations, however, Republicans are giving Evers very little of what he requested, for instance, just a tenth of his funding request for K-12 education. Evers has said a full budget veto is still on the table.
No Republicans have officially announced a gubernatorial bid, but there are several in the potential lineup, including former Lt. Gov. Rebecca Kleefisch, former Marine Kevin Nicholson and lobbyist Bill McCoshen, who also served in former Republican Gov. Tommy Thompson's administration.
The money game
Democrats are headed into the 2022 election cycle better positioned financially than Republicans, though Democrats say they believe the GOP won't have any trouble raising money for the midterms.
Political strategists say each party's financial position is only one component of a successful election effort, and Republicans add that they believe they have an advantage in the quality of their candidates.
Even though Republicans may benefit from the political environment in the midterms, they, too, face problems down the road, particularly a decline in support in the Milwaukee suburbs that Democrats believe may be permanent.
Democrats during the first day of their convention Saturday invoked a celebratory mood that also edged into darker rhetoric at times underscoring the threat Democrats believe the GOP presents to the nation's democratic system, specifically Republican bills that would place some new limits on voting in a number of states and the "Big Lie," a reference to former President Donald Trump's false claims about widespread fraud in the presidential election.
"The danger that is posed from the big lie isn't simply a danger to Democrats, the big lie possesses a danger to democracy itself," said Attorney General Josh Kaul. "It is about shifting power from people to politicians."