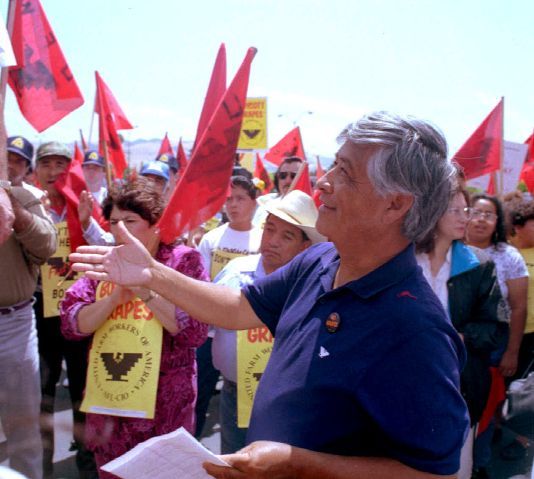 Gov. Scott Walker has quietly endorsed a Democratic bill honoring civil rights activist and labor leader Cesar Chavez — a move already drawing skepticism as being politically motivated.
The bill, sponsored by Rep. Jocasta Zamarripa, D-Milwaukee, would require state agencies to designate March 31 as Cesar Chavez Day and give state employees the option of taking a paid day off in lieu of another paid holiday. California, Colorado and Texas have passed a similar law.
Zamarripa said Walker shared his support for the bill during a Jan. 29 private meeting to discuss three bills she has been working on for the past year. Zamarripa asked Walker if she could share his support publicly and he said she could.
"Absolutely there's a political plus for him," Zamarripa said. "But I'll take it. It's important for us to lift up the fastest-growing constituency in our state."
The other two bills would allow immigrants who have entered the country illegally to obtain Wisconsin driver's licenses and, if they meet certain criteria, to pay in-state tuition at state universities and technical colleges. Zamarripa said Walker did not express support for those bills.
Walker spokesman Tom Evenson confirmed that Walker gave support for the Chavez bill, though he noted it was Zamarripa who publicized that information.
"He said it would be fine with him as long as it didn't cost the state any money," Evenson said.
Rep. Mandela Barnes, D-Milwaukee, chairman of the Legislature's Black and Latino Caucus, said Walker's support for the bill may be an attempt to court Latino voters as he faces re-election in November and considers a possible presidential run in 2016.
"The last election shows that's a very important demographic," Barnes said about Latino voters heavily favoring Democrats in the 2012 presidential election. "If you want to run in a nationwide election, you would need that kind of support."
Barnes likened the move to Walker promoting the Transform Milwaukee urban renewal initiative and discussing the issue of black male unemployment a month before he faced a recall election in 2012.
Ivan Gamboa, state Hispanic outreach coordinator for George W. Bush's 2004 presidential campaign, said if Walker and Republicans are sincere about courting Latino voters, they would need to do more than create a state worker holiday honoring Chavez. That would mean supporting driver's license and in-state tuition reforms like those proposed by Zamarripa, he said.
Gamboa has supported Walker in the past but did not support Mitt Romney's 2012 presidential bid because of his position on immigration reform.
"Gov. Walker has long personal ties to the Hispanic community for many years from his work as county executive here in Milwaukee," Gamboa said. "The governor is well-positioned to increase Hispanic turnout for the GOP."
Zamarripa said she has not received much Republican support for her bills. Rep. Garey Bies, R-Sister Bay, is a co-sponsor of the driver's license bill, but there are no Republican co-sponsors of the Chavez bill.
Chavez, born on March 31, founded the United Farm Workers in 1962 and used nonviolent forms of protest to advocate for worker rights. His esteem among Latinos is similar to that of the Rev. Martin Luther King Jr. among African-Americans, Zamarripa said.
Walker has been lambasted by labor leaders for restricting public employee collective bargaining in Wisconsin, a move that triggered the bitter 2012 recall contest. Evenson said Walker "has always said that private-sector unions are partners in job creation."
Zamarripa said she asked Rep. Jessie Rodriguez, R-Franklin, the only other Latino serving in the Legislature, to sponsor the bills but was given an "emphatic 'no.' " Assembly Speaker Robin Vos, R-Rochester, also didn't express support for the bills when Zamarripa brought them up in a private conversation Tuesday night.
Neither Vos nor Rodriguez, who represents a district that is 85 percent white and declined to participate in the Black and Latino Caucus, responded to a request for comment.