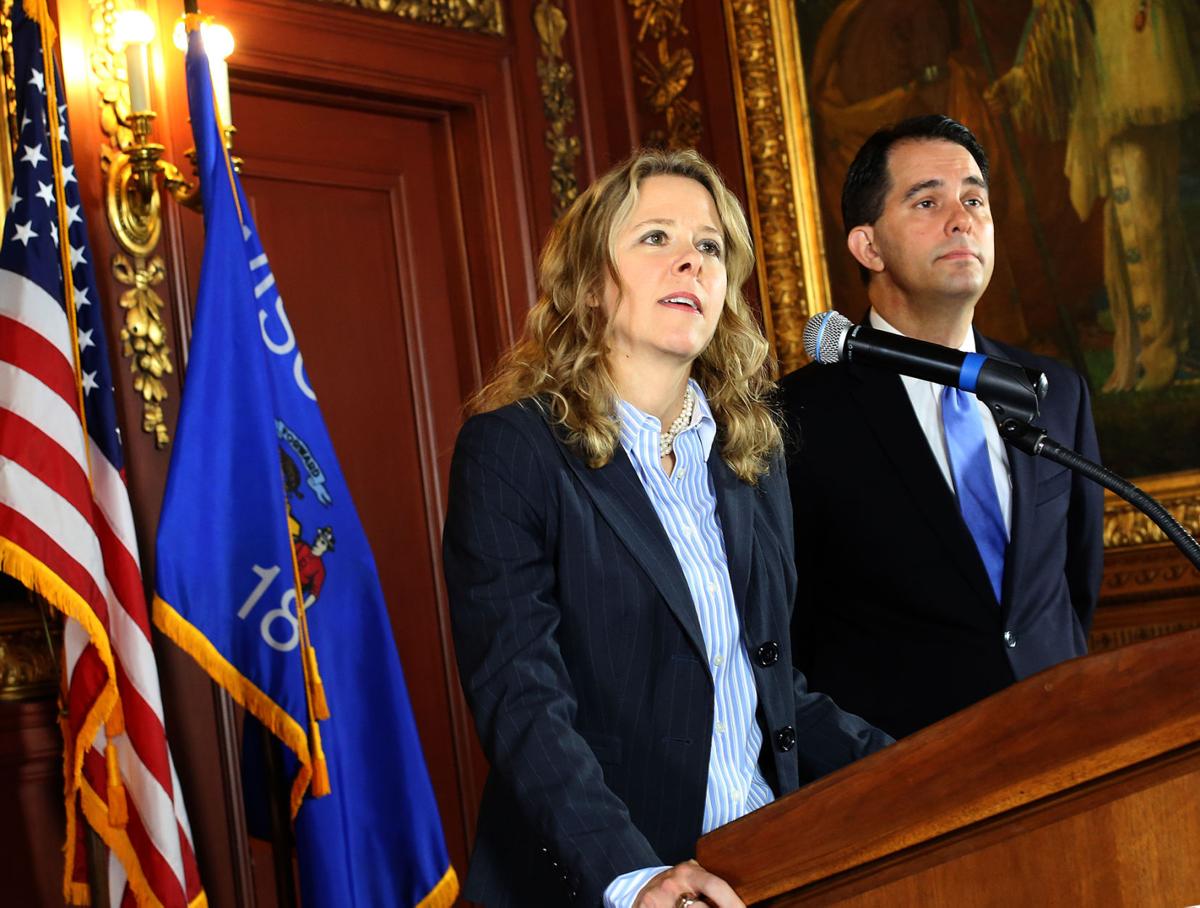 The state Republican Party is seeking campaign signatures on behalf of a Supreme Court justice candidate in a race that is officially nonpartisan.
State party chairman Brad Courtney in an email Tuesday asked supporters to collect at least 20 signatures for Justice Rebecca Bradley's campaign by Dec. 21 in order to put her name on the spring election ballot. Courtney also directs supporters to send the signatures to the party or to Bradley's campaign.
In the email provided to the Wisconsin State Journal by the campaign of Milwaukee Circuit Court Judge Joe Donald, who is also running for the high court, Courtney said, "we have the opportunity to elect a skilled and accomplished conservative jurist and true defender of the constitution."
Bradley was appointed by Gov. Scott Walker to the high court earlier this year after Justice N. Patrick Crooks died in September. Bradley had already announced her candidacy for Crooks' seat.
Courtney also said in the email Bradley "has already demonstrated herself to be a strong voice for conservatism on the court."
A spokesman for Donald said in a statement Wednesday it shows Bradley's coordination with a political party.
"The Bradley Campaign and the Republican Party are essentially one and the same," said Donald's campaign manager, Andy Suchorski. "Their goal is not to elect a fair, impartial justice to the Wisconsin Supreme Court. Rather, their goal is to ensure the election of Scott Walker's handpicked candidate, Rebecca Bradley, so she can advance their conservative agenda."
Suchorski said Donald's campaign hasn't received help from either state political party.
"We aren't coordinating with any political party and we don't plan to," he said.
Pat Garrett, spokesman for the state GOP, said in a statement that the party "is happy to support candidates, like Justice Rebecca Bradley, who are committed to upholding the rule of law and adhering to the Wisconsin constitution. The Donald campaign should be more concerned with following election law than pushing ticky-tack stories that just turn voters off."
Garrett's statement refers to a complaint filed by the GOP with the Government Accountability Board against Donald's campaign for passing out campaign literature at a judicial conference that did not disclose who paid for it.
A spokeswoman for Bradley's campaign said the justice has bipartisan support statewide.
"She has always maintained that it is essential to our legal system to have independent justices who will apply the law impartially and free of political agendas," spokeswoman Madison Wiberg said. "Justice Bradley is committed to these principles and to running a positive campaign befitting the people of Wisconsin."
Bradley told the Associated Press earlier this year she will not coordinate with outside groups during the campaign to keep her seat on the court, but wouldn't ask them to stay out of her race, either.
Next spring, Bradley will face Donald, state appeals court Judge JoAnne Kloppenburg and Madison attorney Claude Covelli in a primary. Other candidates could still emerge. The top two vote-getters will appear on the general election ballot.
Kloppenburg said in a statement Wednesday that "the people of Wisconsin deserve an independent Court and this kind of politicking undermines their confidence that the Court will act as a check and balance on the political branches of government."
Kloppenburg campaign manager Melissa Mulliken said the campaign would not seek help collecting signatures from either state party.