Leaders of the Wisconsin Legislature's Republican majority are expressing optimism they will pass a bill sought by developers that hunting and conservation groups say is one of the worst environmental rollbacks in decades.
Under a proposal aimed at reducing construction costs, about 100,000 wetland acres in and around populated areas would no longer be protected by state laws requiring builders to avoid or minimize wetland destruction, and to replace acreage that is filled.
"This is the worst conservation bill that I've seen in a generation," said Wisconsin Wildlife Federation executive director George Meyer, a former state Department of Natural Resources secretary. The controversial 2013 Gogebic Taconite mining law would have allowed only 500 acres filled, he said.
The bill is headed toward a vote in the Assembly, but it hadn't yet been scheduled for a committee vote in the Senate.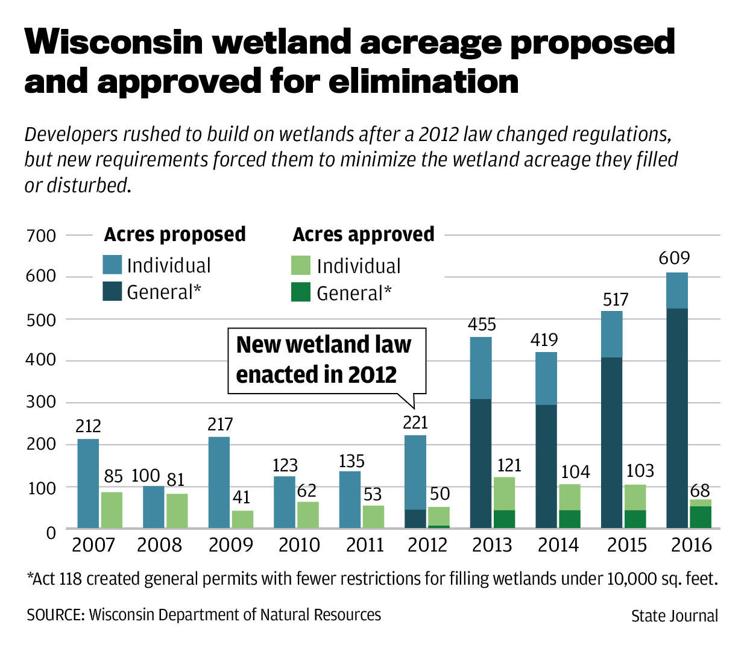 The legislation's lead authors said they had compromised with conservation groups, but Kyle Rorah, a lobbyist for Ducks Unlimited, said even with proposed changes the bill would be more damaging than any other legislation he could recall across the 21-state region he represents for the hunting organization.
Outdoors and conservation groups said they hoped moderate members of the Senate Committee on Natural Resources and Energy would amend the bill to focus it on solving legitimate problems in current law instead of deregulating 100,000 acres. For example, conservation groups recommended exempting from protection accidentally created low areas that fill with water and begin functioning as wetlands on dormant construction sites.
Wetlands prevent flooding, purify water and provide wildlife habitat. The bill's co-authors, Senate president Roger Roth and Assembly majority leader Jim Steineke, said current state law impedes development by needlessly protecting smaller marshes.
Steineke, R-Kaukauna, said Assembly amendments reducing the bill's scope from 1 million acres statewide to roughly 100,000 acres mostly in and around cities and villages is a significant compromise made in response to critics like Meyer.
"He's making it sound like the end of the world," Steineke said of Meyer's continued opposition to the amended bill.
The amended bill would remove protection for wetlands of one acre or less per parcel of land, but Meyer said the concession wasn't nearly as dramatic as Steineke and Roth make it sound.
The amendment merely focuses the wetland exemption on places where the vast majority of development takes place, while leaving wetland protections intact in remote places where building is unlikely, Meyer said. As communities expand, so would the acreage exempted from wetland protections, he said.
Unlike the original bill, the amended version eliminates the requirement that wetlands exempted from regulation be replaced.
Businesses
seeking help
You have free articles remaining.
Register for more free articles
Stay logged in to skip the surveys
Rep. Romaine Quinn, R-Barron, said the exemption is needed by two businesses in his district — Louie's Finer Meats and Don Johnson Motors — that are seeking new land in Cumberland. Because only wetlands are available in the isthmus community, they may need to move 12 miles away.
Steineke, who sells real estate when he's not working at the Legislature, said the amended bill has a side benefit of discouraging sprawl.
"As someone familiar with the realty industry, what this bill will do is exactly what people have wanted to do for years, and that's encourage denser development in and around the urban areas," Steineke said.
Steineke and Roth contend that small wetlands have little value, but the Wisconsin Wetlands Association points to scientific research showing that size doesn't determine value.
Steineke said storm water detention ponds the state requires developers to install would prevent flooding after wetlands are filled. But those features are designed primarily to allow sediment to settle out of rain water running off parking lots and rooftops, said Tom Jerow, a retired DNR water program manager.
Awaiting Senate
panel action
Assembly Speaker Robin Vos, R-Rochester, said through a spokeswoman that Steineke's work on the wetland bill was commendable and he believes it will win enough votes to pass in the Assembly this session. Senate Majority Leader Scott Fitzgerald, R-Juneau, didn't respond to a request for comment.
An Assembly committee amended the bill, but no matching Senate amendments had been offered. Sen. Rob Cowles hadn't yet scheduled a vote in the natural resources committee.
A spokeswoman for Roth, R-Appleton, said he has been working closely with Cowles. Steineke said Cowles was working on "technical language fixes" that should be completed soon. Cowles, R-Green Bay, didn't respond to requests for comment.
Wisconsin wetlands have been filled at a quickened pace since 2012 when the state relaxed regulations while requiring builders to minimize damage and pay for replacement wetlands in some cases, data reviewed by the Wisconsin State Journal show. From 2012 to 2017, few requests were denied.
Scientists estimate there were 10 million acres of Wisconsin wetlands before European settlement. Half of that acreage has been drained and filled for farms and other development. Of the remaining 5 million acres, up to 80 percent are protected by federal law because of their connections to lakes and streams. The remaining 20 percent — or 1 million acres — are protected under state law only.