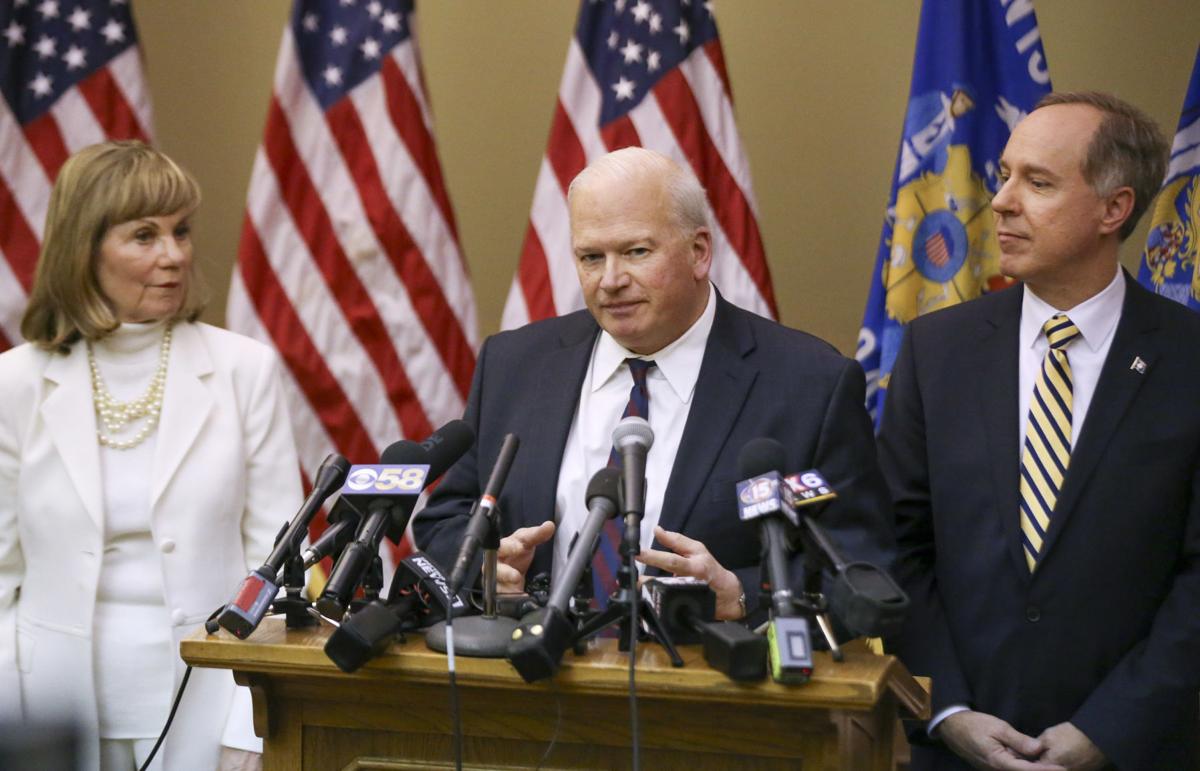 Wisconsin's top two legislative Republican leaders are denying a claim made in a new online liberal news publication that they are attempting to circumvent Gov. Tony Evers when they redraw the state's political maps after the 2020 census.
Assembly Speaker Robin Vos, R-Rochester, and Senate Majority Leader Scott Fitzgerald, R-Juneau, in statements on Monday dismissed the idea they are considering drawing new political maps using a process that would avoid needing the plan to be approved by the Democratic governor.
"That approach has never been discussed by Republican leadership, within the GOP caucus, or with outside counsel," Fitzgerald said in a statement. "This is nothing more than rumor-mongering by Democrat activists in an attempt to fire up their base ahead of the 2020 elections."
A liberal attorney told the Wisconsin Examiner he thinks leaders of the Republican-controlled Legislature will attempt to establish new political maps after 2020 by passing a joint resolution, which does not require the governor's signature.
Doing so would require a favorable ruling from the Wisconsin Supreme Court, which would need to overturn a previous precedent the court set in 1964 determining the governor must be part of the redistricting process and that political maps can't be drawn through joint resolution.
In Wisconsin, district lines are redrawn every 10 years after the U.S. Census. The Wisconsin Constitution requires the Legislature, currently controlled by Republicans, to draw political boundaries which are subject to veto by the governor.
Conservatives are set to dominate the state Supreme Court 5-2 in the upcoming term, although liberal-backed candidates will have a shot at knocking the majority back down to 4-3 after next year's Supreme Court election, which takes place the same day as the spring presidential primary.
Liberal attorney Lester Pines told the Wisconsin State Journal he's heard rumors Republicans are considering such a plan, adding there's little for them to lose by doing so.
Conservative attorney Rick Esenberg, president of the Wisconsin Institute for Law and Liberty, told the Examiner he's heard about the plan. He told the publication his organization is not currently working with Republicans on a redistricting game plan and that he "can't say" whether the conservative legal organization would.
"I don't think it's a frivolous argument," Esenberg said of the notion of a redistricting joint resolution, which would require the state Supreme Court to overturn precedent.
Esenberg added a joint resolution may be the only way out of an "assured impasse" during the next redistricting process, when Evers, a Democrat, will likely need to approve Republican-drawn political maps.
Vos spokeswoman Kit Beyer said a plan for a joint resolution is not being discussed.
"This story is fake news generated by a new liberal mouthpiece that's resorting to scare tactics and promoting misinformation," she said in a statement.
The Examiner report comes after the U.S. Supreme Court in June handed down a major defeat for those who want limits placed on partisan gerrymandering, the practice of a political party drawing legislative boundaries to its advantage.
The court ruled claims of partisan gerrymandering are inherently political questions the federal judiciary cannot address.
In the ruling's wake, Wisconsin's own high-profile redistricting case was dismissed.
The report also comes after Wisconsin Democrats recently renewed a push for a nonpartisan redistricting process.
[Editor's note: This story has been updated to reflect a correction. The original version mischaracterized who told the Wisconsin Examiner that leaders of the Republican-controlled Legislature might attempt to establish new political maps via a joint resolution. The comment was by attorney Lester Pines.]
Get Government & Politics updates in your inbox!
Stay up-to-date on the latest in local and national government and political topics with our newsletter.