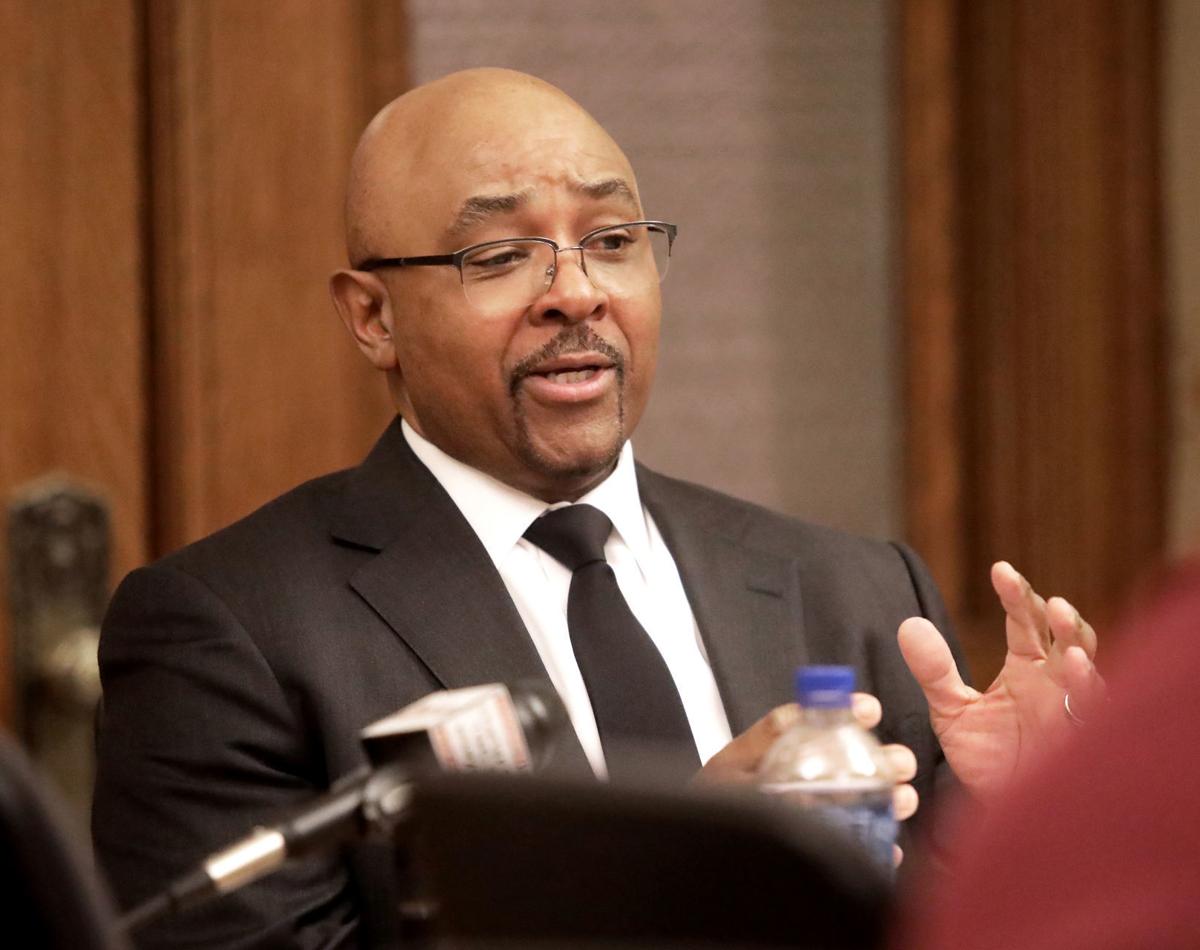 A key Republican lawmaker said he is confident that Democratic Gov. Tony Evers' choice to run the Department of Natural Resources is qualified, but he's not sure the Legislature should confirm him.
After a 3½-hour confirmation hearing on Thursday, Sen. Tom Tiffany said he needs to be assured that the nominee — Preston Cole — will be in charge of the DNR and that the agency won't be run by Evers or his appointees.
Cole said he would follow the law and his conscience, and he would speak up when he disagreed with Evers.
"If I have differing information, then I'm an adviser to the governor, just as I'm an advisory to this body," Cole said.
Growing awareness of water pollution problems across the state — including toxic lead in pipes and pollutants from industry and agriculture in groundwater, lakes and streams — should provide impetus toward solutions, he said.
"I will endeavor to lock arms with each of you to solve our most challenging natural resource issues," Cole said. "Thousands of people no longer feel that they can turn on their taps and have safe drinking water. We have to fix that."
As chairman of the Senate sporting heritage committee, Tiffany said he would confer with leaders of the Republican-dominated Legislature before he decides on scheduling a committee vote on Cole's confirmation.
Tiffany and other members of the committee questioned Cole on a range of issues that have been controversial — including enforcement of pollution laws, reliance on science in decision-making, policies on climate change, and hunting and fishing regulations.
Confronted with anecdotes from Tiffany about alleged shortcomings by DNR employees — from intimidating hunters, to subverting a law relaxing pollution controls, to underestimating how many bobcats are on the landscape — Cole said he would investigate and report his findings.
But he also said in one case he would be surprised if the allegation was true, and in another he defended the employee's professionalism.
Tiffany accused the department's new assistant deputy secretary, Todd Ambs, of lying to prevent a law from undermining environmental protections when he was DNR water division administrator from 2003 to 2010. Cole said that didn't match what he knew about Ambs.
"I see Todd as trustworthy, honest and brave," Cole said. "Nothing but the best interest of the public."
When Tiffany complained that the DNR forced one of his constituents to rebuild a waterfront boardwalk because of a law violation he considered a "technicality," Cole was clear that he intended for the department to enforce natural resources statutes.
You have free articles remaining.
Cole said agency experts would continue to be available to give advice when legislation was being written. And, in a policy change from the previous administration, Cole said there could be times when DNR staff would publicly advise lawmakers against proposed legislation that appeared harmful.
"If we have a stance, I'm not afraid to go on record with that stance," Cole said. "It's our opinion. … We have to play that card wide open and with transparency."
During the eight years of Gov. Scott Walker's administration, public testimony by DNR employees at legislative hearings waned, raising questions about whether the public was being fully informed about all of the implications of laws that were being enacted.
DNR executives emphasized deference to elected officials and routinely declined to publicly discuss department operations that were subject to pending legislative proposals. Agency employees were careful not to talk about policy in public without permission.
Cole promised more openness and said that when DNR employees are on their own time they should have the same rights as anyone to discuss public policy — including commenting on proposed laws.
During his campaign for governor, Evers criticized Walker's DNR and promised to restore science-based decision-making and enforcement of pollution laws. Cole defended those principles during the hearing, but when Tiffany asked him for an example of an area where he disagreed with Walker, he said he couldn't think of anything.
Under state law, the governor nominates top executives at state agencies subject to confirmation by lawmakers.
Cole served on the state Natural Resources Board from 2007 until Evers designated him as DNR secretary.
He grew up on a Michigan farm and was trained as a professional forester. He has held several management positions in Milwaukee city government including commissioner of neighborhood services.
Tiffany, of Hazelhurst, said that before Thursday's hearing he met twice in private with Cole and was confident of his ability to run the DNR. But Tiffany said he needed to be assured that Cole would truly be in control of the department.
Tiffany said he was concerned about going back to the "dark Doyle days" — a reference to the administration of Democratic Gov. Jim Doyle from 2003 through 2010 before Walker made the DNR friendlier to the businesses it regulates.
Committee member Sen. Bob Wirch, D-Somers, countered by saying that over the last eight years under Walker the governor's office exercised tighter political control on the DNR on behalf of business interests who contributed to the Republican's campaign coffers.
Cole addressed several other issues:
The department has completed a review, requested by Evers, of Foxconn's air pollution permits and found no problems. However, the permits are likely to be revised if the company follows through on recently announced plans to manufacture a different product line, Cole said.
As more is being learned about chronic wasting disease in the deer herd, hunters are showing more interest in testing carcasses. The department is looking into ways to help them more quickly obtain CWD test results as it studies and develops strategies for dealing with the rapid spread of the disease.
The department has 298 employee vacancies — about 12 percent of its authorized workforce, down from about 14 percent a year ago.