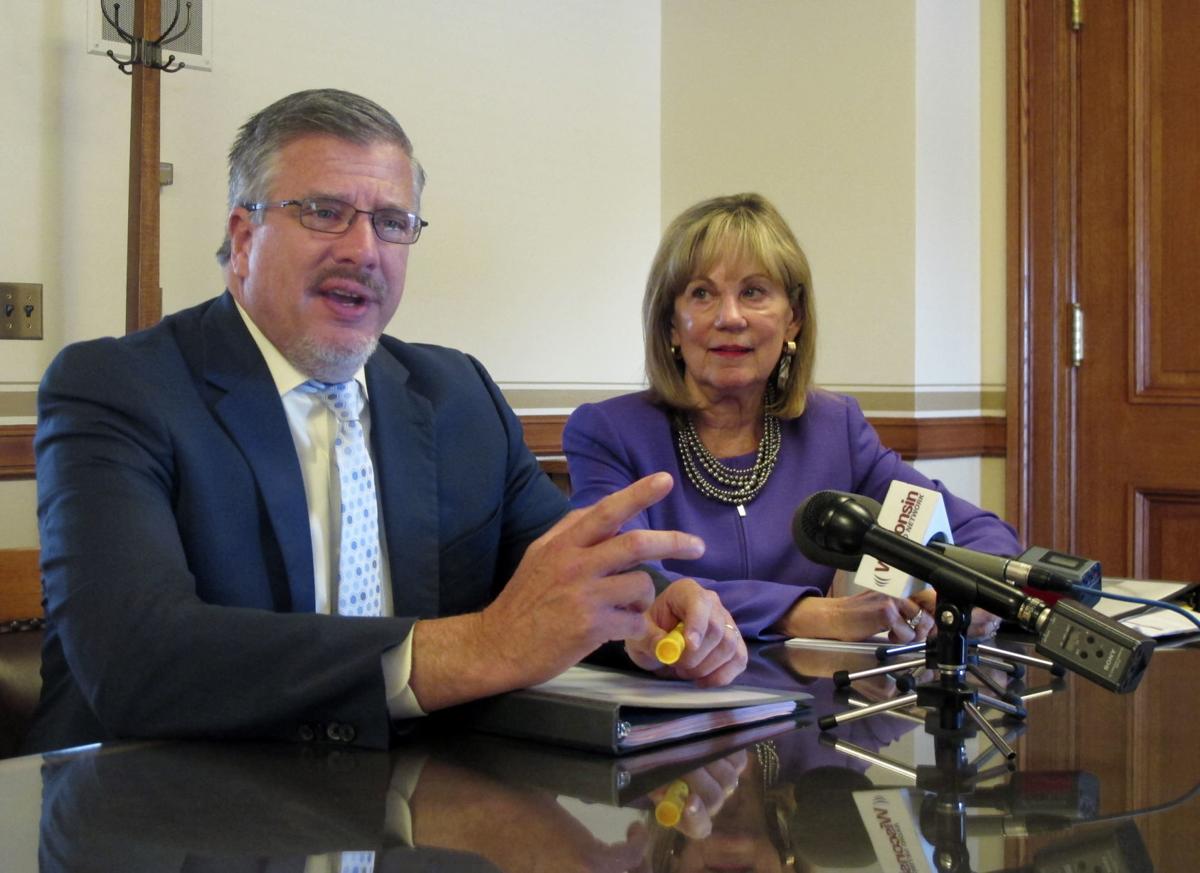 Republican legislative leaders say their first action next week on Gov. Tony Evers' budget plan will be to scrap several of its key pillars, including its expansion of Medicaid, overhaul of marijuana laws and tax hikes on big manufacturers and high earners.
The changes signal that Republicans who control the Legislature will craft a budget that excludes much of what Evers proposed in February.
Democratic lawmakers accused their Republican colleagues of ignoring public support for provisions of Evers' budget such as the Medicaid expansion and marijuana changes.
Republicans said the move is needed to shift the budget debate away from what they describe as "irresponsible" tax and spending increases sought by Evers.
There are other implications to removing the Medicaid expansion, which would bring $324 million in federal funds to Wisconsin, and Evers' call for tax hikes of more than $1 billion by capping a tax credit for large manufacturers and a capital gains exclusion for high earners.
Forgoing these revenues means GOP lawmakers almost surely will have far less to provide for K-12 school districts than the $1.4 billion two-year boost proposed by Evers.
Among the items being removed by Republicans on the Joint Finance Committee are Evers' plans to:
Legalize medical marijuana and de-penalize possession of small amounts of the drug.
Cap enrollment in the state's private-school voucher program.
Increase the state's minimum wage from $7.25 to to $10.50 by 2023, then link future increases to inflation.
End a freeze on property tax levies for counties and municipalities, allowing them to increase their levies by 2%.
Permit Wisconsin residents who are immigrants living in the U.S. illegally to get driver's licenses or state ID cards, which would specify they could not be used as IDs to vote.
Grant in-state tuition to Wisconsin high school graduates who were brought to the U.S. illegally as children.
Repeal the state's minimum markup requirement for fuel sales.
Repeal the "right-to-work" law enacted in 2015 that bars requirements for workers to pay fees covering a share of the costs of union representation.
The changes were announced in a memo, released late Wednesday, from the leaders of the Legislature's budget-writing committee, Rep. John Nygren, R-Marinette, and Sen. Alberta Darling, R-River Hills, to committee members. It says the committee will begin work on the budget May 9, and that its first action will be to take up a motion to remove a list of items proposed by Evers.
A related statement from Nygren and Darling called Evers' budget "unsustainable" and "irresponsible," noting it would create a $2 billion structural deficit in two years.
You have free articles remaining.
According to the statement, the finance committee will remove 70 non-fiscal items from the budget, as it did two years ago with former Gov. Scott Walker's budget. The nonpartisan Legislative Fiscal Bureau on Wednesday released a list of non-fiscal items in Evers' budget. It was second-most in a governor's budget proposal since 2001, topped only by the Walker budget in 2017.
But the list of what the committee will strip from Evers' budget goes much broader, including many items with fiscal impacts.
Nygren said in a statement the items with fiscal impacts being removed from the budget are "items Republicans have been clear we will not support."
"We have consistently said we will not raise taxes or expand welfare programs," Nygren said.
However, Assembly Republicans have said they're open to Evers' proposal to increase the gas tax to pay for transportation projects, and it is not among the list of items to be removed.
Evers' office did not immediately respond late Wednesday with an official statement. His Twitter account posted that "Wisconsinites have made their voices clear" in supporting the Medicaid expansion.
"Don't let the GOP ignore the will of the people. Call your legislators and tell them you support Medicaid expansion," Evers tweeted.
Democrats on the finance committee said via social media that support for Medicaid expansion was the top issue heard at four recent public hearings on the budget.
"Once again, Republicans are ignoring the will of the people who overwhelmingly support Medicaid Expansion," the Democratic lawmakers tweeted.
While most of Evers' tax increases are being stripped from the budget, proposed tax cuts remain, including a middle-class income-tax cut totaling about $834 million over two years.
The memo also confirms that the committee will build its budget from spending levels from the previous budget passed in 2017 under former Gov. Scott Walker, instead of from the higher spending totals Evers proposed. When Walker was governor, the committee used his budget proposals as the foundation for its budget. GOP legislative leaders previously signaled they would take this approach, which has not been used by the committee since 2007.
The 2007 budget cycle also was the last time control of state government was split between parties. It also was one of the longest budget impasses in state history, with lawmakers and then-Gov. Jim Doyle unable to agree on a budget until October — more than three months past the July 1 budget deadline.