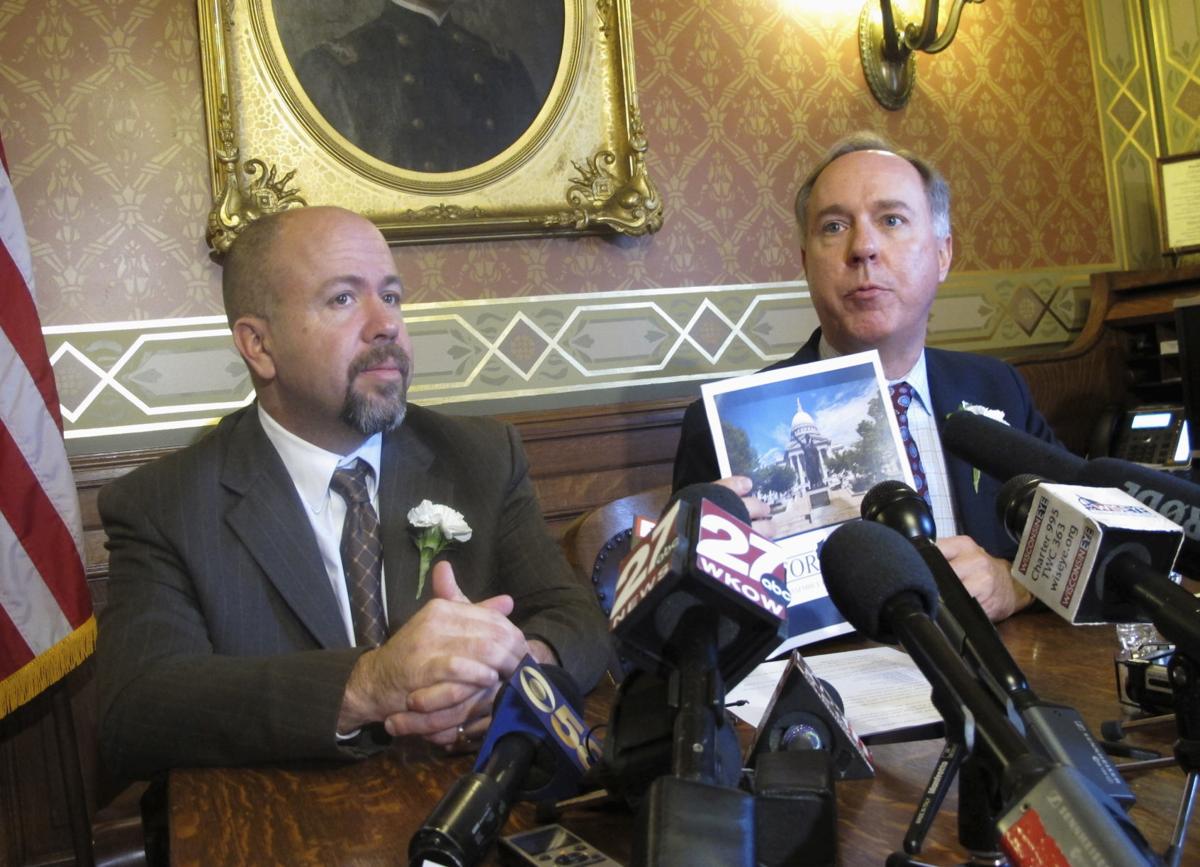 Republican legislators, in an extraordinary push before their party surrenders full control of state government, want to restrict the incoming Democratic attorney general's and governor's powers and the state's timeline for early voting in a lame-duck session early next week.
More than 40 proposed changes in state law on a variety of subjects were unveiled Friday at about 4:30 p.m. in five bills up for a public hearing in the Legislature's budget-writing committee Monday. The Assembly and Senate could vote on the measures Tuesday.
One bill would fundamentally change the role of the state attorney general, giving lawmakers broad new powers to constrain the state's top law-enforcement official.
It may bar Gov.-elect Tony Evers from taking what he said would be one of his first actions in office: ordering Attorney General-elect Josh Kaul to withdraw Wisconsin from a multi-state legal challenge to the Affordable Care Act, according to Madison lawyer Lester Pines, a Democrat.
The bill would allow lawmakers to appoint special counsel to effectively replace the attorney general on specific litigation if a legislative panel determines it would ensure "the interests of the state will be best represented."
Another key bill would bar early voting from starting earlier than two weeks before an election — despite a federal judge's ruling two years ago that struck down similar restrictions as racially discriminatory.
The bills revealed late Friday expand the already broad scope of proposals previously aired by GOP leaders for the extraordinary session. They herald an effort by Republican lawmakers to curtail the powers of two incoming Democrats during the brief window before they take office — and while outgoing GOP Gov. Scott Walker can still sign bills into law.
One bill would give GOP lawmakers more power over Walker's job-creation agency, the Wisconsin Economic Development Corp., which Evers has sought to dissolve, and strip the governor of the power to appoint the agency's CEO.
Another proposed change would move Wisconsin's presidential primary to March, a change local election officials have said would be "impossible" to carry out and at least one Republican senator said Friday he would oppose.
"The Legislature is the most representative branch in government and we will not stop being a strong voice for our constituents," Assembly Speaker Robin Vos, R-Rochester, and Senate Majority Leader Scott Fitzgerald, R-Juneau, said in a joint statement.
Senate Minority Leader Jennifer Shilling, D-La Crosse, responded with a statement calling the proposed changes a "GOP temper tantrum."
"Rather than protecting jobs, strengthening schools, and fixing our roads, Republicans want to undermine Governor-elect Evers before he takes the oath of office," Shilling said.
Evers and Kaul issued statements Friday evening urging lawmakers to reject the bills. Evers said he would take "any steps necessary to prevent power-hungry politicians from overriding the will of the people."
"I've said all along I'm committed to working across the aisle, but I will not tolerate attempts to violate our constitutional checks and balances and separation of powers by people who are desperate to cling to control," Evers said.
Walker and current Republican Attorney General Brad Schimel did not respond Friday to requests for comment on the bills.
Early voting changes
The proposed voting changes come after Democrats won every statewide office in the November election, powered by record voter turnout for a midterm and record early voting totals.
The Assembly GOP proposal, portions of which became public Friday, could disproportionately affect early voting in Wisconsin's biggest cities, which vote heavily Democratic. Madison began early voting at the earliest date possible, Sept. 20, for the most recent general election on Nov. 6.
Many smaller towns and villages begin early voting much closer to the election. Current law allows each municipality to set its own dates and times for early voting, starting as early as 47 days before an election.
Rep. Kathy Bernier, R-Lake Hallie, said the changes would help provide consistency in early voting for municipalities statewide. She said the changes would not restrict early voting hours or locations.
Scot Ross, director of the liberal advocacy group One Wisconsin Now, who is currently involved in a lawsuit challenging Wisconsin's voting requirements, chastised the proposal.
"While controlling state government, Wisconsin Republicans time and time again tried to rig the rules on voting to give themselves an unfair partisan advantage," Ross said in an email. "Now, even after losing every statewide office on the ballot, they're at it again."
The changes also could land the state back in court. In 2016, U.S. District Judge James Peterson struck down a host of early voting restrictions in state law, including one imposing a 10-day pre-election window in which early voting could occur.
Assembly Republicans are considering a slew of other changes to elections, taxes, transportation funding and health coverage for people with pre-existing conditions.
The extraordinary session is scheduled to open Monday morning. The Joint Finance Committee has scheduled a public hearing on the bills starting at 12:30 p.m. at the Capitol in Room 412 East.
Primary move criticized
The effort to move the 2020 primary is widely seen as helping improve the election chances of conservative-backed state Supreme Court Justice Daniel Kelly, who would be up for election for the first time in the April 2020 election. Walker appointed Kelly to replace retiring Justice David Prosser in 2016.
Many of the local clerks who run Wisconsin's elections have concluded it would be impossible to hold the presidential primary in March because it would schedule three statewide elections in a span of just three months.
Dane County Clerk Scott McDonell, a Democrat, said Thursday that if a recount were needed for the February spring primary or potential March presidential primary, it would "categorically squash any possibility of this triple election cycle being feasible."
At least 60 of Wisconsin's 72 county clerks oppose holding the presidential primary in March, McDonell wrote on social media Friday.
Citing the concerns of local clerks, Sen. Luther Olsen, R-Ripon, said he has concerns with moving the presidential primary to March.
"Having it in March just doesn't work," Olsen said. "If I was a betting man, I don't think we're going to do it in the Senate."
GOP legislative leaders have not responded to the criticism or given any indication how clerks might get around the problem.
Also on the agenda is a bill that passed the Assembly last year, but stalled in the Senate, that would help people with pre-existing conditions get health coverage if the federal Obamacare law is repealed or struck down in court. The bill doesn't provide the same level of protections as Obamacare to people with serious health conditions.