The state Capitol was consumed Monday by backlash to what critics called an "unprecedented" Republican plan — which could head to outgoing Gov. Scott Walker's desk as soon as Tuesday — to restrict early voting and an incoming Democratic governor and attorney general.
The Legislature's Joint Finance Committee passed the bill package on party-line, 12-4 votes late Monday and early Tuesday. 
It did not pass a controversial measure to potentially boost election prospects for a conservative state Supreme Court justice by moving the date of the state's presidential primary. That measure technically remains alive, but the committee's co-chairman, Rep. John Nygren, acknowledged after the hearing that it appears to lack support.
The full state Assembly and Senate were scheduled to convene later Tuesday to take up the package.
Democratic Gov.-elect Tony Evers, meanwhile, said GOP legislative leaders were "less than transparent" with the public regarding what they had in store for this lame-duck session. Evers, in an interview, vowed to marshal public pressure to compel GOP lawmakers to back off what he called an affront to results of the Nov. 6 election, in which he defeated Walker.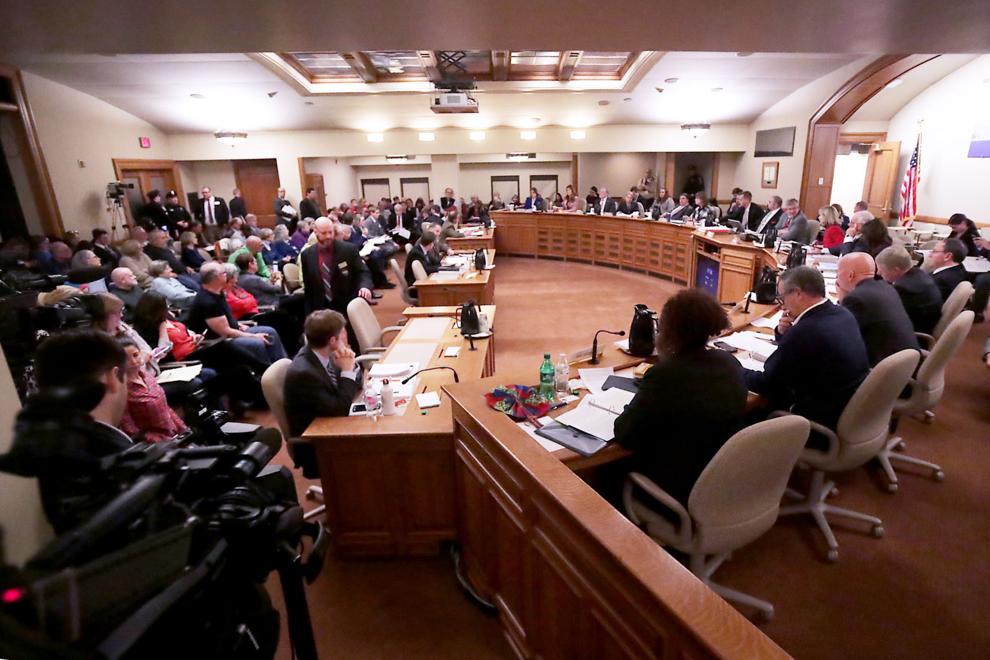 "This is a direct rebuke of the people of the state," Evers said.
It remained unclear Monday if parts of the plan have support to pass the state Senate. Republicans hold an 18-15 majority there and can lose no more than one senator with all Democrats opposed.
Two Republican senators, Rob Cowles, of Green Bay, and Luther Olsen, of Ripon, have spoken out against moving the presidential primary from April to March. Local election clerks have come out strongly against the change.
Senate Majority Leader Scott Fitzgerald, R-Juneau, recently said part of the impetus for that change could be to help the election chances of Walker's most recent appointee to the state Supreme Court, who would be on the ballot for the first time in April 2020.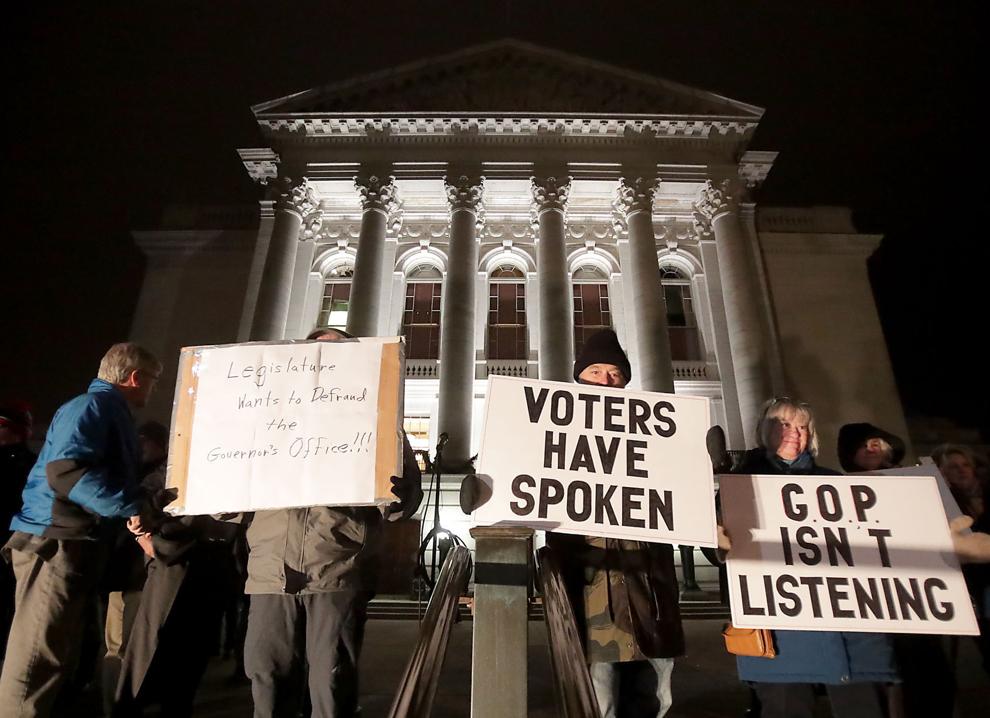 Evers said the plan's sweeping changes to the state attorney general's office likely would bar him from taking what he pledged during the campaign would be one of his first official acts as governor: ordering the attorney general to withdraw Wisconsin from a multistate legal challenge to the Affordable Care Act. It also could thwart Evers' bid to dissolve Walker's jobs agency, the Wisconsin Economic Development Corp.
Inside the state Capitol at Monday's hearing, the mood was, at times, tense. Protesters packed hallways outside the hearing, banging on the doors and repeating chants including "Respect our vote!" A rally outside the building brought hundreds more Monday evening.
It raised the prospect of Walker's second term ending with a smaller-scale version of the rancorous protest that marked the start of his first term, when Walker introduced sweeping restrictions on public-sector collective bargaining in what became known as Act 10.
Walker, addressing reporters Monday afternoon, downplayed concerns over the legislation at the executive residence in Maple Bluff.
Walker stopped short of pledging to support the package but did not criticize it, except to say he'd be surprised if a plan to move the presidential primary from April to March reaches his desk as-is.
Fitzgerald said in a Monday press conference that Walker's chief of staff, Eric Schutt, has been closely involved in discussions about the package.
Republicans hold firm
Walker questioned why Evers is concerned over some portions of the bill, such as a provision giving the WEDC board the right to choose the agency's CEO, instead of the governor.
"I don't know why he cares one way or another," Walker said. "He wants to advocate for eliminating the agency entirely."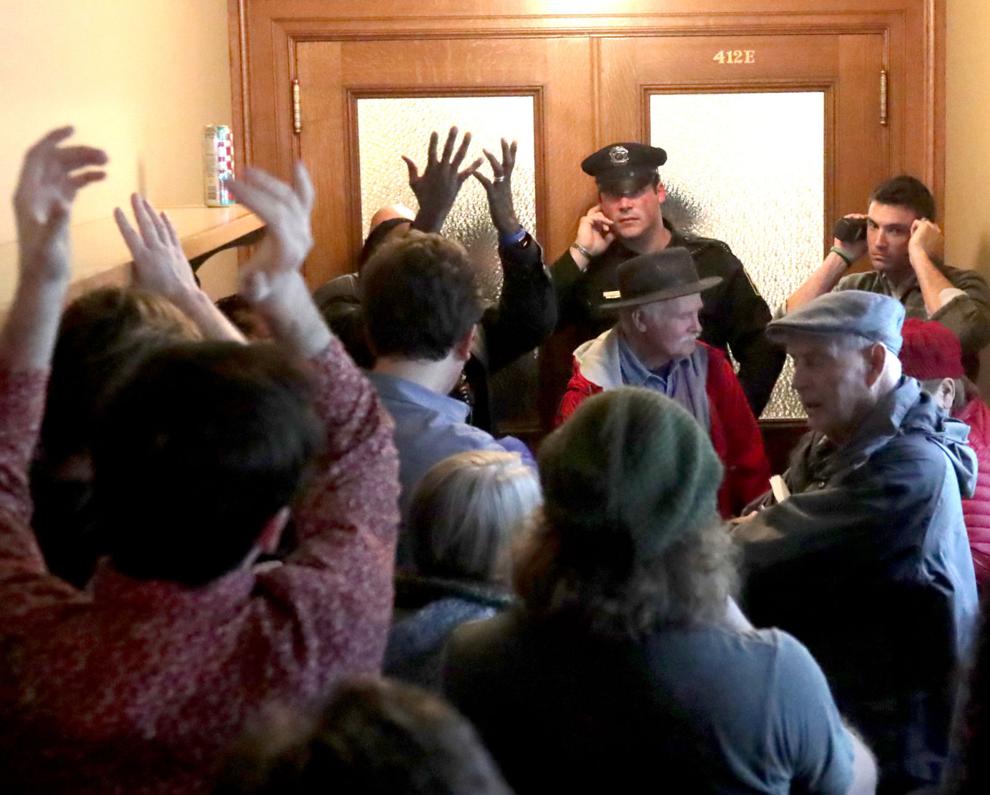 As for portions of the lame-duck legislation that would strip the attorney general of some of his powers, Walker said the Legislature's proposal isn't unusual.
"Some states don't even have attorney generals, so it really varies by state," he added.
Republican lawmakers also showed no initial signs of backpedaling on the plan.
Top GOP legislators during a Capitol news conference Monday afternoon interrupted by shouts from protesters defended the sweeping lame-duck legislation before its committee hearing by arguing it would strengthen the legislative branch of government and write into state law changes made under eight years of one-party rule.
The Republican leaders of the Senate, Assembly and Joint Finance Committee railed against Evers' criticism of the lame-duck session in an attempt to downplay changes to the governor's and attorney general's offices they said they began considering earlier this year.
Assembly Speaker Robin Vos, R-Rochester, said the changes don't just stem from Evers' election. Vos contended he considered strengthening the powers of the Legislature as early as 2016, and had originally intended to debate separation of powers in January. He said he sat down with Walker and Fitzgerald in the spring to discuss legislation related to the separation of powers "not knowing who was going to win the election."
"I would challenge my Democratic colleagues that … if these proposals had been offered a year ago, I think they would have voted for almost every single one," he said.
AG plan costs questioned
Republicans also pushed back on Democrats' description of the session as "unprecedented," noting Democrats held a lame-duck session in the final weeks of their control of the Legislature in December 2010, just before Walker took office.
The agenda for that session was far less sweeping and did not take aim at the powers of the incoming governor or attorney general; the session was an ultimately failed attempt to approve state labor contracts that were about 18 months overdue.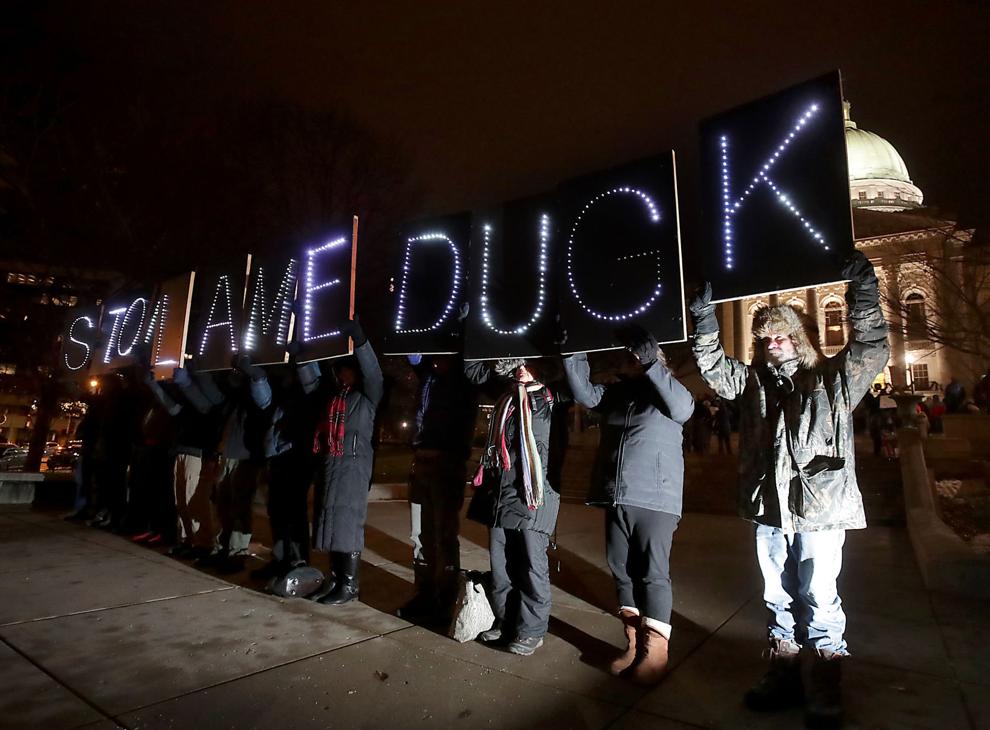 Democratic lawmakers on the budget committee told reporters the GOP plan is a power grab that's unprecedented in state history. Rep. Chris Taylor, D-Madison, said there are "many, many provisions that we think impede and infringe on executive authority" in the plan and will be subject to court challenges.
Speaking during the public hearing, Taylor said some of the bill's most shocking provisions would restrict the attorney general, the office of which she said the bill "guts." Democrat Josh Kaul was elected to that post in November, replacing Republican Brad Schimel.
The GOP plan would fundamentally change the powers of the state attorney general, giving lawmakers broad new powers to constrain the state's top law enforcement official. It would allow lawmakers to appoint special counsel to effectively replace the attorney general on specific litigation if a legislative panel decides to do so.
If enacted, Kaul said the changes would "significantly impair the ability of the state government to function effectively next year because if it passes it's almost certain to end up in court."
Nonpartisan legislative staffers testified Tuesday that it remains unclear what the changes will cost.
Democratic lawmakers warned it could lead to taxpayers footing costly bills for private attorneys to do legal work that should fall to the attorney general's office.
"I'm going to plead with you guys: You don't want to go down this road," said Sen. Jon Erpenbach, D-Middleton. "It's going to be millions of dollars out the door before you even know what's going on."
'Breaking down of democracy'
In an interview with the Wisconsin State Journal Editorial Board, Assembly Minority Leader Gordon Hintz, D-Oshkosh, said the moves Republicans are making are unprecedented in Wisconsin government history. He said Republicans are "changing the structure of our government because of who is there, not because of how it works."
"It's really consistent with the cracking and breaking down of democracy," Hintz said. "If you can't have the will of the people put into place, you can't have democracy."
The Democratic Party of Wisconsin and other groups were urging opponents of the bill to bombard lawmakers with calls and emails Monday. Indivisible Madison, a liberal activist group, organized a rally at the state Capitol Monday evening.
Dozens of opponents of the bill testified against it to the Joint Finance Committee in Monday's hearing.
Katherine Gaulke of Elkhart, who ran unsuccessfully for state Assembly, was among those who testified against the package. She described it as "a low point for the Wisconsin state government" and urged Republicans to "stop destroying our constitutional checks and balances for your own selfish gain."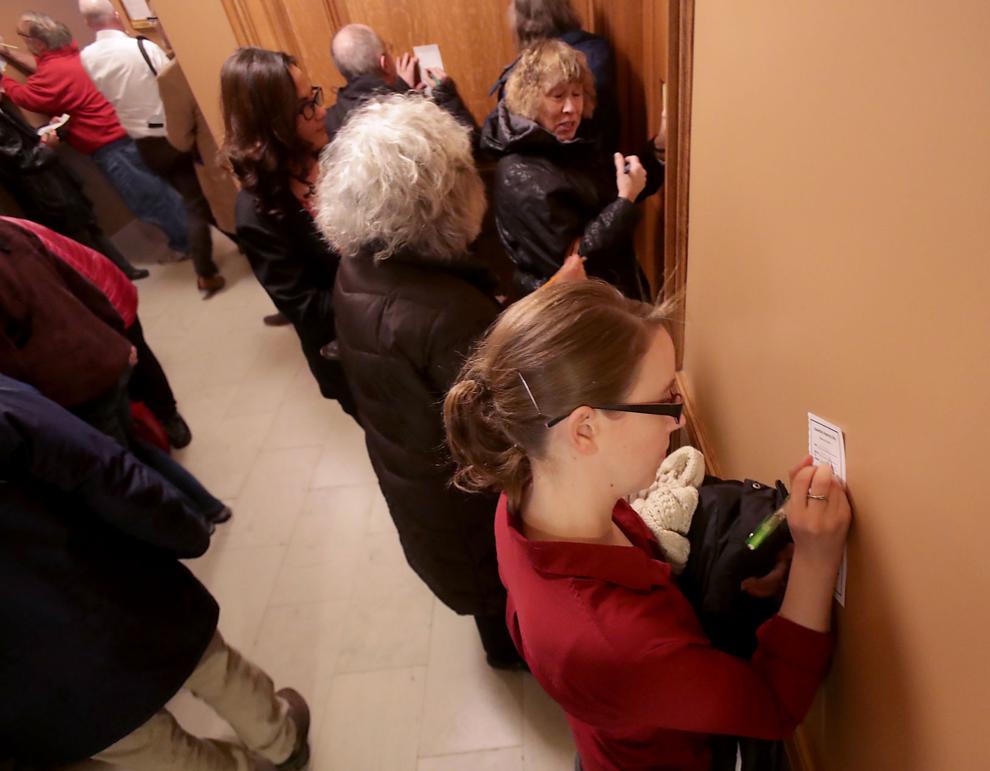 For many in the crowd, the hearing conjured memories of Act 10, the sweeping legislation that marked Walker's opening chapter to his governorship.
Jenny Marquess, of Madison, held a sign that read "Respect my vote" but there was no stick attached to the cardboard.
"We know the rules from protesting Act 10," she said. "It's about safety and manners."
She stood in the hallway outside the hearing room listening over a loudspeaker to testimony on the bills that will cap Walker's last chapter. As legislative aides and others stepped in and out of the hearing room, the protesters timed their chants — "Republicans hate democracy!" — to the staffers' entrances and exits.
State Journal reporter Kelly Meyerhofer contributed to this report.
Photos: Protesters target GOP lame-duck session
Protesters target GOP lame-duck session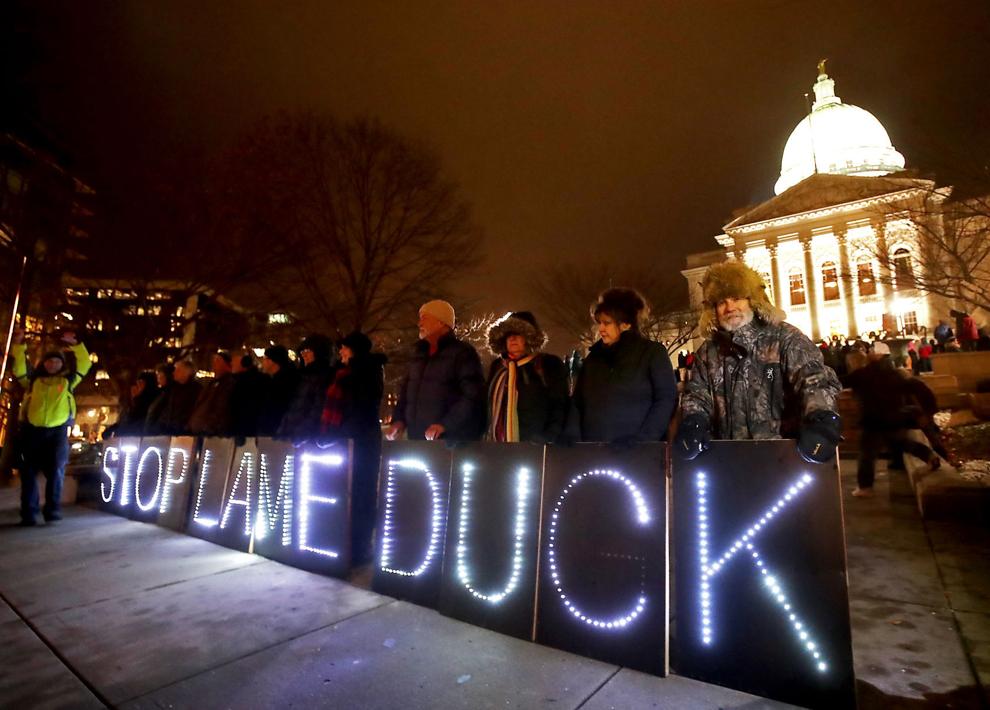 Protesters target GOP lame-duck session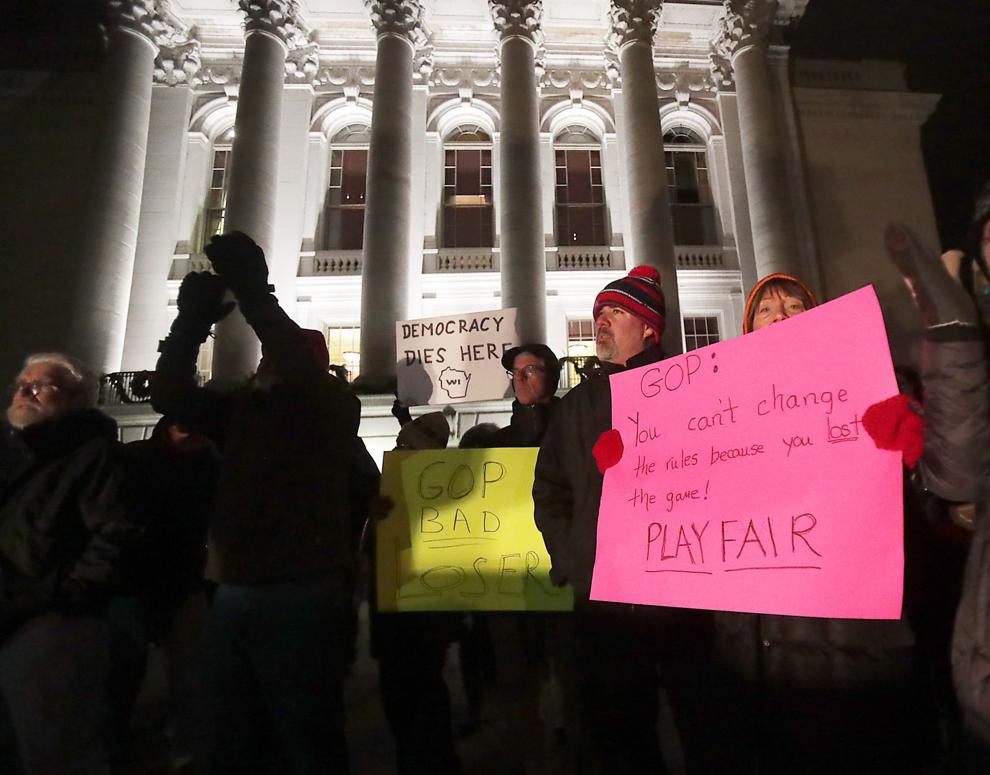 Protesters target GOP lame-duck session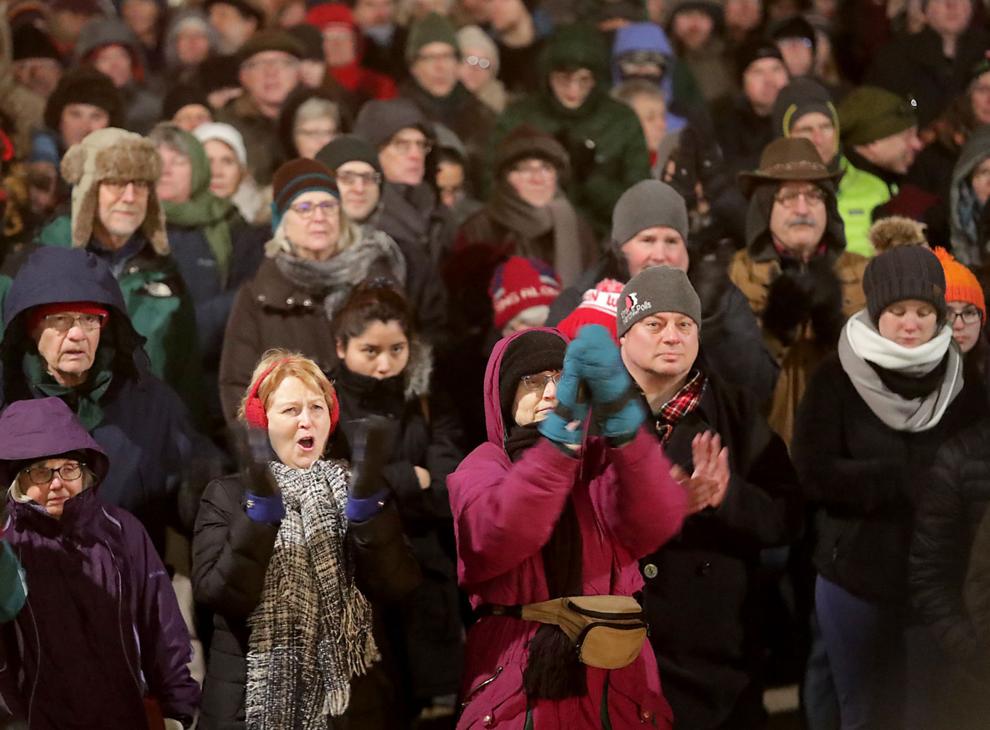 Protesters target GOP lame-duck session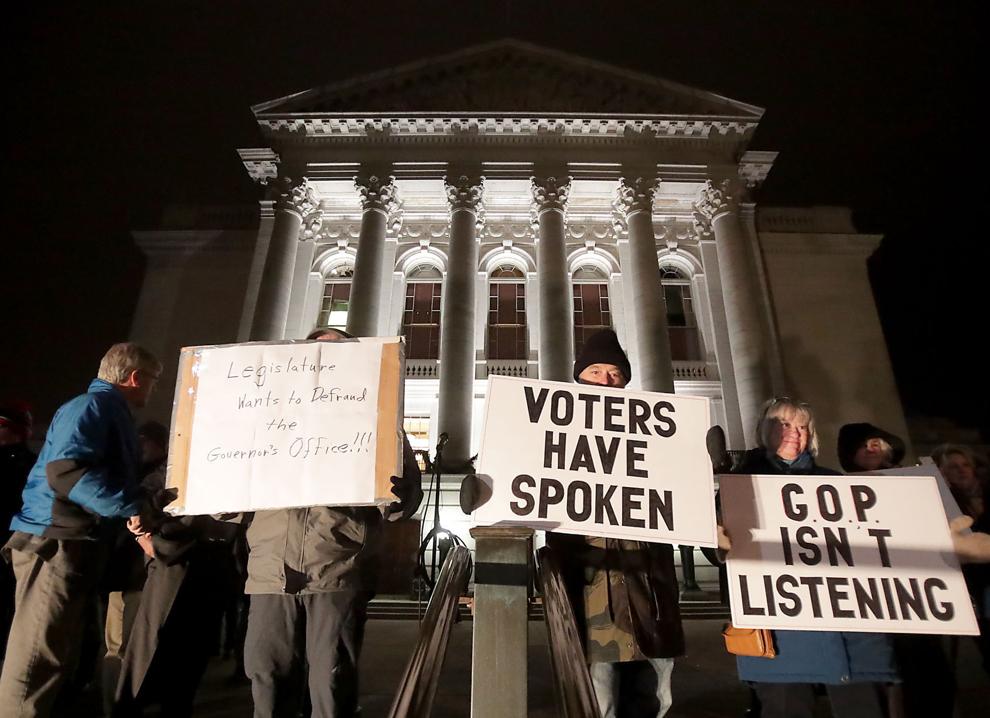 Protesters target GOP lame-duck session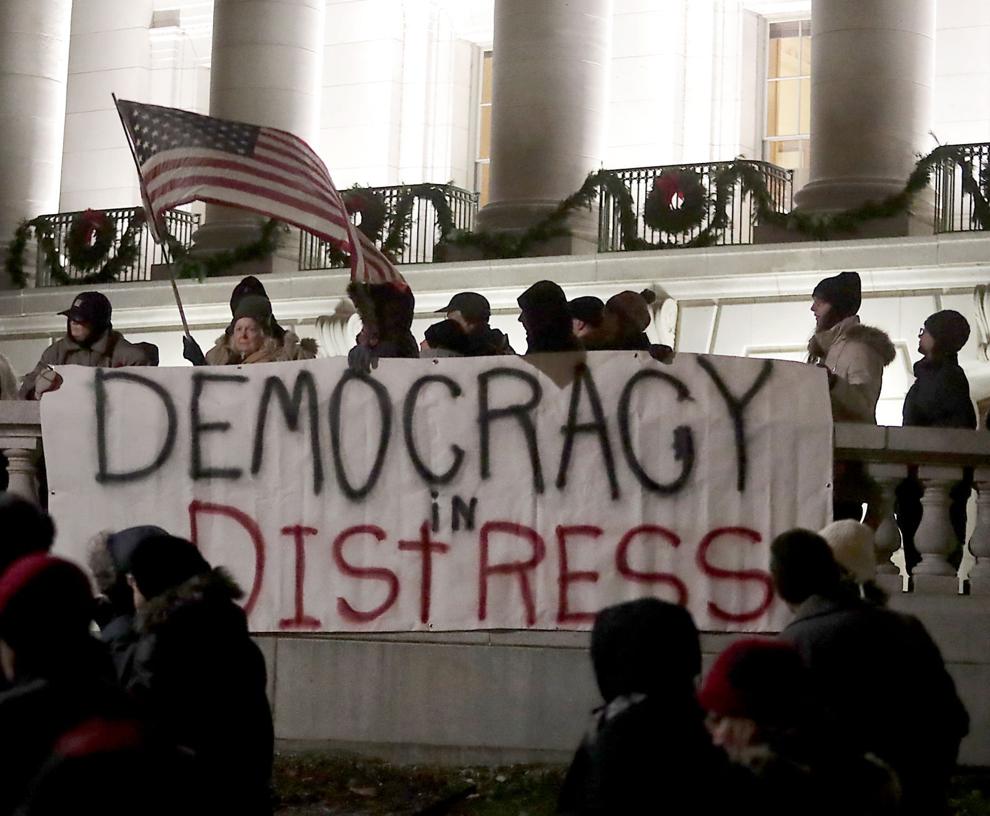 Protesters target GOP lame-duck session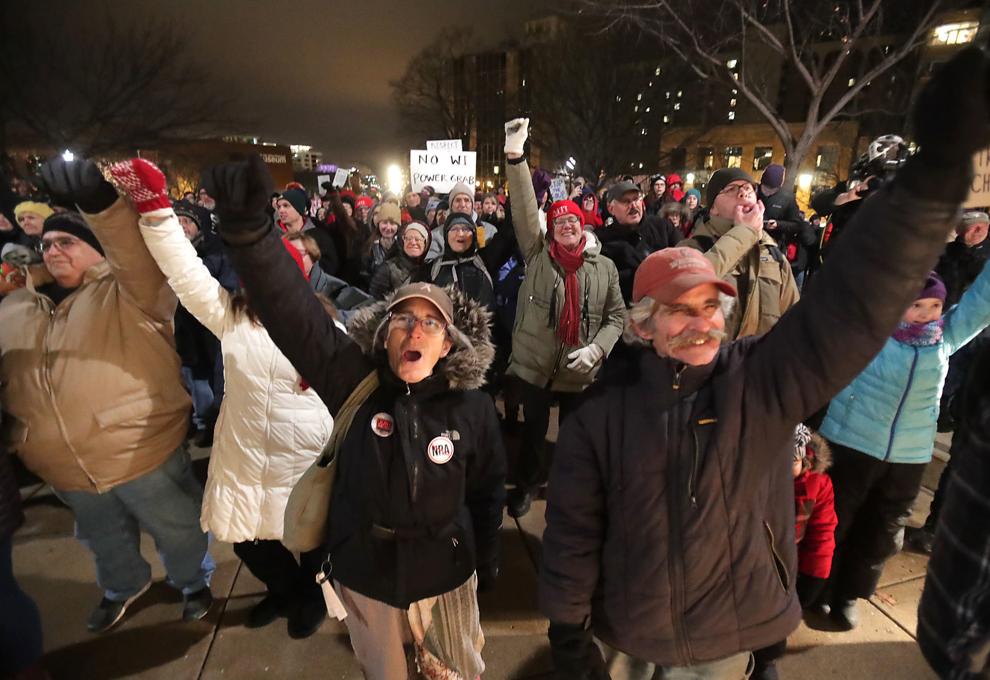 Protesters target GOP lame-duck session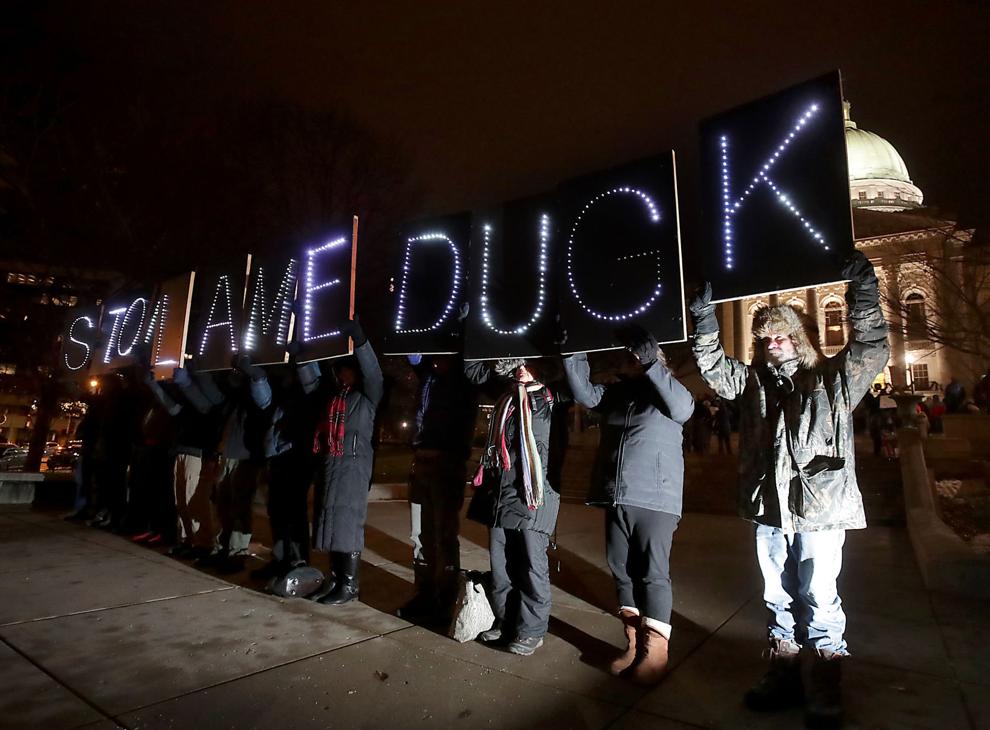 Protesters target GOP lame-duck session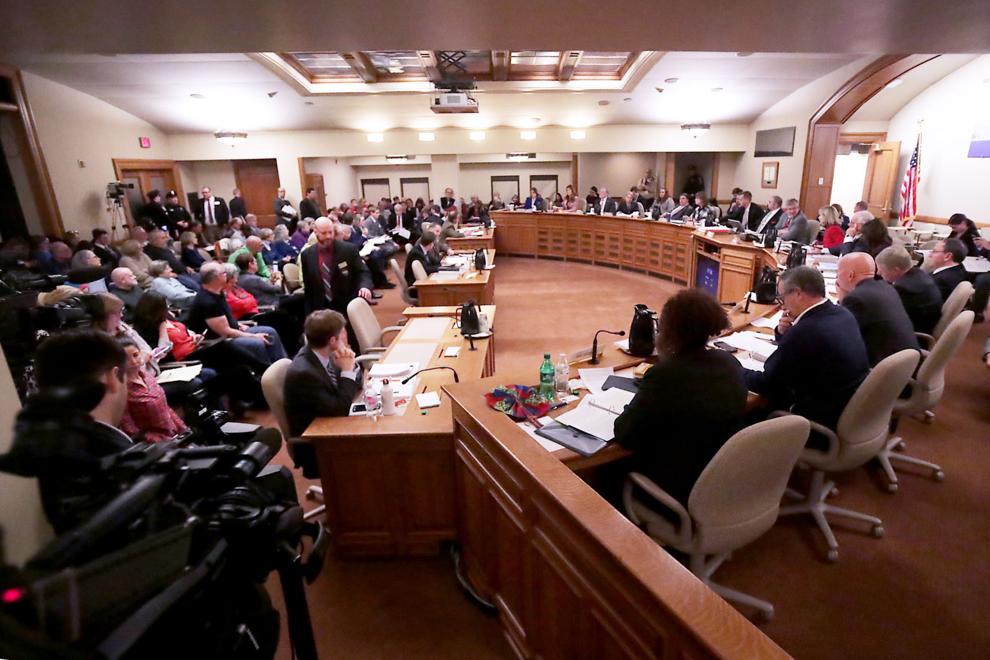 Protesters target GOP lame-duck session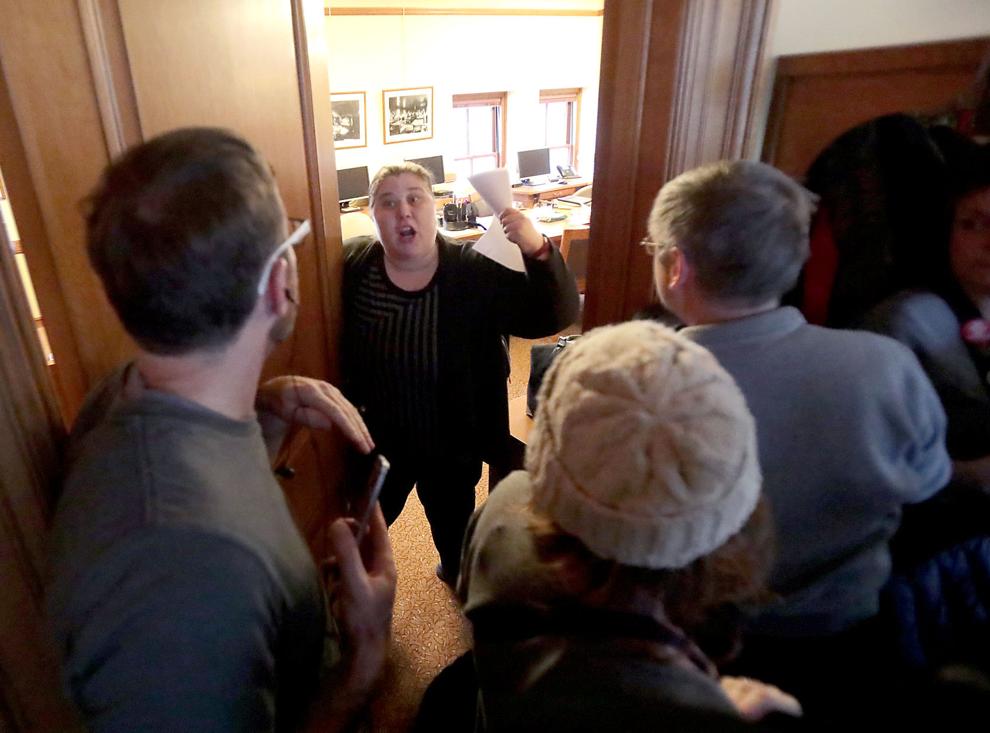 Protesters target GOP lame-duck session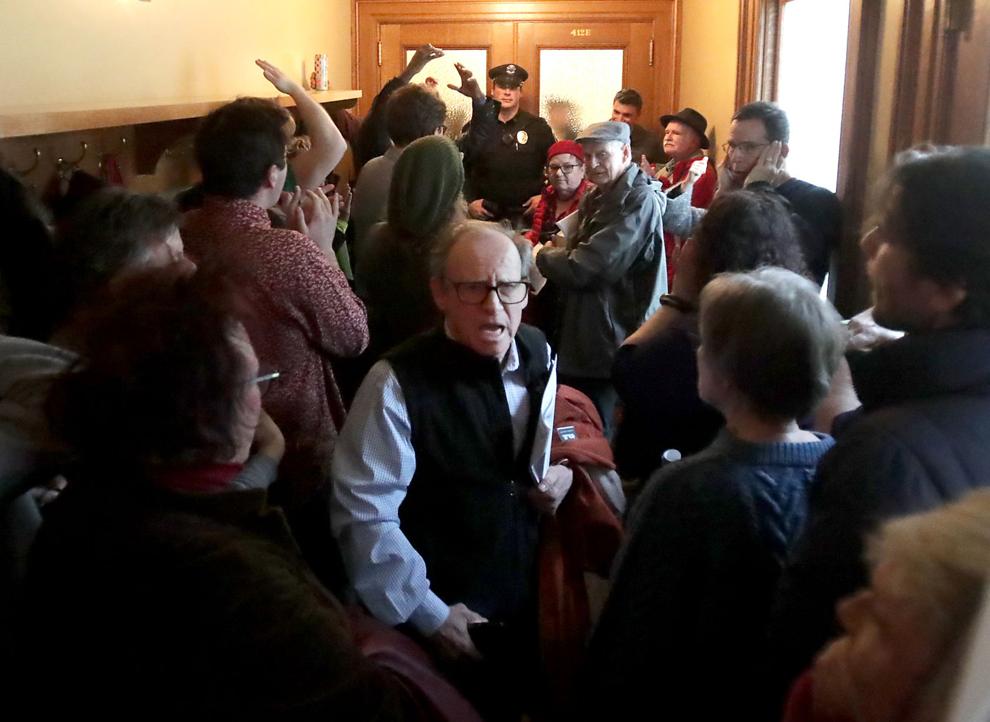 Protesters target GOP lame-duck session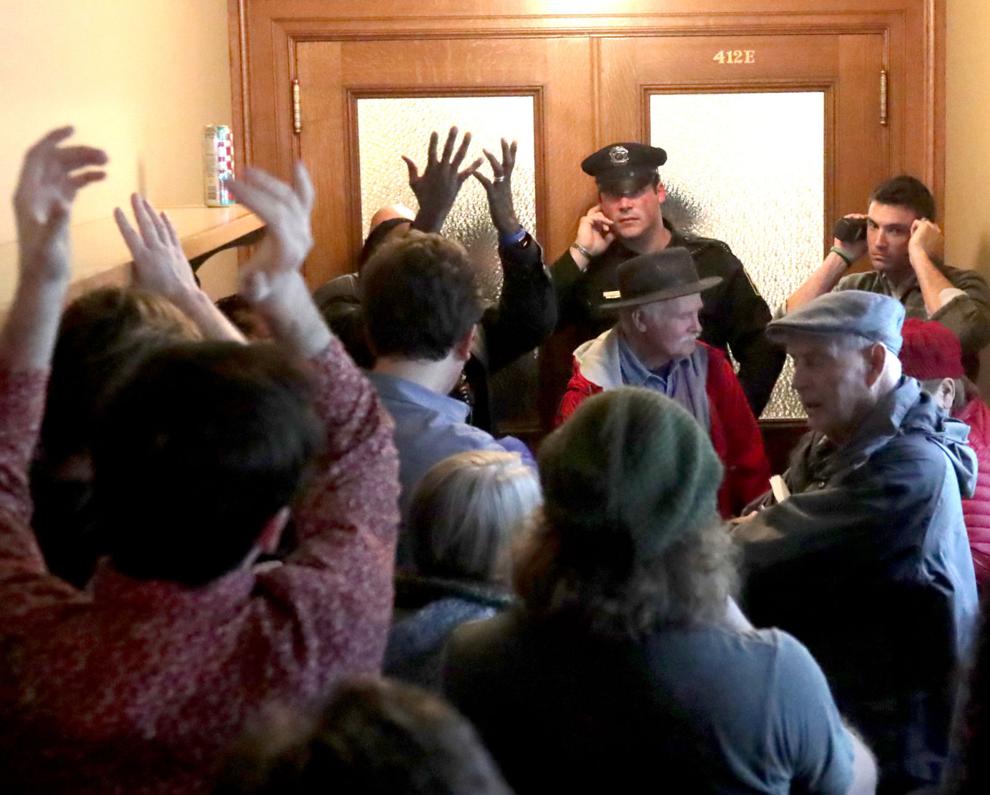 Protesters target GOP lame-duck session
Protesters target GOP lame-duck session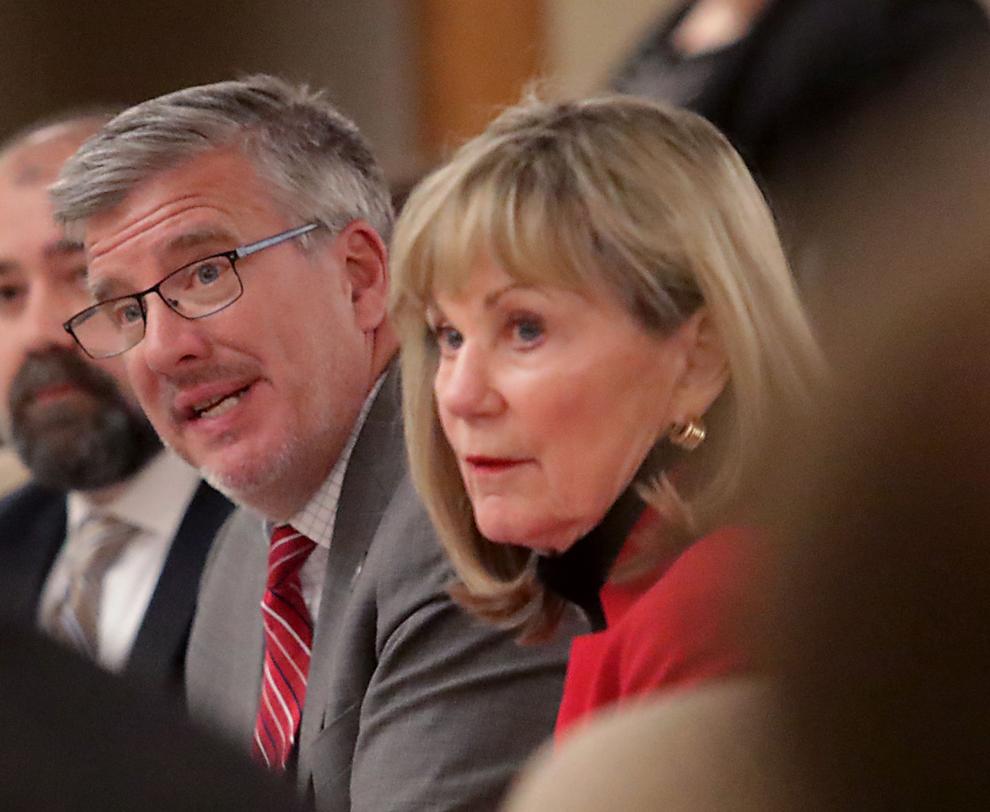 Protesters target GOP lame-duck session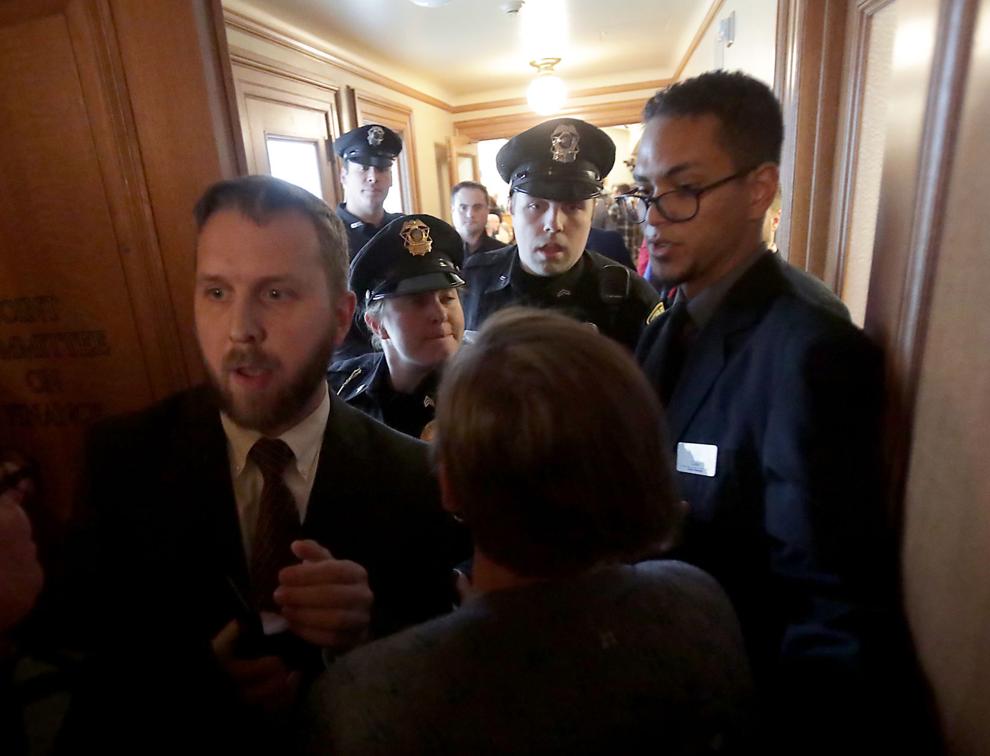 Protesters target GOP lame-duck session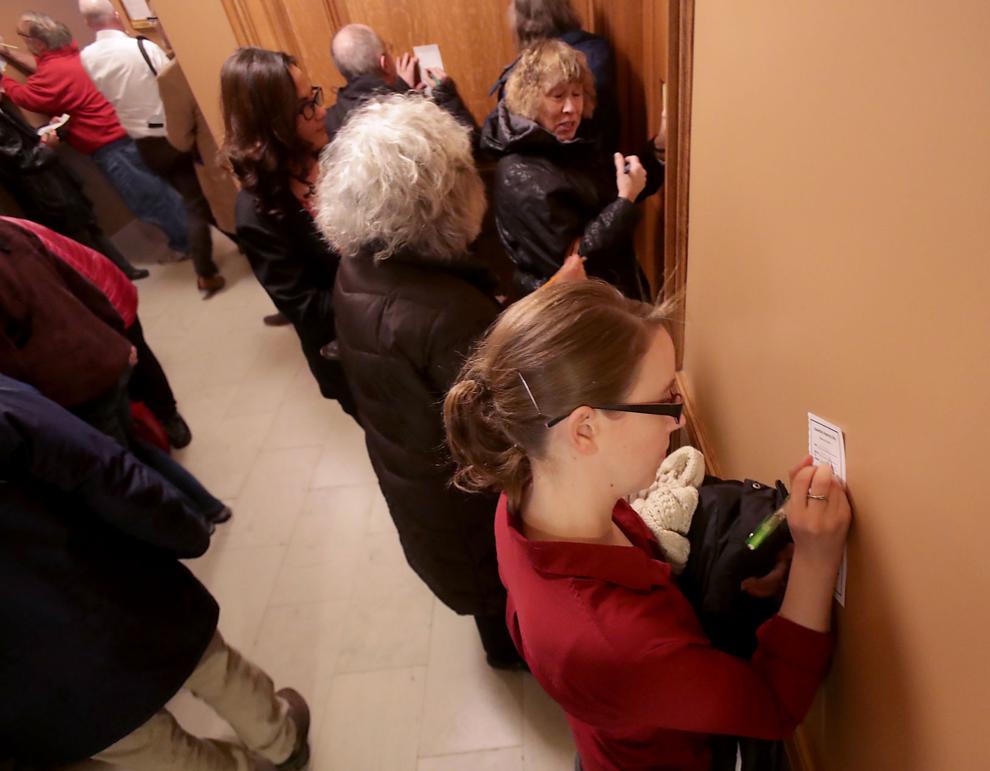 Protesters target GOP lame-duck session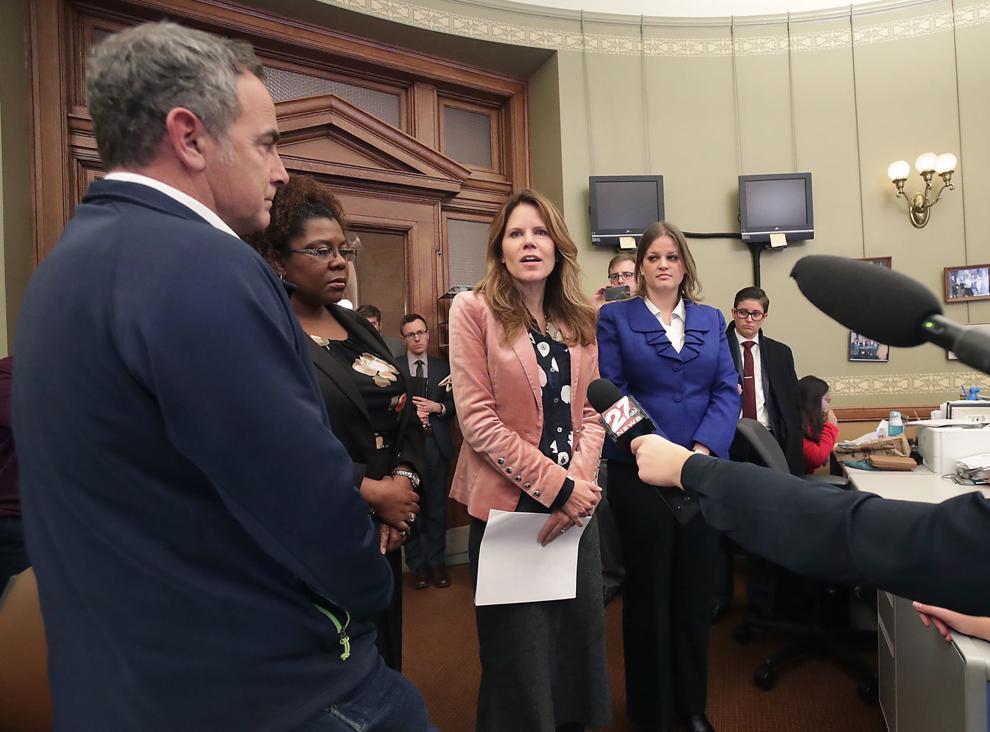 Protesters target GOP lame-duck session