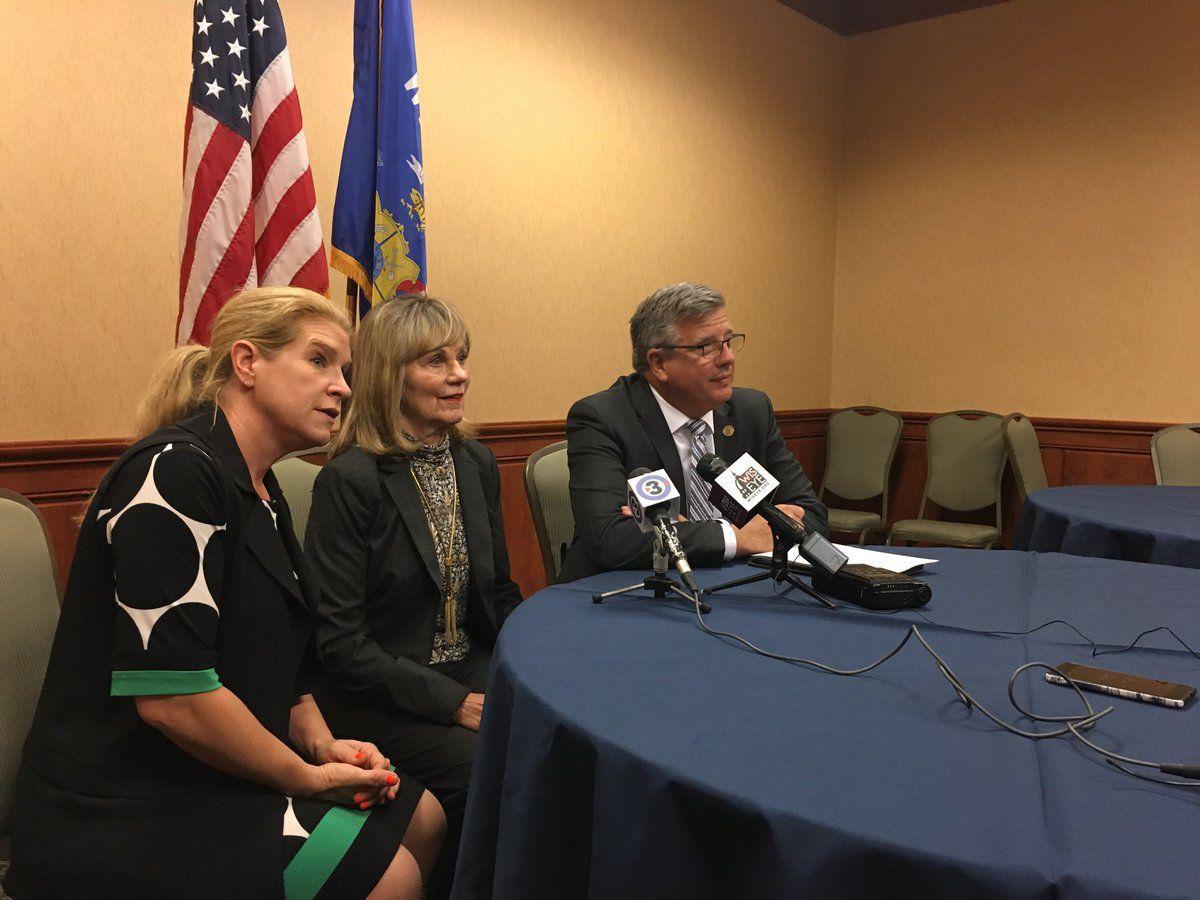 JANESVILLE — An Assembly Republican leader said Friday he will consider Gov. Tony Evers' plan to increase the gas tax, saying transportation could be an area of compromise with the Democratic governor.
But his Senate GOP counterpart pointedly declined to back the plan, underscoring that lawmakers' budget differences are not strictly partisan. The split suggests persistence of the Assembly-Senate division on transportation funding from two years ago that delayed passage of the most recent state budget by months.
The leaders of the Legislature's budget-writing Joint Finance Committee spoke just before they heard public testimony Friday on the next state budget. About 200 residents attended the hearing, the first of four the committee plans to hold outside Madison.
Most speakers advocated for Evers' budget plan, with many lauding its $1.4 billion funding increase for K-12 schools. Others called for expanding health care access, while a few urged the committee not to go along with Evers' plan to cap a tax break for large manufacturers.
Asked before the hearing about Evers' transportation budget, the co-chairman of the committee, Rep. John Nygren, R-Marinette, called it "an opportunity for us to find common ground."
Evers' plan would increase the 32.9-cent-a-gallon gas tax by 8 cents, to 40.9 cents, and link future increases to inflation, and increase fees for vehicle titles and heavy trucks. The new revenue would go to reduce borrowing for transportation and boost funding for state and local road upgrades.
Pressed on his view on Evers' gas-tax increase, Nygren said, "I'm not going to be a hypocrite on this."
"You know the Assembly has been in favor of funding solutions for transportation. So I'm not going to say no, I'm not going to say yes," Nygren said.
Speaking to that question, Sen. Alberta Darling, R-River Hills, co-chairwoman of the committee, said, "I'm not going to go there right now."
"I'd rather find solutions that don't increase the burdens on our taxpayers," Darling said.
Darling did not cite examples of alternative solutions she would consider.
Nygren said some provisions in Evers' transportation budget, such as reinstating a prevailing wage requirement for public works projects, are nonstarters with Assembly Republicans.
You have free articles remaining.
Democratic lawmakers said Evers' budget addresses funding shortages for transportation and K-12 schools that they said worsened under former Gov. Scott Walker.
Range of topics
Speakers at Friday's hearings addressed a range of topics including health care, tobacco-use prevention, increasing state aid to municipalities, boosting clean energy use, implementing a nonpartisan redistricting process and ending solitary confinement in state prisons.
Mario Ramirez, a spokesman for the immigrant advocacy group Voces de la Frontera, testified in favor of a provision in Evers' budget that would enable people living in Wisconsin illegally to obtain state IDs including driver's licenses. The IDs would say that they could not be used to meet the state's photo ID requirement to vote.
Mitchell Benson, a senior vice president at Janesville-based Prent Corp., testified against Evers' plan to cap a tax credit for large manufacturers. Prent, which makes plastic trays for medical applications, has expanded its operations in Wisconsin with the help of the credit, Benson said.
If the credit is capped as Evers proposes, Benson said that could influence the international company's decisions about where to locate or expand.
"Obviously how friendly state government is to manufacturing directly influences where we would invest," Benson said. "Bottom line, we have choices."
Evers wants to cap the tax credit and limit for high-earning taxpayers a benefit for capital gains while cutting income taxes for low and middle earners. The result would be a net increase in revenue to the state's general fund, much of which he would direct toward his school-funding increase. Much of that, about $600 million, would go toward special education services, while another $619 million would go to general aid for school districts.
Mom speaks out
Anna Hauser, of Madison, testifying on behalf of herself and 13-year-old son Zavier Hauser, who has cerebral palsy, advocated for Evers' special-education funding proposal.
Hauser said Evers' proposal would significantly reduce the extent to which school districts must tap other funding sources to subsidize special education services like what her son needs. This could result in better educational services for students both with and without special needs, Hauser said.
Zavier's medical condition makes him nonverbal, and he needs instruction in devices that enable him to communicate, Anna Hauser said. She said that instruction is something the district sometimes struggles to provide due to funding constraints. She hopes Evers' plan could change that.
"It means, for him, that he can interact with his peers," Hauser said.
More Joint Finance budget hearings are planned later this month in Oak Creek, River Falls and Green Bay.