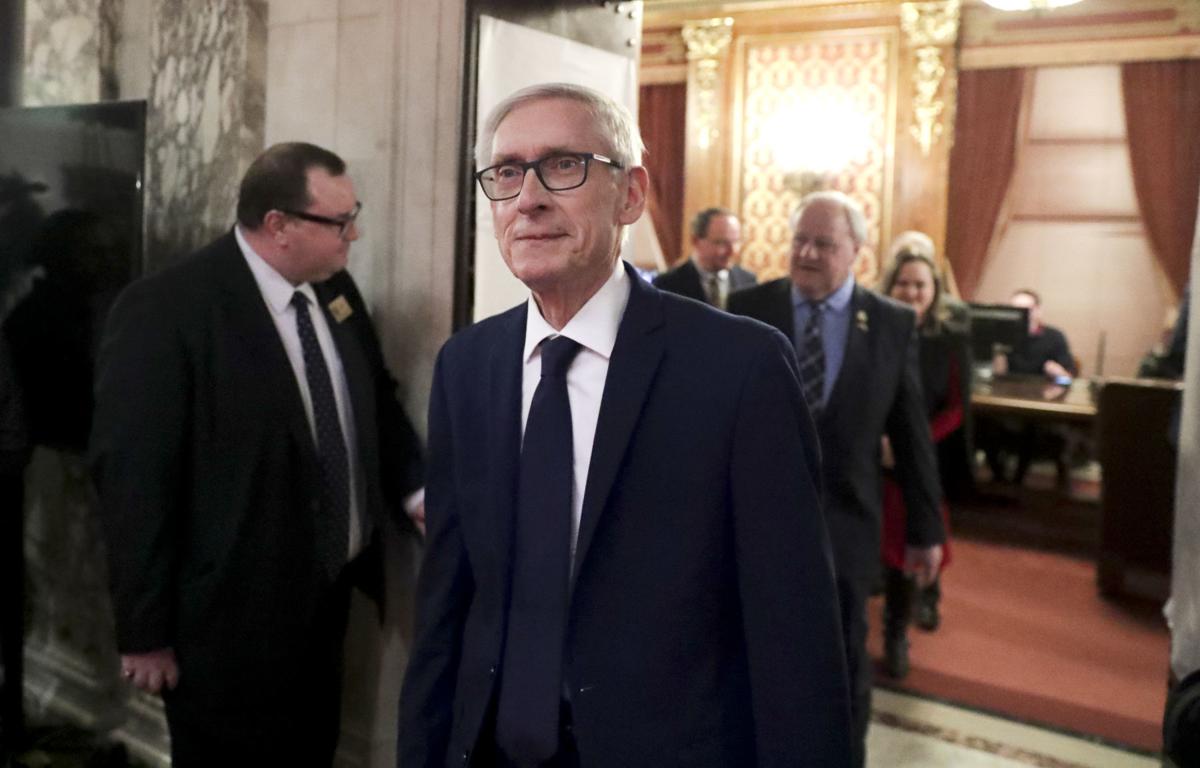 Republican lawmakers, emboldened by a surprise win for conservatives in a state Supreme Court election a day earlier, critiqued Democratic Gov. Tony Evers' budget Wednesday as an irresponsible plan that overspends and overtaxes.
Evers' Transportation Secretary-designee Craig Thompson also declined to endorse the governor's estimate that his proposal to scrap a mandated markup on fuel sales would save motorists as much as 14 cents a gallon.
Democratic lawmakers defended Evers' plan, saying it would help the state play catch-up after what they described as years of neglect under GOP control.
The comments came during the hearings in which the Legislature's budget-writing Joint Finance Committee was briefed on Evers' budget by officials from his administration. The briefings kick-start the Legislature's participation in the budget process after Evers released his proposal on Feb. 28.
Republicans wasted little time in the opening minutes of the hearing blasting Evers' plan, underscoring the newly fraught budget dynamic in a state government that now is politically divided.
Evers' proposals that sparked debate included plans to:
Boost school funding by $1.4 billion over two years.
Freeze enrollment in voucher school programs.
Increase the gas tax by eight cents per gallon and tie future increases to inflation.
Remove a requirement that vehicle fuel be sold at a set amount above the retailer's cost.
Allow immigrants living in Wisconsin illegally to obtain a type of driver's license or ID card that could not be used as an ID to vote.
Expand Medicaid eligibility to cover about 80,000 more Wisconsinites under the federal health care law.
Create a new state medical marijuana program for people with debilitating medical conditions.
The GOP leaders of the committee, Rep. John Nygren, R-Marinette, and Sen. Alberta Darling, R-River Hills, said Evers' plan is irresponsible because it spends too much and raises taxes unnecessarily.
Nygren also touted the results of Tuesday's state Supreme Court election, in which unofficial results show conservative-backed Brian Hagedorn leading liberal-backed Lisa Neubauer by nearly 6,000 votes.
Nygren said he believes those results are a reaction to "oversteps" by Evers.
"Today is a reset for the budget," Nygren said.
Republican lawmakers have signaled they are likely to craft their own budget plan instead of building from the governor's proposal, as state lawmakers typically have done.
School funding at issue
State Superintendent Carolyn Stanford Taylor told lawmakers Evers' proposal to boost state school funding is critical to help erase achievement gaps and serve students with special needs. It also would help districts that have been hit in recent years by cuts or stagnation in state funding, she said.
Evers' budget proposes a $606 million funding boost for special education. It also restores a commitment for the state to fund two-thirds of school districts' costs to educate children, increasing state general aid to districts by $619 million while overhauling the funding formula for state aid to direct more money to poorer districts.
You have free articles remaining.
The budget also directs $64 million more toward mental health services and programs and $20 million in grants for after-school programs.
GOP lawmakers have said they're unlikely to support Evers' proposed increase for special education funding. Nygren, questioning Stanford Taylor Wednesday, asked why the state couldn't increase general aid instead to give districts greater flexibility. He also said the increase would not enable districts to provide more services to special-needs students.
Evers touted his budget on Twitter at Wednesday's hearing, saying the state has "failed to fully fund services for our kids with special needs for more than a decade. This is an equity issue."
Sen. Luther Olsen, R-Ripon, chairman of the Senate Education Committee, called Evers' budget good for schools but said it spends too much.
"Taxpayers probably can't afford what the governor has for education," Olsen said.
Evers' school-funding increase is a centerpiece of his $83.5 billion budget for the two-year cycle starting July 1.
Gas tax increase
Evers proposes to fund his additional spending with about $1.2 billion in net tax increases. Most of that comes from closing a tax break for large manufacturers; limiting for high-earning taxpayers a benefit for capital gains; and increasing the gas tax by eight cents and indexing future increases to inflation.
Individuals making up to $100,000 a year and joint filers making up to $150,000 would see an income tax cut under Evers' plan.
Republican lawmakers have said recent economic growth, and resulting growth in tax collections, make any tax increase unnecessary.
Evers and other supporters of a gas-tax increase say it's the simplest way to address a backlog of road, bridge and transit projects that is causing the state's transportation network to deteriorate. His budget also would increase fees on vehicle titles and heavy truck registration and enable collection of a previously enacted fee on hybrid vehicles.
Thompson cited figures Wednesday to show that even including Evers' gas-tax hike, the total cost to operate a vehicle — including fuel taxes, fees and tolls — would remain lower in Wisconsin than in neighboring states.
Evers also wants to remove the state's 9.18% minimum markup requirement for fuel sales, saying it could help offset the cost to motorists of increased gas taxes. Evers' administration has said scrapping the requirement could save motorists as much as 14 cents a gallon on fuel.
Rep. Mark Born, R-Beaver Dam, and Sen. Howard Marklein, R-Spring Green, were among those who questioned that figure at Wednesday's hearing. When pressed, Thompson said he isn't sure how much the price of fuel would go down if the minimum markup requirement is scrapped — but said he thinks the savings for motorists would be significant.
As an example of the administration's priorities, Thompson cited Evers' proposal to boost funding for a key program that funds maintenance and upkeep of state highways.
"Fixing what we have first is clearly the priority of this budget," Thompson said.