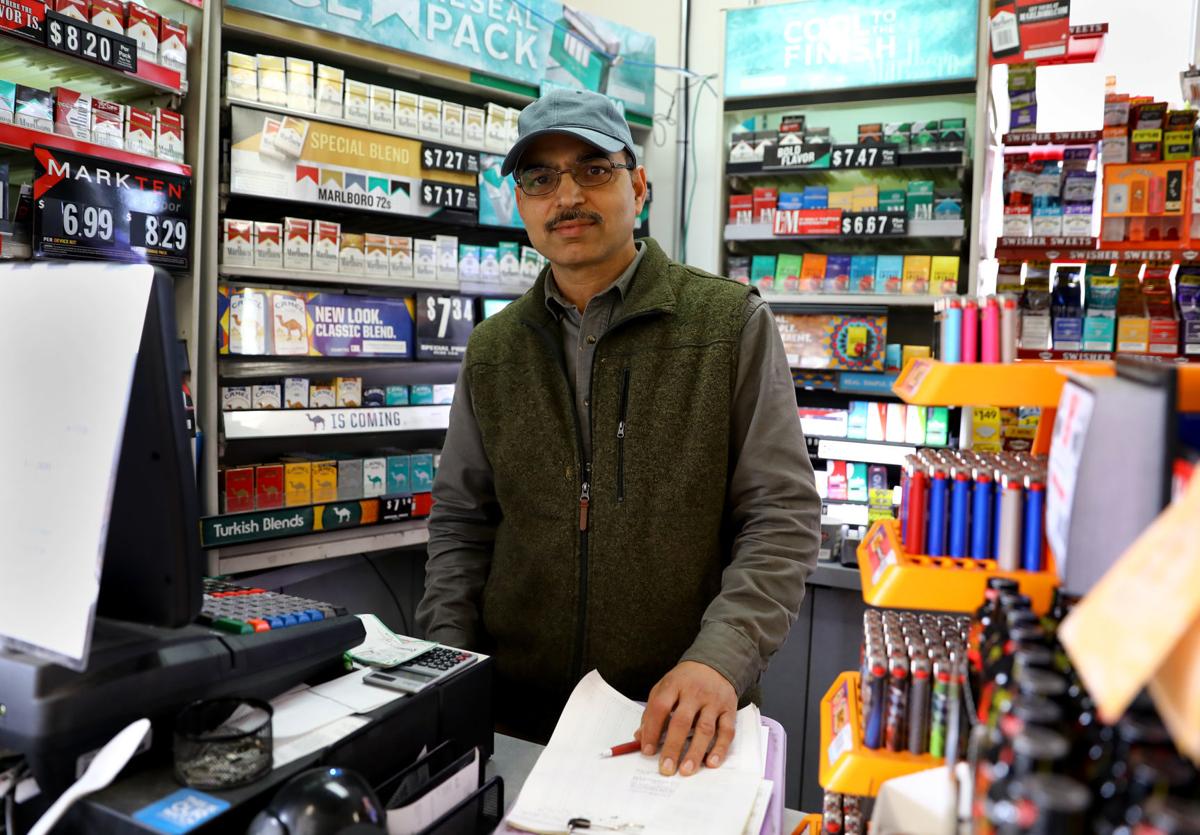 Since 2009, Khalil Audi of Cudahy has cashed in lottery tickets 33 times for about $80,000.
His $10,000 win from Badger Cash Blowout? A one-in-72,000 chance. When he bought a $30 Super Millions scratch-off ticket, he had a one-in-200,000 shot of winning $5,000 — the same odds as giving birth to conjoined twins.
Of his 33 wins, Audi purchased 30 of the tickets at Charlie's Liquor & Tobacco Mart -- the place where he works.
At least three of the top 13 players who have won 20 times or more in recent years have close ties to the retailers selling them the winning tickets, a Wisconsin Center for Investigative Journalism investigation has found.
Thousands of people throughout the state play a variety of games including scratch-off games and traditional lotteries, such as Powerball which involve guessing numbers that will appear in daily or biweekly drawings. The lottery has provided more than $4.1 billion in property tax relief and at least $7.8 billion in prizes since it was launched in 1988.
But Wisconsin has no laws barring lottery retailers or their employees from buying or cashing in lottery tickets at their own stores — a gap in regulation that could open the state's $600-million-a-year lottery system to fraud. Canada learned that lesson in 2006 when provincial lotteries in Ontario and British Columbia were rocked by scandals uncovered in media reports involving store owners and clerks.
In the United States, news reports from Pennsylvania, Florida, Massachusetts and other states have revealed suspicious pockets of frequent winners, in some cases owners or clerks at stores that sell lottery tickets.
A 2009 Iowa state report recommended that Iowa's lottery consider banning retail employees from playing the lottery at stores where they work to ensure the games' integrity.
The Iowa review found several store owners and their employees among those exhibiting against-the-odds luck. One clerk had claimed eight prizes for a total of $266,000 in less than one year's time at the store where he worked, the ombudsman found.
But a 2017 Des Moines Register investigation found Iowa did not adopt that recommendation, and employees of lottery retailers continue to rake in big winnings, including one who cashed in $28,000 in stolen tickets. Lottery officials told the newspaper that such a requirement would be unworkable and add unnecessary government bureaucracy.
In Wisconsin, retailers also get bonuses of up to $100,000 when they sell winning tickets, providing further monetary incentive to bend the system in their favor, one expert said.
When presented with a list of 20 of Wisconsin's most frequent lottery winners, Jean Adler, deputy administer of the Wisconsin Lottery, said all have been reviewed and continue to be monitored "to watch for additional wins that might suggest further investigation." Only one of the 20 has been the subject of a completed investigation. He was cleared in 2005.
In addition, a 2010 sting operation involving hundreds of retailers in Wisconsin found five clerks took winning tickets, each worth $5,000, from law enforcement officers posing as customers. Two thought the tickets actually were losers and threw them away, Adler said. The other three took the tickets knowing they were winners. Two cashed them and were later prosecuted, she said.
"I don't think retailers are perfect, but they're pretty good," Adler said.
Adler declined to describe the specific mechanisms the state agency uses to guard against retailers or others potentially gaming the system, saying it could tip off fraudsters about how to cheat. She said there has been just one completed investigation into lottery fraud since 2012. It involved the theft of a winning ticket by a store clerk in 2013.
Efforts to cheat lotteries
There are several ways people — mainly employees, store owners or lottery insiders — have cheated lotteries across the nation:
● Store owners or employees can "micro scratch" tickets with small blades, revealing whether the card is a winner. This method stacks the deck against people buying from the store because the retailer sells only losing tickets. In Tampa, Florida, authorities arrested a store employee in January 2017 for "micro scratching" tickets after he cashed at least seven tickets worth $1,000 each. Adler said the lottery is investigating a retailer suspected of "micro scratching" tickets in Wisconsin.
● In some cases, store owners or employees can steal tickets from customers who return to confirm their wins. In 2013, an Eau Claire, Wisconsin, man cashed a $10,000 winning ticket that a lottery store clerk had stolen from an elderly customer.
● Eddie Tipton, a computer programmer for the Multi-State Lottery Association, rigged drawings in four states, including Wisconsin, winning $2.2 million over six years. In 2017, Tipton was sentenced up to 25 years in prison.
Officials from the Wisconsin Lottery say frequent winning is not necessarily evidence of wrongdoing. People who win a lot are often big-time players who spend a lot of money on tickets, increasing their odds, Adler said.
You have free articles remaining.
Laura Albert, a UW-Madison professor and expert on lottery odds, agreed. Albert said some people play the lottery professionally, such as monitoring games' payouts, and then buying tickets in bulk when the game's payouts are far below normal.
"There are a couple of different ways to win the lottery frequently. Some of them are fraudulent and some of them are not fraudulent — they're just professional lottery players," Albert said.
Wisconsin data limited
Wisconsin Lottery data do not show how often people play the lottery, how much each person spends or what games they play. That makes it impossible to calculate exactly what odds these frequent winners are beating — and difficult to figure out if they are cheating.
Philip B. Stark, a professor of statistics at the University of California-Berkeley who has studied lottery odds for years, has devised a method to estimate the minimum amount of money these winners would need to spend on the the lottery to have a one-in-10 million chance of winning. To put those odds in perspective, each year Americans have a roughly one in a million chance of getting struck by lightning.
"It's really trying to be careful, and not accuse anybody of anything where there was even a slim chance of where they might have just done this through just honest play," Stark said.
Stark said most of Wisconsin's frequent winners do not appear to be particularly suspicious, based on his analysis. But some stand out.
In the case of Audi, Stark said he would have to spend $191,697 over eight years, or about $66 a day, to have a one-in-10 million chance of winning his $78,300 in prizes.
Audi declined to comment.
Stark said people with connections to the places where they bought their winning tickets also raise questions. One lucky store employee, Steven Kazik, has claimed 21 winning tickets for $128,417, with at least 20 wins coming at Oklahoma Liquor in Milwaukee, where he has worked. Kazik, who lives in Oak Creek, could not be reached for comment.
Charanjit Singh owned gas stations in Neenah and Appleton, Wisconsin, where he won 21 times for nearly $90,000. Singh could not be reached for comment.
Lack of 'meaningful enforcement'?
Adler said over the past three fiscal years, the Wisconsin Lottery has received less than $2,000 in restitution, all for stolen lottery tickets that were cashed. That is a tiny fraction of the payout, which totaled $363 million in fiscal year 2017 alone.
Stark said based on the lack of investigations, prosecutions and restitution — along with the "strong evidence of fraud" he detected among some of Wisconsin's frequent winners — "there doesn't seem to be meaningful enforcement."
Mirza Akhtar's store, the Food Pantry Citgo in Stoughton, has been host to a fair share of big winnings over the years, including a $40.1 million jackpot that earned his store the maximum $100,000 commission. The wall around the checkout is lined with pictures of past winners.
A name that pops up at Akhtar's store about a dozen times: Andrew Ylvisaker, with a lot of $1,000 prizes and one for $100,000. Across town, he also won $1 million at a Kwik Trip gas station.
Ylvisaker has won 28 times for a total of just over $1.1 million since 2007, which makes him one of the state's most prolific winners. Akhtar said Ylvisaker does not work at his store but comes in two or three times a week and usually spends roughly $160 on tickets each time — more if he is winning. The Center was unable to reach Ylvisaker for comment.
There is no evidence that any of the winnings at Akhtar's store were the result of wrongdoing.
Stark said that, in any case, lottery officials tend not to focus much on fraud because it generally does not affect revenue.
"In some cases there is enforcement, and in some cases there is not. What I find to be especially of concern is that the officials in charge of lotteries are just so quick to write this stuff off to, 'Oh, that's the thing about the lottery, people tend to get lucky,' " Stark said.
"Yeah — but not that lucky."
WCIJ reporter Mukhtar Ibrahim contributed to this report. Reporting on this story was supported by funding from publish.org, a nonprofit, community-based organization that creates peer-reviewed journalism.
The nonprofit Wisconsin Center for Investigative Journalism (www.WisconsinWatch.org) collaborates with Wisconsin Public Radio, Wisconsin Public Television, other news media and the UW-Madison School of Journalism and Mass Communication.