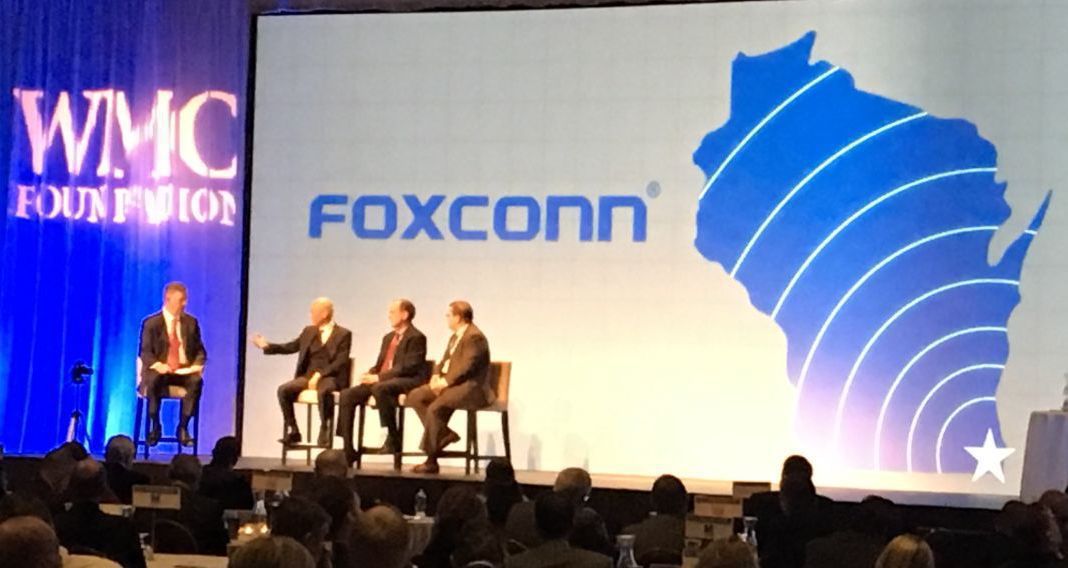 Taiwanese manufacturer Foxconn has won the political battle for a $3 billion state tax credit, but the campaign to win over the public, including many in the business community, continues.
The public relations effort comes as Gov. Scott Walker mounts a campaign for a third term, his Democratic challengers criticize the Foxconn deal as a waste of taxpayer resources and initial public polling shows evidence of public opposition. One of Walker's closest political advisers is also involved in Foxconn's communications strategy.
Last week the company sent Louis Woo, a top Foxconn executive, to participate in a panel discussion at a Wisconsin Manufacturers & Commerce event in Madison where he cracked jokes with fellow panelists Wisconsin Economic Development Corp. CEO Mark Hogan and Department of Administration Secretary Scott Neitzel in front of a projected map of Wisconsin with ripples emanating across the state from a star in Racine County.
Woo said the company's 10-year vision is to create a "Wisconn Valley" that will rival California's Silicon Valley. He added that in order to recruit workers it will be imperative "to maintain and even increase the pristine of Wisconsin, the beauty of Wisconsin, the environmental values of Wisconsin" — even though one of the main criticisms of the deal is that it exempts the company from certain state environmental regulations that other businesses must follow.
"Why are we attracted to Wisconsin? Mostly it's the people," Woo said. "It's because of you guys that we are attracted to Wisconsin."
Gov. Scott Walker, speaking at the same event, addressed right away a concern that he said has been on the mind of many business owners as the Foxconn facility creates as many as 13,000 direct jobs, 22,000 indirect jobs and 10,000 construction jobs in Racine County.
"One of our goals is to make sure we're not only fulfilling the needs that they're going to have directly and indirectly there but that those are a net gain when it comes to jobs in the state and that we're not taking employees from other employers across the state," Walker said.
In its recent series on the worker shortage, the Wisconsin State Journal reported how some business owners are concerned about where Foxconn will find 13,000 workers when near record-low unemployment has made it difficult to find workers. Speaking with reporters Friday, Walker acknowledged the concerns about Wisconsin's worker shortage in relation to Foxconn have been continual and widespread.
"There's usually not a week, sometimes not a day that doesn't go by when I haven't heard specifically from employers about concerns they have about filling positions," Walker said. "And so as I look ahead knowing that obviously the (Foxconn) building will start next year and the full-scale hiring … I'm going to make sure that we're not waiting until we've got an insurmountable problem, that we're acting now."
Walker said that after announcing the Foxconn deal in July, he met with representatives from German candymaker Haribo to reassure the company that it wouldn't be competing with Foxconn for workers. He brought representatives from Milwaukee-based workforce consultant Manpower to share a report that had been prepared regarding the Foxconn deal.
"We actually involved Manpower to help us make the case about how there are different markets in terms of the type of workers they're looking for and different ways even though they're in southeastern Wisconsin," Walker said. "It was something that renewed their confidence."
Earlier this year, Haribo landed a $21 million income tax credit incentive from the Wisconsin Economic Development Corp. — at the time the agency's fourth largest tax credit award — to create 385 jobs in Pleasant Prairie.
Haribo officials didn't respond to a request for comment.
Wisconsin Manufacturers & Commerce, the state's largest business group, also declined to discuss what they are hearing from businesses about the Foxconn deal and their public relations strategy.
Foxconn's public relations effort is being overseen by Platform Communications, a company owned by Walker campaign political adviser Keith Gilkes. A Platform spokeswoman declined to discuss the group's communications strategy.
Foxconn provided a statement saying over the coming weeks and months, it will continue to engage with business leaders and the public as the company builds its campus in Racine County and grows an "extensive Wisconsin-based supply chain that will support this facility."
Polls from Marquette Law School and Democratic-leaning Public Policy Polling suggested the deal isn't wildly popular. The Marquette Poll was limited to southeastern Wisconsin but found 38 percent saying it was worth the $3 billion state investment and 48 percent saying it wasn't. The PPP poll found statewide 41 percent opposed the Foxconn deal, 34 percent supported it and 26 percent weren't sure.
The Walker campaign declined to discuss any internal polling, but noted Walker has talked up Foxconn on the campaign trail after initially not mentioning it in his kickoff speech in Waukesha.
At an event in Superior soon after — in the opposite corner of the state from Racine County and the location of a failed economic development deal from 2012 involving Kestrel Aircraft — Walker said Foxconn is "going to have to have construction workers from one end of the state to the other" and purchase $1.4 billion from "companies in Superior and all over."
"Not only was Foxconn the right thing to do for hard-working families — excitement around this historic investment will continue to grow as shovels enter the ground, suppliers and workers across the state support the project, and tens of thousands of jobs are created," campaign spokesman Nate Craft said.
All the major Democratic candidates running for governor have criticized the deal. State Superintendent of Public Instruction Tony Evers launched an ad in August highlighting how taxpayers won't recoup the lost state revenue for 25 years. Rep. Dana Wachs, D-Eau Claire, who voted against the deal, decried the "staggering price tag borne by taxpayers" and "lack of protections for workers, our water and air." Milwaukee businessman Andy Gronik called it a "shell game." Former Democratic Party of Wisconsin chairman Matt Flynn called it a "desperate deal."
The criticism prompted a response last month from the Republican Party of Wisconsin and the GOP leaders of the Legislature's economic development committees, who said "Democrats are so desperate to score a few cheap political points that they are willing to put hard working families at risk by creating a chilling effect on investment and job creation."
Rep. John Nygren, R-Marinette, also wrote a column recently defending the deal, saying "while Foxconn may be located in southeastern Wisconsin, its impact will be felt statewide."
Rep. Todd Novak, R-Dodgeville, one of two Assembly Republicans who voted against the deal, said before the vote he heard from business owners concerned about what impact Foxconn would have on their ability to find workers. He said he heard from all across the political spectrum: "What are we going to get out of it?"
Novak said many of his concerns about the deal were addressed when WEDC signed the Foxconn contract, which spelled out a timeline for when the company would have to create the 13,000 jobs in order to qualify for the $3 billion in tax credit.
Editor's note: This story has been changed to clarify that Foxconn issued a statement about ongoing public relations efforts among the public and within the business community.