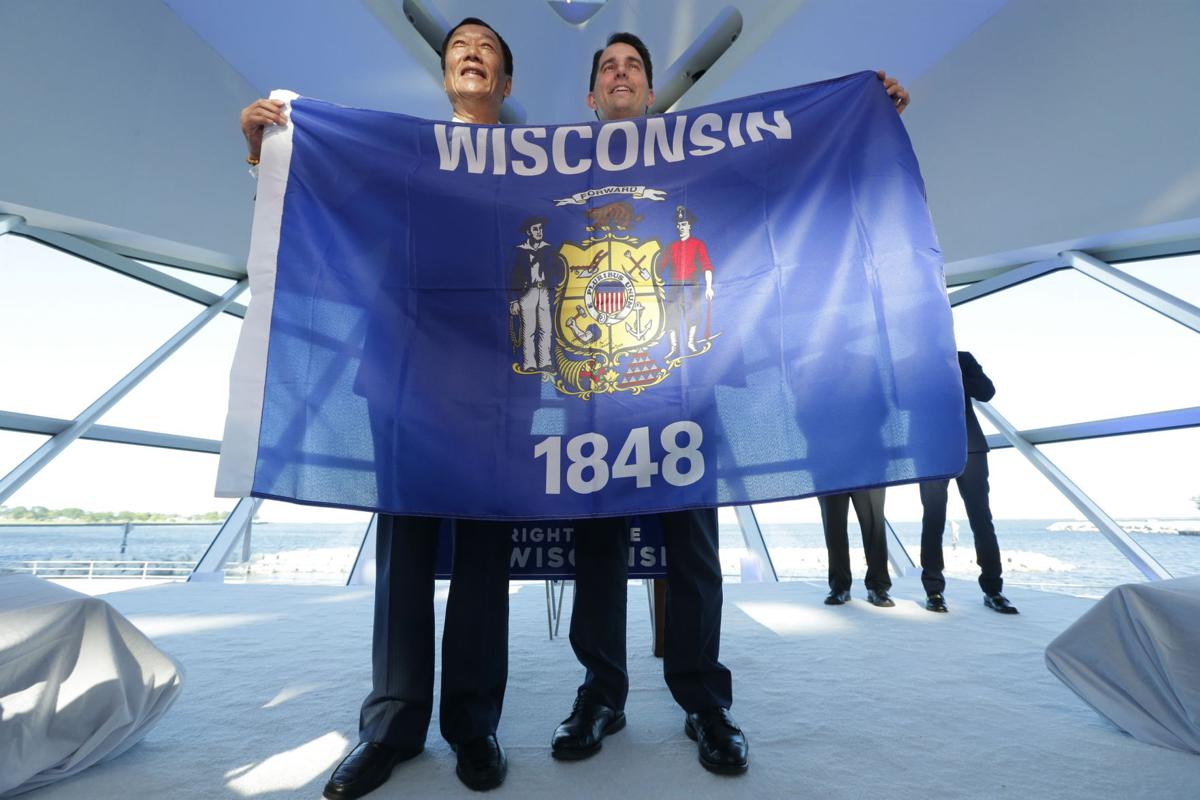 A $3 billion state subsidy package to lure electronics maker Foxconn to Wisconsin, the biggest of its kind in U.S. history, is now on the verge of becoming law.
The bill heads to the desk of a supportive Gov. Scott Walker after passing the state Assembly Thursday, 64-31.
Four Assembly Democrats voted for it: Jason Fields of Milwaukee, Corey Mason of Racine, Peter Barca of Kenosha and Tod Ohnstad of Kenosha. Two Republicans, Adam Jarchow of Balsam Lake and Todd Novak of Dodgeville, opposed it.
The bill passed the Senate Tuesday, 20-13.
It provides as much as $2.85 billion in refundable tax credits to Foxconn over 15 years in exchange for building a $10 billion liquid-crystal display, or LCD, screen manufacturing campus south of Milwaukee. Foxconn says the facility initially will employ 3,000 and could eventually employ as many as 13,000.
Officials for Taiwan-based Foxconn released a statement minutes after Thursday's vote saying, "We thank lawmakers in Madison for their vote of confidence."
"We are excited to see Gov. Scott Walker sign the bill to cement this partnership," the statement said.
Walker hailed the vote in a statement Thursday, and his spokesman, Tom Evenson, said the governor could sign the bill as soon as next week.
"Advanced display technology will be made in America, right here in Wisconsin. I look forward to signing this historic bill into law soon," Walker said.
Walker's signature could bring the state a step closer to what would be, by far, its biggest-ever economic development project. Foxconn's plans to come to Wisconsin were made public with a splash, in a White House event in July that included remarks from President Donald Trump.
Democrats warn of cost, lack of safeguards
Not everyone in the Capitol is singing the deal's praises. Democrats have cast it as a costly corporate handout that lacks safeguards for taxpayers, such as guarantees about how many workers the company will employ in Wisconsin. They also say the deal's pricetag to state government could hinder its ability to fund core functions.
Should it become law, the deal would be the largest subsidy by a U.S. state to a foreign company in history. Details of the agreement would be finalized with Foxconn, under parameters set forth in the bill, by Walker's jobs agency, Wisconsin Economic Development Corp.
"Please do not go down this road, because we will be paying for it and our children will be paying for it for decades to come," said Rep. Mark Spreitzer, D-Beloit.
Assembly Republicans, during Thursday's debate, cast Democratic opposition as knee-jerk resistance to Walker, who negotiated the Foxconn deal. They say Foxconn offers a once-in-a-generation chance to transform the state's tech and manufacturing sectors. In the process, they say the development could create thousands of jobs, both at Foxconn, its suppliers and companies that would provide goods and services to those employees.
"If a Democratic governor negotiated this deal, you would be falling all over yourselves to vote yes," said Assembly Speaker Robin Vos, R-Rochester.
The potential Foxconn campus, which Walker has dubbed Wisconn Valley, would be the first U.S. manufacturing location for the company, a contract manufacturer of iPhones and other electronics that owns plants in China. Foxconn also recently acquired the Japanese electronics company Sharp, and the screens expected to be built in Wisconsin may be used for Sharp televisions.
Supporters of the deal tout the company's pledge that the average salary at the facility will be nearly $54,000 a year, plus benefits. Skeptics say that figure, being an average, could be heavily inflated by a handful of high-paid employees.
Of the $2.85 billion in tax credits, $1.5 billion would be for job creation, with the total amount linked to the number of jobs created. Another $1.35 billion would be tied to the amount the company spends to build the facility.
An additional $150 million in incentives would come through a sales tax break on materials used for the campus' construction. The company has said it hopes to break ground in 2018 and begin operating in 2020.
Democrats slammed the deal for rolling back environmental protections and lacking requirements that workers at the Foxconn plant be Wisconsinites. They sought to abolish, through an amendment rejected by the GOP majority, a provision creating a special judicial track for Foxconn-related legal appeals — sending them straight to a state Supreme Court currently dominated by conservative justices.
For critics, 25-year payback still a concern
Democratic lawmakers also cited a study by the Legislature's nonpartisan fiscal bureau projecting state government will take 25 years to begin making back its investment on Foxconn.
Rep. Jimmy Anderson, D-Fitchburg, chided Walker for having negotiated the incentive deal with Foxconn CEO Terry Gou, in part, on the back of a napkin, as shown by the release of public records. Anderson said the highly profitable Foxconn doesn't need billions in "bailouts" from Wisconsin taxpayers.
Foxconn has not said where it would locate the campus, but sites in western Racine and Kenosha counties are believed to be top contenders. That area has a deep history in manufacturing but, like other Rust Belt communities, has seen the ranks of such jobs diminish.
"This has tremendous bipartisan support in our corner of the state," said Rep. Thomas Weatherston, R-Caledonia.
Sen. Bob Wirch of Kenosha was the only Democratic senator to back the bill in Tuesday's vote; Sen. Rob Cowles of Green Bay was the only Republican opposed.
Some skeptics of the deal say its expected proximity to Illinois and the Chicago area could be a drawback because Wisconsin taxpayers could end up subsidizing jobs filled by Illinois residents.
"There are no guarantees that Wisconsinites will be the ones to benefit from any jobs that may be created," said Rep. Lisa Subeck, D-Madison.
A previous version of the bill already passed the Assembly but had to be reapproved with changes added by the Senate and the Legislature's budget panel.