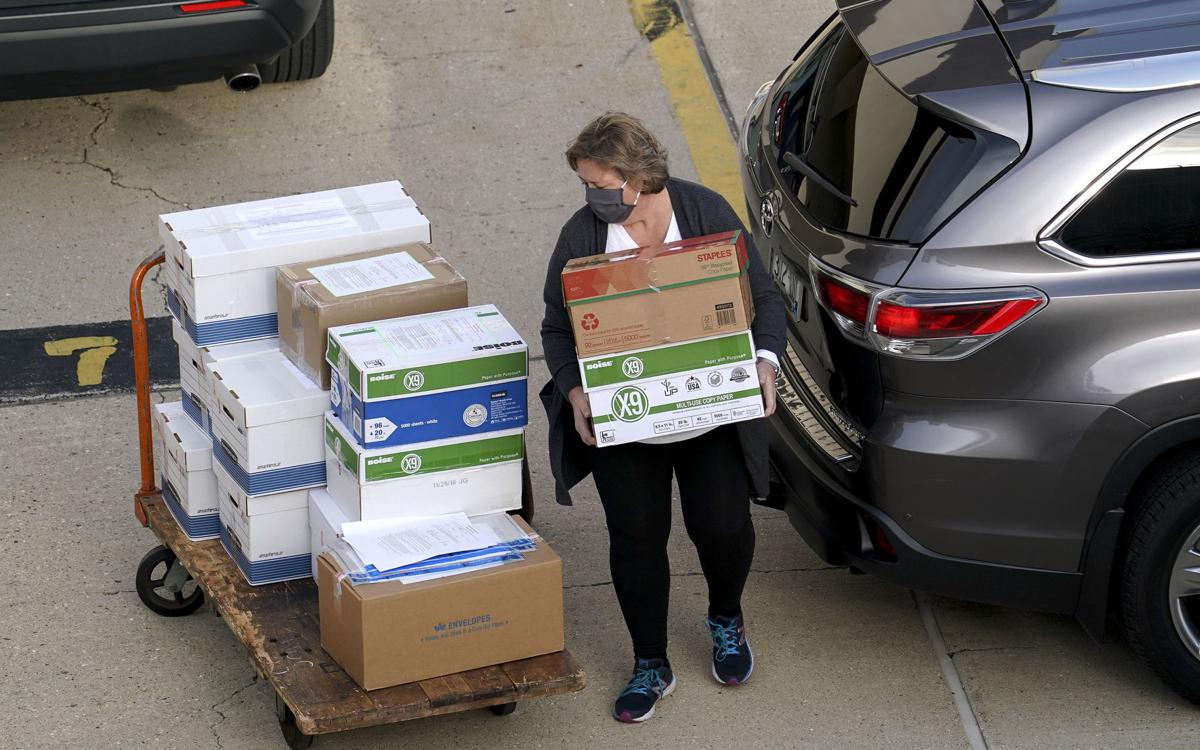 The fourth day of Wisconsin's partial recount got underway in Dane and Milwaukee counties on Monday with little change to the overall vote count and smoother operations in Dane County compared with day one.
Figures provided by the two counties to the Wisconsin Elections Commission show that President Donald Trump so far has netted an additional 41 votes in the two counties out of the roughly 800,000 total votes cast there.
In Dane County so far, Biden's total dropped by 51 votes and Trump's decreased by 10, while in Milwaukee County, both Biden and Trump netted one vote each.
Dane County Clerk Scott McDonell said 82,796 out of 345,604 ballots in Dane County, or about a quarter of the total votes, had been tabulated since the recount effort began on Friday at Monona Terrace and counting started in earnest on Saturday. The figures Milwaukee County provided to the WEC show it has tabulated roughly 13% of its total votes.
McDonell said most rejected ballots have been for those lacking a witness signature or where the voter did not sign the envelope.
"Because of the vast number of absentee ballots, there's going to be more drawdowns than there was four years ago," he said. "A lot more, but not enough to change any outcome — not even close."
Election tabulators and observers were separated by clear plastic partitions on Monday, with almost everyone present wearing a face mask. Occasionally, staff would have to remind someone to properly wear their mask. Some observers on Monday watched as ballots were tabulated, while others asked to see each individual ballot as they were counted.
"It seems like we're into a pattern now that is allowing us to move forward at a reasonable pace," McDonell said. "There's just a lot of ballots and a lot of envelopes to look at. We're a little behind schedule, but hoping we can make up some time in the next couple of days to catch up. ... I think we're close to being on track to finish on time, which would also include not being here on Thanksgiving."
The deadline for both counties to complete their respective recounts is Dec. 1.
Smoother sailing
While Milwaukee County officials had reported some obstructionist behavior, largely from Trump supporters, over the weekend, McDonell said Dane County's recount process was moving smoothly Monday.
"It was definitely some animosity here and there at first, but you can kind of see how it is now," McDonell said. "COVID has made this really hard. I will say that I think people are trying. It could always be better at distancing and masks, but it's night and day from day one."
On Friday, McDonell had to issue warnings to attendees, which include recount staff, observers from both presidential campaigns, media and members of the public, to maintain proper social distancing.
On Saturday, Milwaukee County election officials accused Trump representatives of flouting rules to obstruct and delay the recount, noting some of their observers were objecting to every ballot at a particular table. Challenges were being made over absentee ballots that were folded — a necessary step for voters to put them in envelopes.
Another Trump challenge sought to disqualify mail-in ballots submitted in envelopes with official stickers that had become unstuck.
As part of a national effort to overturn the results of the presidential election, President Trump's campaign alleged baseless "irregularities" in Wisconsin and paid $3 million last week to request a recount only in Dane and Milwaukee counties, where voters by 2-to-1 margins voted for President-elect Joe Biden.
Official canvass results showed Biden winning the state by more than 20,000 votes.
The objections
The Trump campaign has so far raised objections to several categories of ballots that the campaign likely hopes will culminate in a court challenge that will invalidate thousands of votes and overturn the election results in the state.
Such an effort, however, is unlikely to succeed.
In Dane County, Trump wanted canvassers to reject absentee ballots without an accompanying absentee application, including 69,000 absentee ballots cast in person; absentee ballots whose witness address was filled in by a local election official; and all absentee ballots where voters self-certified as "indefinitely confined," which exempts them from having to provide a photo ID.
Claims by the Trump administration have turned increasingly fantastical. That was underscored after the Milwaukee Journal Sentinel reported Jim Troupis, the Cross Plains attorney assisting Trump with his Dane County recount, and his wife voted in-person absentee, while also arguing such ballots are illegal and shouldn't be counted.
Troupis, a former Dane County judge appointed by former Republican Gov. Scott Walker, declined a request seeking comment.
"Obviously, he believed that the application he was filling out and the ballot he was casting were perfectly valid, or he wouldn't have done it," said liberal Madison attorney Lester Pines. "That's an admissible fact and it puts the president in a difficult position. This entire case that they intend to bring is frivolous."
The Associated Press contributed to this report.
Watch now: Midwest reaction to Election Day and its aftermath
Here's how communities in Wisconsin, Illinois and Indiana handled the historic 2020 election and reacted to its aftermath.