A former Wisconsin regulator sought to lead one of the state's largest utilities just months after voting to approve two of the company's projects.
Mike Huebsch, who resigned from the Public Service Commission in February, later applied for the job of chief executive officer of Dairyland Power Cooperative, according to documents obtained by a group suing the agency over approval of a controversial power line through southwestern Wisconsin.
In his last five months on the PSC, which oversees utilities in Wisconsin, Huebsch voted to authorize two projects in which Dairyland is a major partner: the $492 million Cardinal-Hickory Creek transmission line and a $700 million natural gas plant.
Though he did not land the job, the timing of his application has prompted allegations of bias by opponents of both projects.
In a cover letter to Dairyland's board, the longtime Republican lawmaker from West Salem cited his years of government experience, which included four years in Gov. Scott Walker's cabinet before being appointed to the PSC in 2015.
"For over 25 years I have served the people of the state of Wisconsin in our state government," Huebsch wrote. "My career of representing the people of western Wisconsin in the legislature and then in the executive and regulatory branches have provided me unique and diverse experiences that will allow me to immediately step in as the Chief Executive."
Huebsch last month provided a copy of his letter and resume to the PSC, which turned them over to attorneys for the Driftless Area Land Conservancy in response to a demand for communications regarding his future employment "by any of the parties to the Cardinal-Hickory Creek" project, of which Dairyland will own 9%.
An attorney representing the conservancy said the revelation that Huebsch sought employment with one of the project's owners casts doubt on the impartiality of his decision.
"The public can fairly ask, would Commissioner Huebsch have felt free to vote against Dairyland ... if he were thinking about, in the near future, seeking a job as CEO?" said Howard Learner, executive director of the Environmental Law and Policy Center. "It just stinks."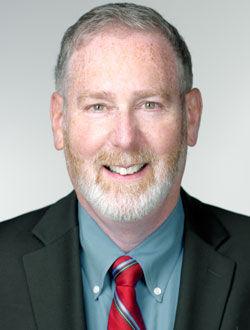 No comment
Huebsch, who now runs a government and regulatory consulting firm, did not respond to requests for comment. PSC spokesman Matt Sweeney said the agency, which is representing Huebsch in legal challenges to both utility projects, has advised him against commenting publicly.
In his application letter, Huebsch cited his regulatory experience "in the delicate process of moving our state and nation's energy portfolio toward a more carbon free, renewable future."
But the law does not preclude them from seeking employment in industries they oversaw, and Huebsch would not be the first utility regulator to go to work for a utility.
"Utilities recognize that former regulators are extremely valuable to assist them with navigating the regulatory process," said Tyson Slocum, director of the energy program at the nonprofit consumer advocacy group Public Citizen. He suggested Wisconsin needs tighter revolving-door laws: "It's inherently a problem, because deep-pocketed entities are willing to pay to retain the services of a former regulator."
But Phil Montgomery, a retired Republican legislator who served as PSC chairman under Walker, said Huebsch was an honorable public servant who deserves to be able to earn a living using the skills he gained as a regulator.
"He's one of the most morally centered and ethically conscious people I know," Montgomery said. "What's he supposed to do? Is he supposed to be a truck driver?"
Two big projects
The PSC voted unanimously in September to approve the Cardinal-Hickory Creek project, a joint venture of American Transmission Company, ITC Midwest and Dairyland that will run between Dubuque, Iowa, and Middleton. Construction is scheduled to begin in late 2021 pending the outcome of legal challenges.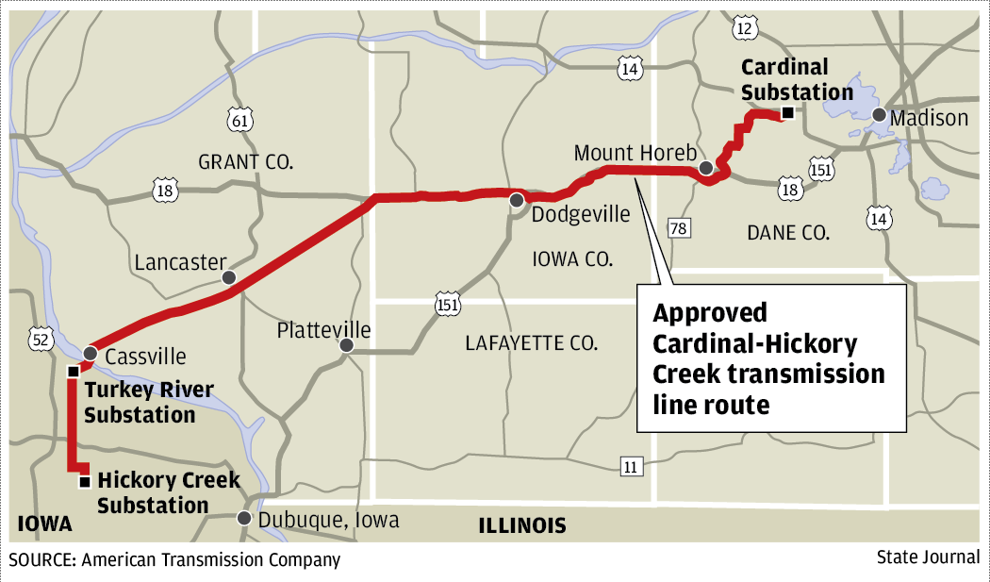 Huebsch, who led the discussion of the project at the PSC, reiterated the utilities' claim that the line is needed to enable the development and delivery of cheap wind power from states to the west and suggested this will not be the last such project considered.
The Dairyland job was not open at the time of the vote, and the lawsuit, filed by the Environmental Law and Policy Center, does not allege the commissioners stood to benefit from their votes but that the decision-making process was "imbued with at least an appearance of bias and a lack of impartiality."
Huebsch announced six days later that he would step down the following month from his $128,500 job with a little more than a year of his six-year term remaining.
Dairyland's choice
Dairyland, which serves about 290,000 customers of municipal and cooperative utilities in four states, instead hired Brent Ridge, an executive with a consortium of public and municipal utilities in Washington state.
Greg Wannier, a staff attorney for the Sierra Club, said the group is reassessing its strategy in its court challenge of the Nemadji Trail decision and news of Huebsch's interest in the Dairyland job raises "profound ethical concerns."
"This entire incident only underscores the broader concerns we have about overly close relationships between public servants and the industries they regulate," Wannier said.
Matt Rothschild, executive director of the Wisconsin Democracy Campaign, said it was "unseemly" for Huebsch to apply after voting in favor of projects that benefit the company and added that Wisconsin needs tighter laws.
"This is the revolving door that makes people sick to their stomach to watch: public officials cashing in on their connections and going to work for companies they used to regulate," Rothschild said. "It's an invitation to corruption — an invitation that is all too often accepted."