For the first time, the Crazylegs Classic race won't start with a throng of runners circling Capitol Square and its sea of bobbing heads flowing down State Street toward UW-Madison.
Instead, runners for the 38th annual event on April 27 will mass on Library Mall, with the race beginning at the intersection of State and North Lake streets. The new course extends two blocks up State Street and then hooks back toward campus where the punishing Observatory Drive hill still looms and the route — as always — threads toward Camp Randall with fans, music, food and beverages waiting.
Although some will miss the start on Capitol Square, where the race has begun since its inception in 1982, the estimated 12,000-plus runners will now run up State Street a bit toward the Capitol building, race director Ryan Richards said.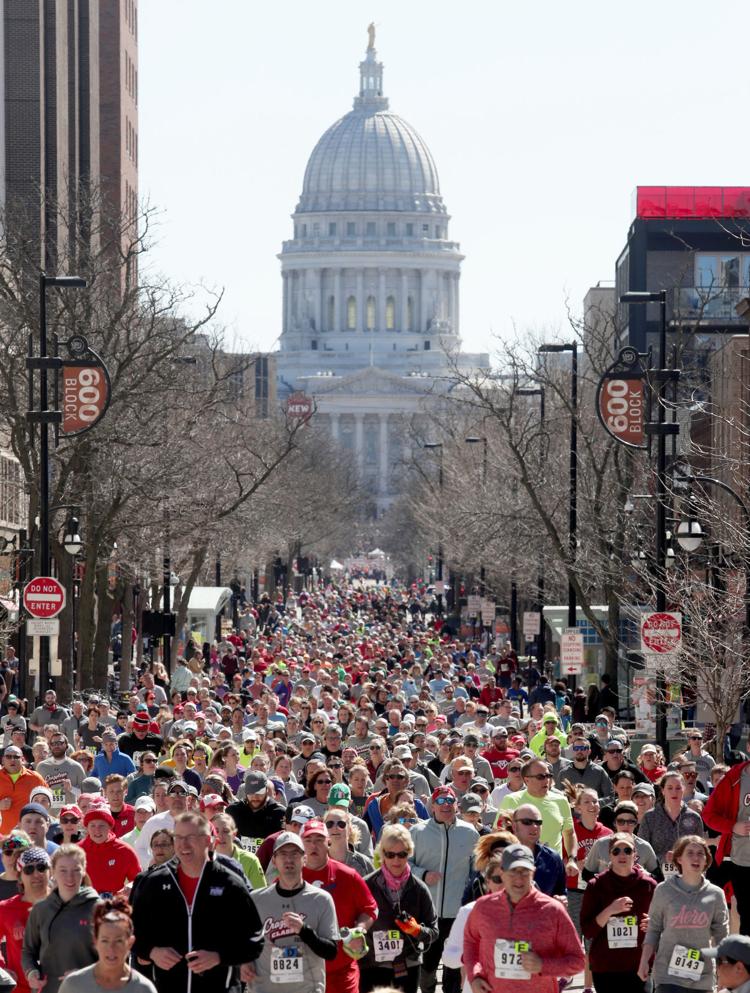 "The runners are going to get a great experience," he said. "They'll start at the other end of State Street and get that incredible picture running toward the capitol. Everyone queued up and waiting to start will see that sea of heads bobbing away."
The starting spot will also showcase the nearby renovated Memorial Union and new Alumni Park, he said.
The start of the race was changed for two main reasons, Richards said.
In recent months, UW Athletics was anticipating city permitting changes that looked like they might preclude Saturday events beginning after 8 a.m. Crazylegs is due to start at 9:50 a.m. There was also a desire by Madison Police to eliminate the closure of Capitol Square and much of State Street to ease demand for resources with the raucous Mifflin Street block party, which now falls on the same Saturday in April.
In November, based on staff recommendations, Mayor Paul Soglin and Alds. Mike Verveer and Ledell Zellers introduced a proposal for a new Downtown Zone for street use permits between Blair and Park streets — excluding Capitol Square, the 100 blocks of streets touching the Square, or the 200 block of Martin Luther King, Jr. Boulevard.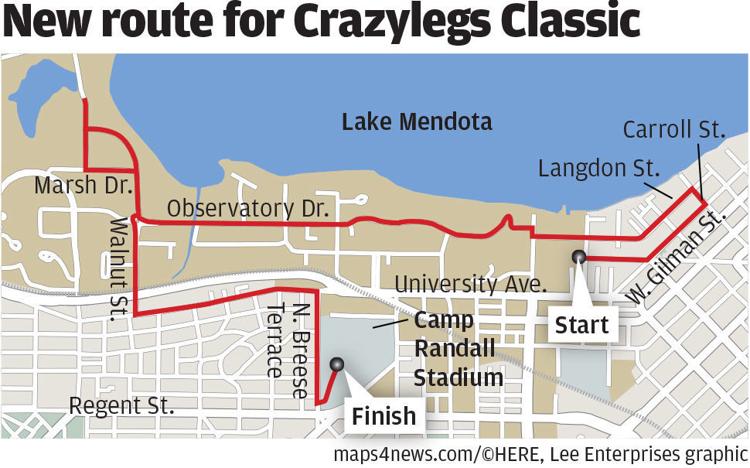 You have free articles remaining.
Register for more free articles
Stay logged in to skip the surveys
New rules were needed because a rising number of Downtown events requiring street closures are affecting emergency services, Metro Transit, traffic, businesses and residents, officials said.
The new rules never were to cover city-sponsored events like Ride the Drive, Shake the Lake, or Freakfest, but they could have forced many popular ones including Crazylegs, Maxwell Street Days, Paddle & Portage, Ironman Wisconsin and the UW Homecoming Parade to change starting times, routes or days, and perhaps deterred new ones.
After hearing concerns from event organizers and promoters, the proposed rules were softened by adding exceptions for legacy and premier events and approved by the City Council last month.
Madison Police, meanwhile, had wanted to move Crazylegs to another date due to a change in the university's academic calendar that's led to the conflict with the Mifflin Street block party. Other city agencies, including Metro Transit, have voiced concerns about impacts on bus service and traffic with closures of Capitol Square and State Street.
UW Athletics, which had to finalize plans in advance of final council decisions on the new street permit rules, changed the Crazylegs starting location rather than moving up the starting time, which would have conflicted with the setup for the Dane County Farmers' Market, Richards said. Race officials determined it wasn't fair to change Crazylegs' date just to avoid the Mifflin Street party, a "non-permitted drinking party." But shifting the starting location should ease demands on city services, Richards said.
Madison Police Capt. Brian Chaney Austin called the change "promising."
"I am hoping this will help," Austin said. "You can only spread resources so far."
Verveer, who represents the core Downtown, said, "I hope it's a big success and continues to be the tremendous success and tradition it's always been," he said. "The real special part is runners and walkers coming into Camp Randall and enjoying a beer for finishing."
Crazylegs' move, however, means it will lose legacy status under the new street permit rules, Verveer said, adding that he supports an exemption for the event because the university's decision was made with incomplete information.
Another organization, OutReach LGBT Community Center, recently announced it wouldn't hold a Pride parade Downtown this August partly due to the new permitting rules. It is shifting to a new OutReach Magic Festival at Warner Park on August 18, Verveer said. Outreach, which also would have qualified for a legacy exemption, deserves a future exemption, too, he said.