To address disparities in income, education and crime among Fitchburg's neighborhoods, the city is developing a plan to uplift three targeted areas that face significant barriers to quality socioeconomic opportunities.
The Healthy Neighborhoods Initiative, a proposal the city's Planning and Zoning Department has been developing since 2017, would set parameters for city-supported improvements to neighborhoods. Improvements could include development of mixed-income housing, new after-school or early-childhood programs, job-training opportunities and social gathering spaces.
The focus of the initiative, presented at a City Council meeting Wednesday, is to solve community-identified problems by promoting community-led solutions in the city's various neighborhoods.
"I think we understand that we have certain areas of our city that have specific issues and different needs than other areas of our city," community development planner Wade Thompson said.
Through the development process of the initiative, residents told Planning and Zoning staff at neighborhood meetings and events what improvements they would like to see, including:
More housing options and better housing conditions.
Better access to living-wage jobs or job training.
After-school activities or evening child-care options.
Better transportation.
Early childhood development and learning programs.
More prevention of violence and crime .
The strategic plan still needs to be approved by the City Council, which Thompson said he hopes will happen in the next month or two.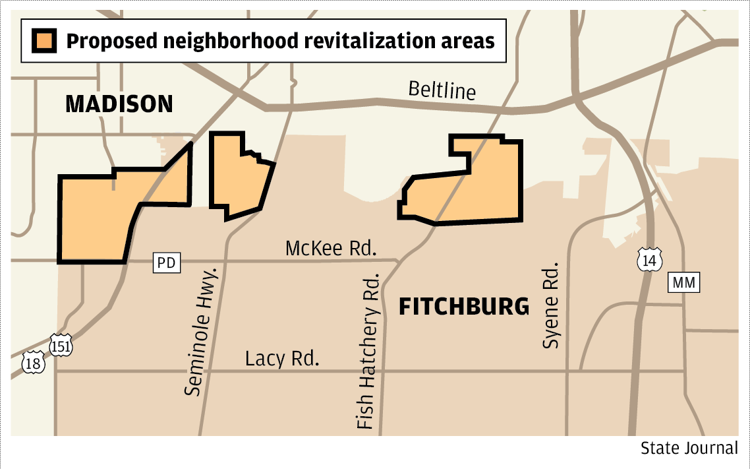 Three neighborhood areas — all on the north side of Fitchburg — have been identified as revitalization targets. The neighborhoods surrounding Fish Hatchery Road between Greenway Crossing and Caddis Bend will be the main focus of the pilot program because there has been significant neighborhood interest, Thompson said.
"We're trying to go where the energy is," Thompson said, but programs that succeed in that neighborhood could also be implemented in other areas.
The other two areas targeted in the initiative border each side of Verona Road just south of the Beltline.
City and county collaboration
While awaiting approval, the Planning and Zoning staff have already begun searching for a neighborhood leader to employ for the neighborhood on Fish Hatchery Road, which they consider a crucial element of the initiative. The designated neighborhood leader will be a part-time paid city employee funded through Dane County's neighborhood navigator program launched last year.
The program has already selected leaders for neighborhoods on Madison's North Side and Sun Prairie, said Jenny Grether, who manages the contracts for neighborhood navigators through the county Human Services Department. The leaders work as a liaison between the city and residents, connecting residents with available services and providing feedback to service providers to tailor them to community needs.
Neighborhood leaders in each community meet weekly with human services staff to assess progress in the community and adjust methods.
"The models all look different depending on where they are within the community, which is key to making this work," Grether said.
Fitchburg had independently been examining a similar model, Grether said, which made the city a good partner in expansion of the neighborhood navigators program.
Although Fitchburg's city line cuts through the residential area on Fish Hatchery Road in a border with the city of Madison, the neighborhood leader would be able to assist residents beyond the strict city line, Thompson said.
"At the end of the day, folks just want resources and to be served, whether they're Fitchburg or Madison," Thompson said.
Community programming
Nate Pharmer-Eden, who works at Maple Lawn Apartments on Coho Street, said he's excited to see new programs coming to the area.
As a community coordinator at Maple Lawn, Pharmer-Eden arranges services specifically for Maple Lawn residents, but much of the neighborhood could also benefit from the programs, such as credit repair consultations, nutrition classes and basic computer skills workshops. He said new and unique approaches to disparities, which could be promoted through the city initiative, will help uplift residents.
"I'm very excited to see how innovative they can become," Pharmer-Eden said.
Pharmer-Eden is also on the city's grant selection committee for the initiative, which disbursed its first $44,000 last year and will award new grants annually.
The plan specifies several indicators to assess the effectiveness of the programs launched through the initiative, Thompson said. The city will track variables such as the growth of educational programs, employment rates, income, access to and use of health-care and child-care services, police calls to different areas, housing improvements and types of housing available.