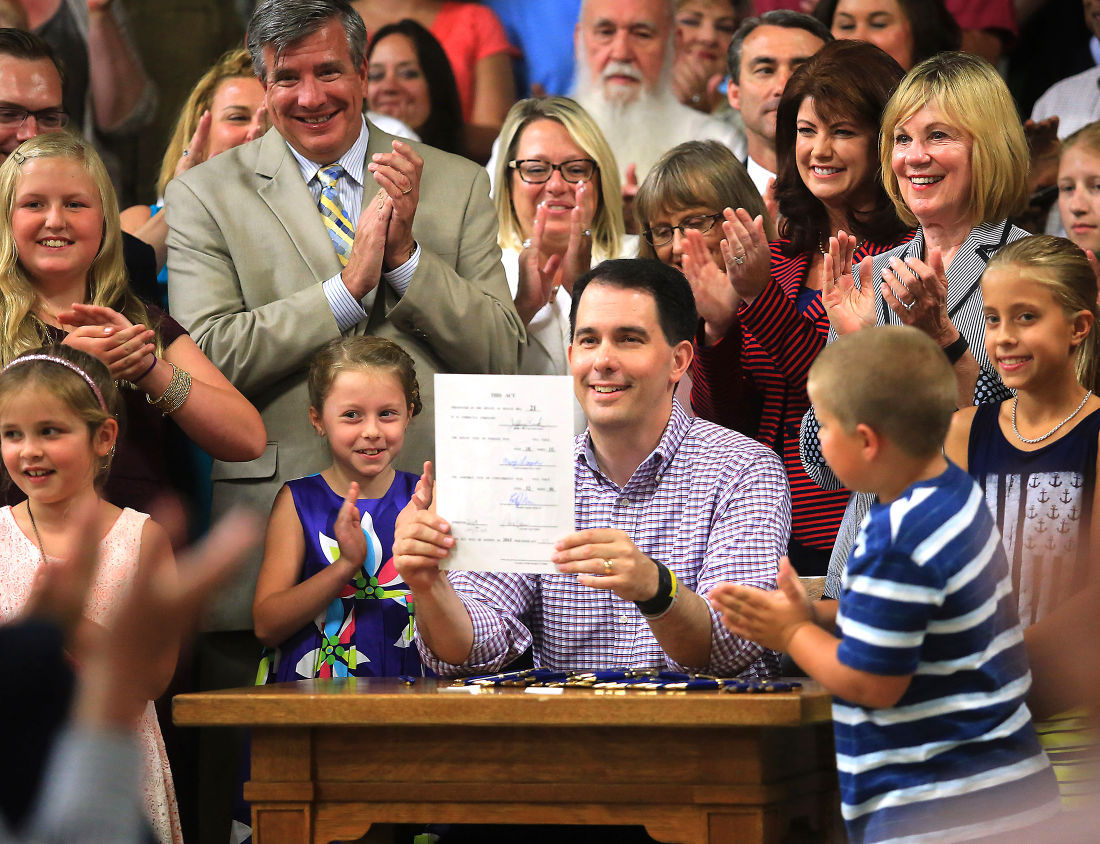 Seven University of Wisconsin System building projects Gov. Scott Walker delayed in the current budget to limit borrowing now cost $30 million more, according to the state's nonpartisan budget office.
The UW System is requesting the state borrow $257.3 million for the building projects in its 2017-19 capital budget request. That's up from $227.6 million it requested for the same projects two years ago.
Walker rejected the UW's new building borrowing request in his previous budget proposal to keep overall borrowing costs down. He also requested a record $1.3 billion in new borrowing for road projects, though the Legislature slimmed that down to $850 million while adding $101 million in new borrowing for buildings, mostly for the UW System.
The fiscal bureau computed the increased cost at the request of Rep. Gordon Hintz, D-Oshkosh, a member of the Joint Finance Committee.
"Republicans have refused to make the hard decisions when it comes to investing in our infrastructure," Hintz said. "In order to put our roads on the credit card, Gov. Walker and Republicans put a halt on our whole capital budget. However, as this memo shows, those needs don't go away."
Walker spokesman Tom Evenson noted that spending on building maintenance in each of the past five years has been higher than each of the previous five years. In 2015, it totaled $111.5 million, roughly half of which was spent on UW System facilities, according to the Department of Administration.
"The last state budget included the lowest levels of bonding in at least 20 years, and the governor will seek to keep bonding low in the next budget," Evenson said. "As for 2017-19, it would be premature to discuss details related to bonding levels, policy specifics, etc., as we are in the early stages of budget development."
A new $35 million fieldhouse and soccer support facility and new $37.3 million residence hall at UW-La Crosse.
A $69 million renovation of the Northwest Quadrant and a new $14.5 million basketball practice facility at UW-Milwaukee.
You have free articles remaining.
A $35.9 million renovation of Willie Hall at UW-Parkside.
A $23.7 million renovation of Boebel Hall at UW-Platteville, which was partially renovated in 2010.
A new $41.8 million student health and recreation center at UW-Stevens Point.
The fiscal bureau memo notes the projects appear to be substantially similar to what they were two years ago.
For the 2015-17 budget, the Board of Regents requested 31 major projects, three utility improvement projects and funding for classroom renovations and instructional technology improvements. Of those, the Legislature authorized all but nine major projects and two utility improvement projects.
The seven building projects studied by the fiscal bureau were among the nine rejected by the Legislature. The UW System isn't requesting funding for those two remaining projects.
The System's capital budget request for 2017-19, which the System's Board of Regents is expected to approve Thursday, seeks $454.6 million in general fund-supported borrowing, almost all of which will go toward renovations, additions or maintenance of existing buildings. The request includes one new building paid for with general fund borrowing: A mechanical engineering facility at UW-Platteville that would cost $55.2 million.
At UW-Madison, officials want to use general fund borrowing to pay for utility repairs and an expanded greenhouse for the College of Agriculture and Life Sciences.
The budget request also calls for $191.7 million in program- supported bonding, which would be paid for by campuses. In Madison, those projects would include renovating the UW-Extension offices in Lowell Hall on Langdon Street, a new parking ramp to replace a lot on the west side of the UW-Madison campus and an addition and renovation at the Slichter residence hall.
The current budget includes $86.2 million in new general fund-supported borrowing and no program-supported bonding. In the previous four biennial budgets, the state approved on average $216.3 million in general fund borrowing and $304 million in program-supported bonding each budget.
A UW System spokeswoman didn't respond to a request for comment on whether the university expects Walker and the Legislature to fulfill the entire request.