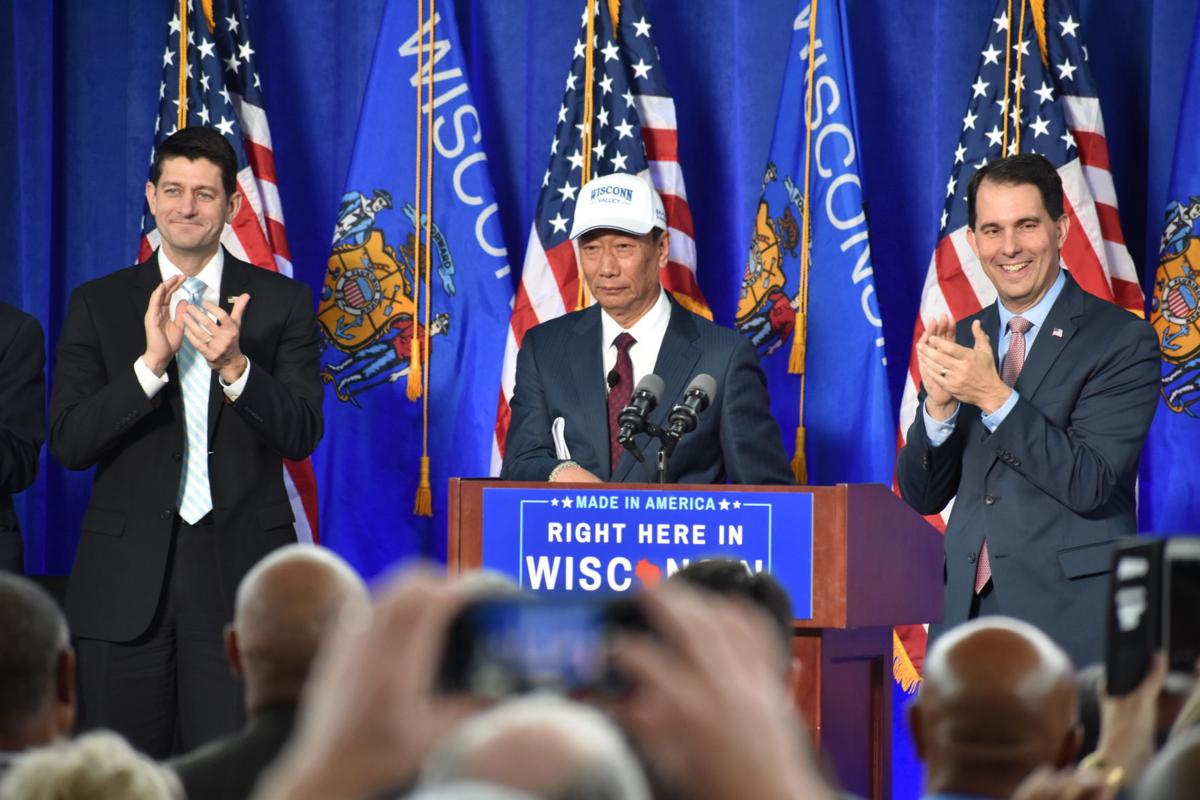 Wisconsin's decision to lift restrictions on filling state-protected wetlands for Foxconn Technology Group is already paying off for the company in the early stages of its plan for a sprawling manufacturing complex.
Under a state law enacted last year, Foxconn has no obligation to avoid or minimize its impact on a pond and 42 wetlands that cover about 26 acres within the first parcels of land the company is readying for construction in Racine County.
Construction on that land won't be delayed by laws that require efforts to preserve wetlands, although Foxconn will be required to pay into a program designed to create up to three new wetland acres for each one that is eliminated.
Environmental exemptions were part of a huge taxpayer-funded incentive package the state has committed to giving the Taiwan-based manufacturer so it would agree to build factories employing up to 13,000 workers who will make liquid-crystal display screens and assemble them into consumer products such as televisions.
After state wetland protections were eliminated for Foxconn, it was still possible that federal regulations would apply. But the U.S. Army Corps of Engineers Green Bay office confirmed Wednesday that it has determined it doesn't have jurisdiction over wetlands on the initial parcels of Foxconn land submitted for review. The determination was made Dec. 8 and posted on an Army Corps website.
Usually wetlands outside of federal jurisdiction are protected under state law, but the Legislature and Gov. Scott Walker exempted Foxconn from state restrictions.
About 80 percent of Wisconsin's estimated 5 million acres of wetlands enjoy federal protection because of their connections to lakes and streams. The remaining 20 percent, which are normally protected under state law, are sometimes called "isolated wetlands," although some serve as headwaters for rivers and streams.
Wetlands are valued because they prevent flooding, purify groundwater and provide wildlife habitat.
A private consultant has also requested a determination on additional land that does include wetlands that meet the requirements for federal protection, said Todd Vesperman, a section chief in the Green Bay office. Details on that parcel haven't been finalized, he said.
It wasn't immediately clear how much of the up to 1,000 acres Foxconn may eventually develop was covered by the three requests. The Milwaukee Journal-Sentinel first reported the jurisdictional determination.
Foxconn will also need permits spelling out limits on air pollution and stormwater control before it can begin construction, said Eric Ebersberger, who is overseeing company permitting for the state Department of Natural Resources.
The company last month submitted applications for air pollution permits for the planned assembly plant. Ebersberger said other permit applications haven't been received and it's not clear when they will be.