In one of his last policy hurrahs, Mayor Paul Soglin on Tuesday proposed a $336.6 million capital budget that offers modest funding for new construction and instead puts a big emphasis on planning for 2019.
Soglin also issued a warning about continued high borrowing, again contending that debt payments are chewing up too much of the operating budget.
"We must strike a balance between affordability and infrastructure priorities," he said in a statement.
Still, the mayor underscored the importance of capital projects in the wake of unprecedented flooding unleashed by torrential rains on Aug. 20. The downpour has been followed by several more, driving up the levels of area lakes and the Yahara River, and causing flooding in some stretches of the Isthmus.
"As we noticed in the last few weeks, infrastructure matters," he said.
The mayor's proposal would deliver $30 million for a new fleet services headquarters on the Far East Side, $7 million to begin a four-phase, $57 million overhaul of Metro Transit's worn facilities on the Near East Side, $2.9 million for reconstruction planning for John Nolen Drive and $5 million for developer loans in a tax incremental financing district along the East Washington Avenue corridor on the Near East and East sides.
But the budget emphasizes planning next year, with no construction money in 2019 or in the nonbinding, five-year Capitol Improvement Plan, or CIP, for the Reindahl Library, Hill Creek and North East parks, the Warner Park Community Center and a Streets Division facility on the Far West Side.
"A comprehensive plan must be the first step," Soglin said.
The budget reauthorizes spending for high-profile projects including the Madison Public Market, Pinney Library, Olbrich Gardens, Judge Doyle Square parking garage and Breese Stevens Field improvements.
Council President Samba Baldeh said he had only briefly reviewed the proposed capital budget by Tuesday evening but was disappointed to see that construction funding for the Reindahl Library was removed from the CIP. He said he intends to offer an amendment that would return money for the project to the five-year plan.
Ald. David Ahrens, a frequent critic of the Madison Public Market, said he remains opposed to the amount of city funding slated for the project "while we have substantial human and infrastructure needs."
All told, the budget would rise just 0.6 percent but authorize a record $177.5 million in borrowing, with the rest of the money coming from other sources.
The city, Soglin said, has historically spent at or below 12.5 percent of the operating budget to repay borrowing. But payments will account for 17.6 percent of the operating budget in 2019 and are due to reach 18.6 percent in a couple of years.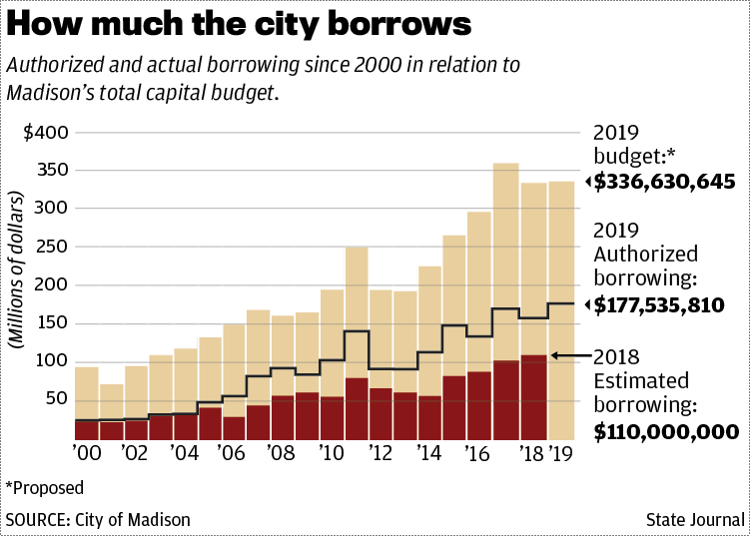 You have free articles remaining.
Register for more free articles
Stay logged in to skip the surveys
"The capital budget continues to expand too quickly — we often add facilities projects to the budget without a clear sense of the operating cost implications or the timing," he said. "Service levels cannot be extended to everyone in one instant."
The mayor also continued a plea for more outside support. "We cannot make all these investments alone," he said. "Our federal and state partners must do more to help."
Soglin, mayor for 14 years in the 1970s, '80s and '90s and now completing a second straight four-year term, announced in July he would not seek re-election in the spring.
In his return to office in 2011, he railed against rising city borrowing but has not been able to tame it. The capital budget, in fact, has become a point of conflict with the City Council, which has pushed priorities such as new police and fire stations.
"I expect this to be a very contentious budget again this year," Soglin said Tuesday. "The needs in certain areas, particularly pertaining to social services and making life better for citizens who don't have access to libraries and community services, (are) critical. It's also critical that we recognize that there's a difference between needs and wants."
Ald. Paul Skidmore said he shares Soglin's concerns about the percent of the general fund that goes to paying off borrowing for capital projects.
"Damage has been done in previous years. We're spending more than we have the ability to pay off," he said.
The mayor's proposal largely shies from big new commitments next year.
"The last couple of capital budgets have included a number of major facilities and streets projects," finance director David Schmiedicke said. "The other major issue for the mayor is there are a number of facilities projects in the conceptual stage that need to be well thought out and well understood."
Still, the budget delivers $78 million for major streets projects including continuing construction on Highway M, Buckeye Road, East Johnson Street and the "hairball" intersection at East Wilson, Williamson and South Blair streets.
The proposal also provides $200,000 to study a "North Side Public Safety Campus" with a new police station, Fire Station No. 10 and more.
The five-year Capital Improvement Plan also sets the stage for Bus Rapid Transit by spending $30 million in local funds for a satellite bus facility in 2023 and $80 million in federal money to begin construction on the system the following year.
The city's Finance Committee will conduct hearings on the capital budget Sept. 11-13 and consider amendments later. Soglin will propose an operating budget on Oct. 2, with Finance Committee hearings Oct. 9-10. The City Council will make final decisions on both budgets the week of Nov. 13.
State Journal reporter Logan Wroge contributed to this report.