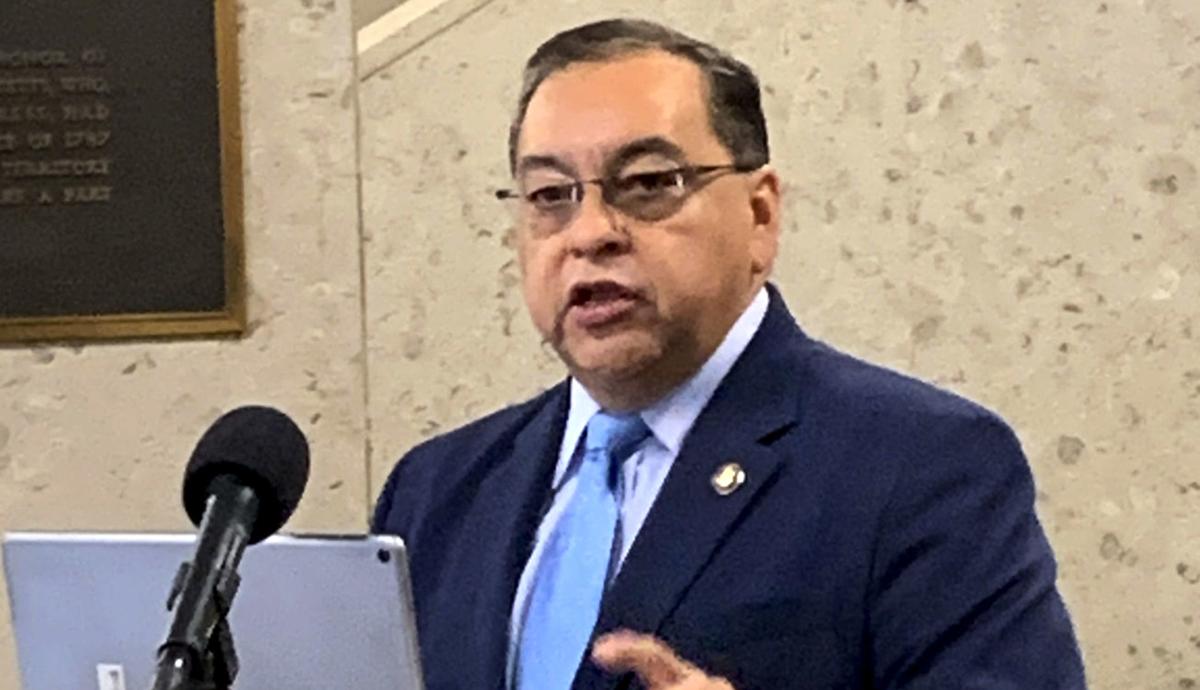 The U.S. Department of Housing and Urban Development on Monday awarded $832,000 to Madison and Dane County to provide much-needed low-income housing to 105 non-elderly people with disabilities.
The award, announced by HUD Midwest Regional Administrator Joseph P. Galvan at a press conference at the City-County Building, is part of $1.2 million in funding that will provide housing options to 180 people in the state and $131.3 million to assist 15,363 non-elderly people with disabilities nationwide.
The funding will provide affordable housing options for the most vulnerable, promote independence in a least-restrictive setting, provide diversion from more costly institutionalization, and prevent homelessness, said Galvan, flanked by Mayor Satya Rhodes-Conway and County Executive Joe Parisi.
"We have to make sure all people have the right to live where they can, and where they choose," Galvan said.
The housing assistance, provided through HUD's Mainstream Housing Choice Voucher Program, provides funds to housing agencies to assist those who are transitioning from institutional settings; at serious risk of institutionalization; currently a client in a permanent supportive housing or rapid rehousing project; or currently, previously or at risk of becoming homeless.
A non-elderly client with a disability or a family with a member who has a disability would identify housing in the private market and agree to pay 30% of income toward rent, with the voucher covering the remaining rent up to an established local payment standard.
Rhodes-Conway and Parisi said the region has a "housing crisis" borne of a strong economy, low vacancy rates and rising rental costs, and welcomed the new vouchers as a part of broader, continuing initiatives to create housing and address homelessness.
"It is a crisis borne of income inequity," Parisi said.
To be eligible for 45 new vouchers in Madison, applicants must be non-elderly disabled adults currently living in permanent supportive housing, which pairs housing with case management and supportive services. The city's Community Development Authority will seek referrals from nonprofit The Road Home and the Homeless Services Consortium of Dane County to identify those most in need of the new vouchers.
The vouchers will also provide new housing opportunities for the currently homeless as people who may no longer need a high level of services use vouchers to move to housing in the private market, officials said.
The Dane County Housing Authority will consult its roughly 300-person waiting list for housing vouchers to see whether any meet criteria for the program and seek referrals from nonprofit Movin' Out and the Homeless Services Consortium to identify those most in need of its 60 new vouchers.
HUD Secretary Ben Carson made the national announcement during a visit to Detroit, Michigan.
"At HUD we're committed to ensuring people with disabilities have a decent, safe and affordable place to live," he said in a statement. "The funding announced today allows our local partners to continue helping residents with disabilities live independently."
Galvan also announced $145,100 for the Eau Claire County Housing Authority for 30 vouchers, $113,800 to the Racine County Housing Authority for 20 vouchers and $102,650 to the Chippewa County Housing Authority for 25 vouchers.
Get Government & Politics updates in your inbox!
Stay up-to-date on the latest in local and national government and political topics with our newsletter.