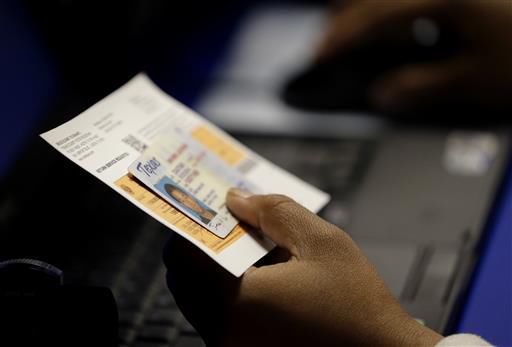 A federal judge in Madison ruled Friday that parts of Wisconsin's voter ID and other voting laws are unconstitutional, among them newly imposed limits on in-person absentee voting that he said were unfair to minority, largely Democratic voters.
U.S. District Judge James Peterson, in a 119-page ruling issued late Friday, said that the state Legislature tailored that part of the law to curtail voting in Milwaukee, specifically "to suppress the reliably Democratic vote of Milwaukee's African-Americans."
"Wisconsin has the authority to regulate its elections to preserve their integrity," Peterson wrote, "and a voter ID requirement can be part of a well-conceived election system. But ... parts of Wisconsin's election regime fail to comply with the constitutional requirement that its elections remain fair and equally open to all qualified electors."
He wrote that his ruling will have no effect on the Aug. 9 primary election; it would take effect for the Nov. 8 general election unless overturned on appeal. State and local elections officials said they would immediately assess how to administer elections under the sweeping ruling.
Plaintiffs in the case hailed it.
"We argued Gov. Walker made it harder for Democrats to vote and easier for Republicans to cheat, and the judge agreed," said Scot Ross, executive director of the One Wisconsin Institute.
One Wisconsin Now and another liberal group, Citizen Action of Wisconsin Education Fund, challenged the voter ID law, which became law in 2011, and a series of other voting-related laws passed by the Republican-controlled Legislature that followed.
Gov. Scott Walker panned the decision.
"We are disappointed in the decision by an activist federal judge," he said in a statement. "Voters support common-sense measures to protect the integrity of our votes. Voting should be easy, but cheating should be hard."
Assembly Speaker Robin Vos, R-Rochester, called the decision "a liberal judge's attempt to undermine our elections less than four months out." He said it was an "obvious attempt to usurp the Legislature" and said he was confident that the laws would be reinstated on appeal.
State Department of Justice spokesman Johnny Koremenos said DOJ plans to appeal the decision to the U.S. Court of Appeals for the 7th Circuit.
Michael Haas, administrator of the Wisconsin Elections Commission, said the decision, if upheld, would make "significant changes to election laws affecting voters, which will require the Elections Commission to work very closely with local election officials to implement the changes and to educate voters."
Further guidance would be given to clerks and the public early next week, he said.
Dane County Clerk Scott McDonell said his office will begin planning immediately to implement Peterson's order as well as the changes ordered on July 19 by U.S. District Judge Lynn Adelman in a separate case over voter ID. Adelman last week said people having trouble getting an ID can sign an affidavit to vote; he declined Friday to put a stay on his order.
Valid credentials
Peterson ordered the state to quickly issue credentials valid for voting to anyone trying to obtain a free photo ID for voting but lack the underlying documents such as birth certificates to obtain one. The state's current process for getting free IDs to people who lack such documents, Peterson wrote, is unconstitutional and "a wretched failure" because it has left a number of overwhelmingly black and Hispanic citizens unable to obtain IDs.
"The evidence in this case casts doubt on the notion that voter ID laws foster integrity and confidence," Peterson wrote. "The Wisconsin experience demonstrates that a preoccupation with mostly phantom election fraud leads to real incidents of disenfranchisement, which undermine rather than enhance confidence in elections, particularly in minority communities. To put it bluntly, Wisconsin's strict version of voter ID law is a worse cure than the disease."
Peterson ruled that the voter ID law's limits on in-person absentee voting also unfairly target black and Latino voters, particularly in Milwaukee. The Legislature reduced the time that municipalities could offer in-person absentee voting, from a period of as long as 30 days ending on the day before election day to a period of 12 days that ended on the Friday before election day. It also limited absentee voting to one location per municipality.
"The Legislature's objective was political," Peterson wrote. "Republicans sought to maintain control of state government. But the methods that the Legislature chose to achieve that involved suppressing the votes of Milwaukee's residents, who are disproportionately African-American and Latino."
While Peterson said most of the voter ID law's limits to in-person absentee voting are unconstitutional, the provision prohibiting voting the Monday before an election makes sense, to give clerks a chance to rest before a long election day.
Peterson also threw out a requirement that dorm lists to be used as proof of residence for college students contain citizenship information; tossed a 28-day residency requirement; barred a prohibition on distributing absentee ballots by fax or email; and ended a ban on using expired but otherwise qualifying student IDs.
State Journal reporter Matthew DeFour and The Associated Press contributed to this report.