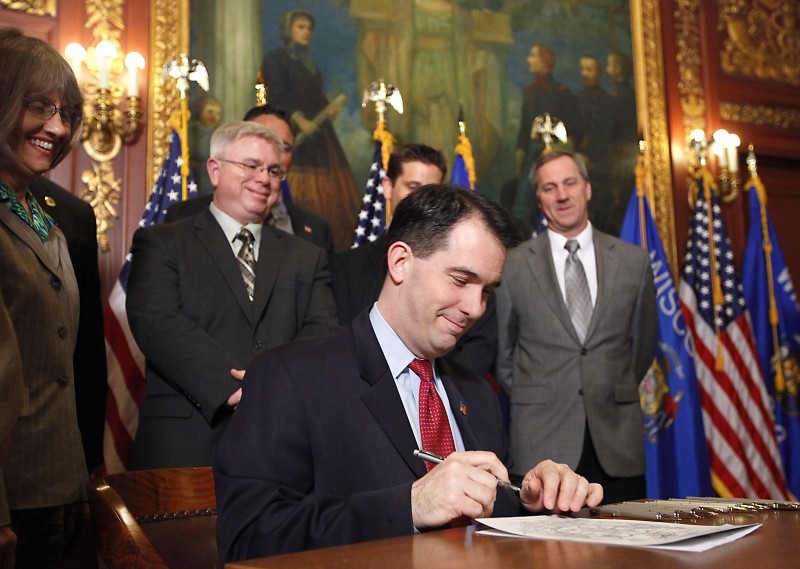 A federal judge on Friday upheld most of Gov. Scott Walker's controversial collective bargaining law, but struck down key parts of it by ruling that the state cannot prevent public employee unions from collecting voluntary dues through payroll deductions and cannot require they recertify annually.
The collective bargaining law, also known as Act 10, established a system in which most of the public unions were required to have an "absolute" majority of their members vote every year to recertify — a standard higher than traditionally used. The law also took away some unions' rights to collect mandatory dues and prevented unions from deducting voluntary dues directly out of employee paychecks.
The measure did, however, exempt almost all public safety unions, such as police and firefighters. This difference led the court on Friday to rule that the state did not have the right to pick and choose among public unions.
"So long as the state of Wisconsin continues to afford ordinary certification and dues deductions to mandatory public safety unions with sweeping bargaining rights, there is no rational basis to deny those rights to voluntary general unions with severely restricted bargaining rights," the order read. (Read the full ruling here)
Walker considered Friday's ruling something of a victory. Cullen Werwie, Walker's spokesman, said the administration was still trying to figure out what the ruling meant in terms of increased costs to the state and enforcement, but felt the judge affirmed the constitutionality of nearly everything in Act 10.
"We are confident that the 7th Circuit Court of Appeals will continue to uphold the constitutionality of the law," he said.
Of course, Walker's critics did not see it that way. Kathleen Falk, former Dane County executive and Democratic candidate for governor, said the ruling proves the collective bargaining bill was "not honest" and "not legal." Senate Democratic Leader Mark Miller, D-Monona, said the court proved the governor's bill stripped the rights of Wisconsin workers. And Assembly Minority Leader Peter Barca said the ruling proved how far over the line the governor stepped with his landmark legislation.
"Once again, Gov. Walker's overreaching, extreme agenda has ended up in court and gave a judge no choice but to rule his actions unconstitutional," he said.
You have free articles remaining.
The law was passed in March 2011 after tens of thousands of protesters flooded the Capitol for days on end and all 14 Democratic senators in office at the time fled the state to prevent its passage. The measure made sweeping changes to collective bargaining for most public unions, including requiring public employees contribute 5.8 percent of their salaries to pensions and at least 12.6 percent of their health-care premiums, which amounted to pay cuts.
A coalition of unions filed a lawsuit over the controversial law last year.
To critics, the removal of mandatory union fees, along with the call for annual certification (requiring an absolute majority of members for passage) was an attempt to kill unions in Wisconsin. According to Werwie, Friday's ruling does away with the annual certification and the "absolute majority" clause, which required a majority of all union members — not just those voting — approve staying organized every year.
Walker opponents said Friday that the judge's ruling was a victory, and proved Act 10 was about punishing workers.
"It never made sense to us why an educator could have payroll deduction for health club dues or United Way contributions — and not their union dues," said Mary Bell, president of the Wisconsin Education Association Council, the state's largest teacher's union.
Bell said the state was still a long way from restoring workers' rights, but the ruling was "a step in the right direction."
Other union organizers celebrated the timing of the ruling and the recall against Walker and five other Republican officials, which were ordered by elections officials Friday.
"Make no mistake, this ruling raises the stakes in the recall election, and AFSCME members from across Wisconsin are energized and now more than ever ready to lead the fight in the upcoming recall elections of the governor and state senators," said AFSCME Council 48 Executive Director Rich Abelson. "AFSCME will not rest until our members' rights are restored and Governor Walker's extreme right-wing agenda is stopped."
A federal court on Friday struck down key parts of Gov. Scott Walker's controversial collective bargaining legislation, ruling that the state cannot prevent unions from collecting dues and cannot require they recertify every year.
Read the court's decision below.