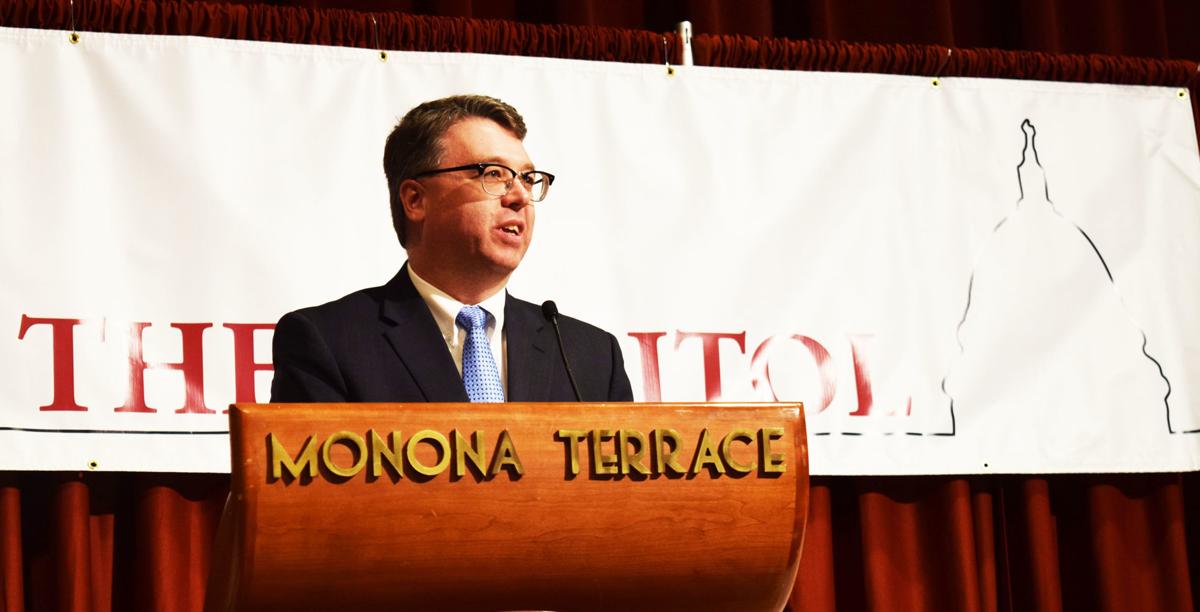 The Evers administration said it's spearheading a last-ditch effort to save Agriculture Secretary Brad Pfaff from being thrown out of his post by Senate Republicans on Tuesday.
Joel Brennan, Gov. Tony Evers' administration secretary, said he's lobbying Senate Republicans to join Democrats on a motion to indefinitely postpone a confirmation vote for Pfaff that would almost certainly lead to his removal from office.
In a Friday phone call, Senate Majority Leader Scott Fitzgerald, R-Juneau, urged Evers to withdraw Pfaff's nomination because he doesn't have support from the 19-member Republican caucus.
Evers has refused to fire Pfaff. His nomination remains on Tuesday's Senate calendar, so his fate rests in the hands of Republican senators.
Brennan declined to specify which Republican senators the administration is persuading to help prevent Pfaff's ouster, though he said he's working to ensure the senators who approved Pfaff's nomination in committee to express their support on Tuesday.
Those Republicans are Sens. Howard Marklein, of Spring Green; Jerry Petrowski, of Marathon; Patrick Testin, of Stevens Point; Andre Jacque, of De Pere; and Kathy Bernier, of Chippewa Falls.
Brennan said he hasn't yet spoken directly to Fitzgerald about the matter. Brennan praised Pfaff for being a well-qualified secretary and an advocate for Wisconsin farmers.
"He's the most capable person that this governor has chosen and designated to do this," Brennan said.
Republicans have increasingly expressed their distaste for Pfaff after he made comments over the summer slamming the Legislature's budget committee for failing to release funding for mental health assistance to farmers and their families.
Pfaff's Department of Agriculture, Trade and Consumer Protection has also been under fire for proposed updates to the state's farm siting regulations. The proposed regulations would update the state's nearly 14-year-old livestock facility siting rule ATCP 51, which is used by participating local governments to set standards and procedures — focused on setbacks from property, management plans, odor, nutrient and runoff management and manure storage facilities — that must be followed by new or expanding livestock facilities.
If the administration fails in its effort and Pfaff is fired, Evers isn't ruling out elevating current deputy secretary Randy Romanski to the role of secretary and giving Pfaff Romanski's job.
A handful of agricultural associations have expressed support for Pfaff's confirmation, including the Wisconsin Agri-Business Association and Wisconsin Cheese Maker Association.
Pfaff served under former President Barack Obama as deputy administrator for farm programs in the U.S. Department of Agriculture. Most recently he was deputy chief of staff for U.S. Rep. Ron Kind, D-La Crosse.
Wisconsin law establishes that cabinet secretaries are appointed by the governor "with the advice and consent of the Senate."
State law doesn't say when such a vote must occur, meaning the chamber can vote at any time to approve or turn down any secretary or other member who requires Senate approval, even if it's years after a secretary or appointee assumes the post.
Theoretically, a cabinet secretary could serve all four years of a governor's term without receiving Senate approval.
Get Government & Politics updates in your inbox!
Stay up-to-date on the latest in local and national government and political topics with our newsletter.