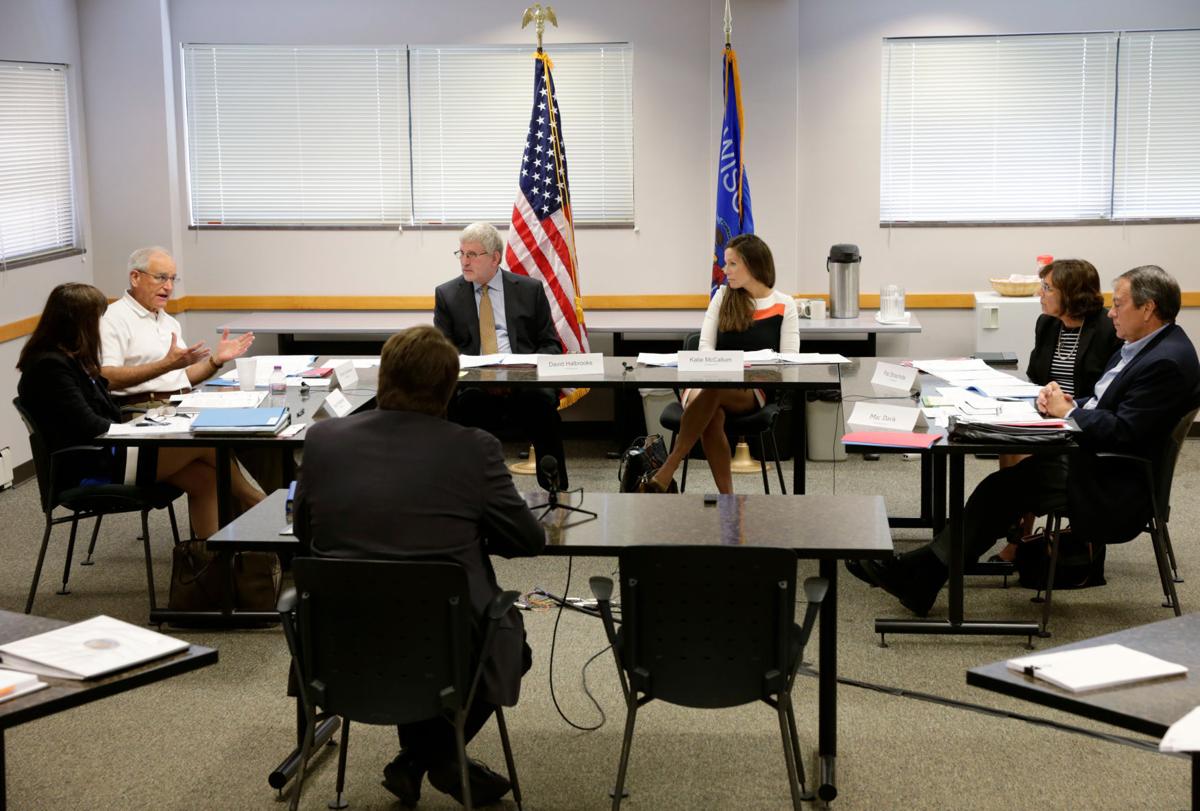 The state's ethics and elections commissions defended their staff Tuesday against Attorney General Brad Schimel's report on a leak investigation stemming from a now-shuttered investigation into Gov. Scott Walker's 2012 recall campaign.
The Wisconsin Ethics Commission criticized the report for "omissions and inaccuracies" and called on Schimel to acknowledge that ethics staff cooperated.
Schimel responded that a letter from ethics commission officials doesn't list a specific error and accused commission chairman David Halbrooks of having a conflict in the matter because he was granted immunity in the John Doe investigation.
Meanwhile the state Elections Commission defended its administrator and a staff member against a call for their termination, while saying it will ask Walker for permission to hire an outside lawyer to represent them in matters related to Schimel's report.
"Nothing in that report has caused us to question our support of interim administrator Michael Haas," chairman Mark Thomsen said.
Schimel investigated the leak of documents to the Guardian U.S., which published a report in September 2016 revealing previously secret details about Walker's effort to raise millions of dollars for the Wisconsin Club for Growth during the 2011 and 2012 recall elections.
Schimel's investigation didn't identify who leaked the records to the Guardian and didn't recommend criminal charges. But he concluded a crime occurred and that nine individuals who worked on the John Doe investigation, including Elections Commission lawyer Nathan Judnic, be held in contempt of court.
Schimel's report revealed a previously unknown investigation into whether Republican aides were campaigning during taxpayer-funded work time. The investigation included millions of pages of subpoenaed email records from Republicans in what Schimel described as "the weaponizing" of the state's former ethics and elections agency "by partisans in furtherance of political goals."
But in a letter to Schimel, Halbrooks and Ethics Commission vice-chairwoman Katie McCallum cast doubt on a key piece of evidence Schimel used to support that claim.
They wrote that folders containing thousands of private emails from Wisconsin Republicans marked "opposition research" were not created by an employee of the Government Accountability Board — the predecessor to the separate ethics and elections commissions. Rather, they said the folders were labeled that way before the GAB took possession of them — which Haas told reporters Tuesday was the explanation given to Schimel, but not reflected in his report.
The emails in the folder included private email exchanges between Sen. Leah Vukmir, R-Brookfield, and her daughter that included personal health information. Schimel reported that Vukmir was one of 35 Republicans and the only elected official whose entire personal email account had been subpoenaed, but it's unclear when or why.
Schimel said Tuesday the folders were created on a GAB hard drive on April 10, 2012, after the documents and emails found within the folders were subpoenaed by the Milwaukee District Attorney's office as part of the first John Doe investigation into Walker's Milwaukee County office, which resulted in six felony convictions.
Shane Falk, one of the former GAB staff recommended for discipline, said Tuesday in an interview GAB investigators didn't change the names of files they received and DOJ should be able to trace who set up the folder.
"The implied inappropriate conduct has no place in this matter, as he admits he has no explanation for this," Falk said. "To suggest that there can only be an inappropriate explanation is irresponsible."
Lawyer requested
Halbrooks, appointed by a Democrat, and McCallum, appointed by a Republican, took issue with the report characterizing commission employees Brian Bell and David Buerger as being uncooperative in locating records and for invoking their Fifth Amendment right to counsel.
Halbrooks and McCallum said after DOJ asked in June to interview Bell and Buerger individually, the bipartisan commission requested that the two employees have a lawyer. Walker's office appointed a lawyer on July 6 and they were interviewed later.
They also raised concerns that "the report gives the appearance that the Ethics Commission and its staff did not comply with DOJ's record requests."
"Our staff promptly provided all requested records based on each successive search criteria DOJ identified," they wrote. "We immediately notified DOJ when potentially responsive records were located."
Schimel responded that the commission turned over records in five separate batches between February and November and that "the commission's level of cooperation is explained fully in the report, and the commission has not identified any inaccurate statements in the report."
Bell and Buerger, who were not involved in the John Doe investigation but handled related records, were not among those Schimel recommended for discipline, but Sen. Steve Nass, R-Whitewater, called for their termination — in part based on the Fifth Amendment reference in the DOJ report.
Halbrooks and McCallum objected to Schimel questioning why no member of the Ethics Commission reported a crime when the Guardian published its report. They noted no one at the Ethics Commission was privy to the sealed John Doe records so "none of us were able to identify that a crime had occurred at the time."
They also objected to the report mixing up a description of the records security practices under the former GAB with those under the Ethics Commission, which has since put in place measures to ensure records are properly checked in and out.
"Make no mistake, the security deficiencies that previously existed under the GAB have been resolved," they wrote. "We can immediately identify any attempt to obtain and leak confidential information in the future."
Court shuts down investigation
The Wisconsin Supreme Court shut down the John Doe investigation in 2015, saying the underlying legal theory that coordination between Walker's campaign and a tax-exempt independent group was illegal had no merit. It also took custody of all related records.
Republicans angered by the John Doe investigation dismantled the nonpartisan GAB in 2015, creating separate bipartisan ethics and elections commissions.
Schimel's investigation faulted John Doe special prosecutor Francis Schmitz and former GAB staff Judnic, Falk, Kevin Kennedy, Jonathan Becker and Molly Nagappala, for their review of records after a John Doe judge quashed several subpoenas or their handling of the records after the state Supreme Court ordered all records be turned over to it.
Nass also called for the termination of Judnic and Haas, who was involved in drafting some court responses as part of the John Doe investigation.
Schimel recommended Falk be referred to the Wisconsin Court System's Office of Lawyer Regulation for discipline. Schimel suspects Falk's hard drive of containing the records leaked to The Guardian. Falk gave the drive to Judnic, who gave all of Falk's records to Buerger, who put them in a locked filing cabinet but didn't catalog them. Falk's hard drive still hasn't been located.