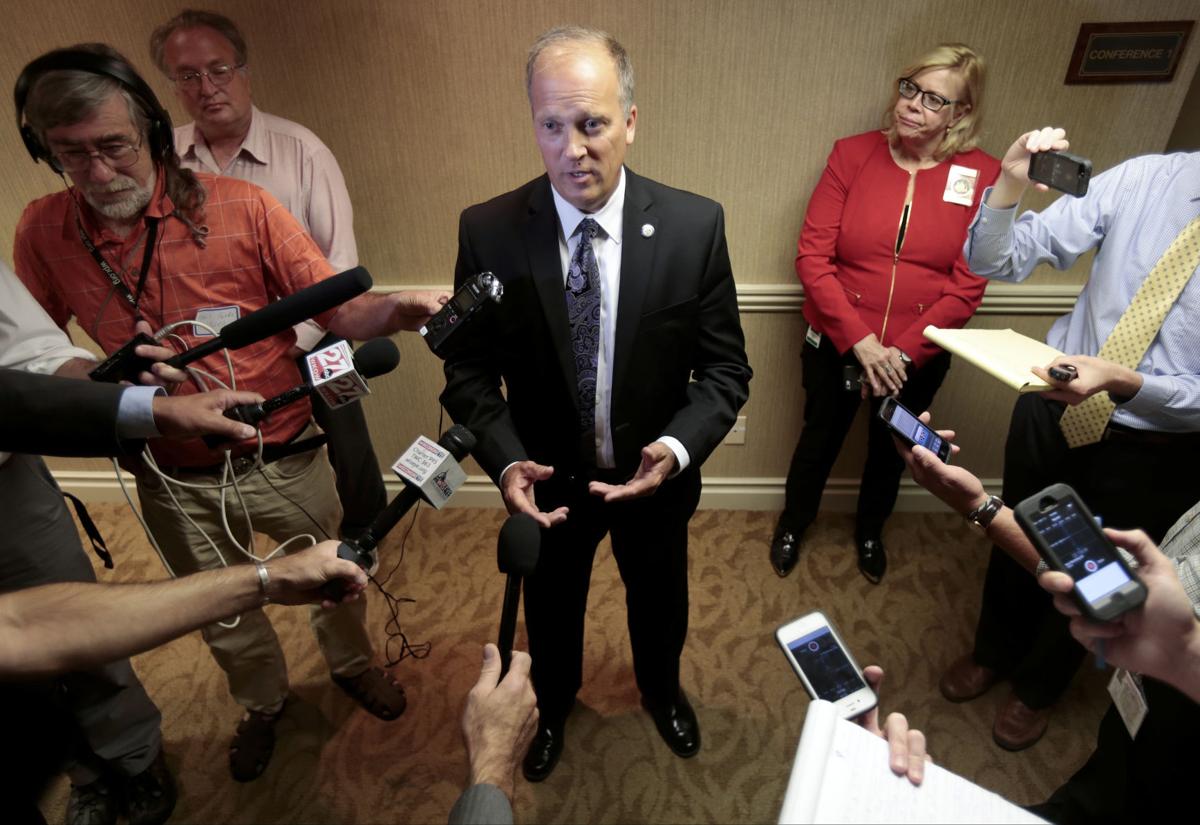 The Wisconsin Ethics Commission and the former special prosecutor in a now-shuttered secret investigation into Gov. Scott Walker's 2012 recall campaign are disputing Attorney General Brad Schimel's leak investigation report.
"We are going to be issuing significant factual clarifications to the attorney general's report," chairman David Halbrooks said in an interview after the commission met Friday on short notice.
Halbrooks said the commission is taking issue with Schimel's characterization that a search warrant had to be executed "due to a lack of cooperation," saying "our people cooperated every step of the way."
The report details how ethics administrator Brian Bell and lawyer David Buerger, who were not part of the John Doe investigation, invoked their Fifth Amendment right to counsel before they were questioned by Justice Department agents earlier this year.
Schimel doesn't recommend Bell or Buerger be disciplined, but Sen. Steve Nass, R-Whitewater, is calling for their dismissal. Nass spokesman Mike Mikalsen said "the fact that both individuals lawyered up very early" means "they had concerns with regard to their handling of the materials."
But Halbrooks said the commission requested the appointment of a special counsel for Bell and Buerger because DOJ wanted to interview them individually rather than together. He also said a warrant was necessary to search the Ethics Commission offices because the commission maintains secret material for other investigations that DOJ isn't allowed to access.
Schimel spokesman Johnny Koremenos said in response the year-long investigation involved dozens of interviews and the review of thousands of pages of documents. "The Attorney General's report records the facts as reported by witnesses and documents; these are not matters open to the Ethics Commission's opinion or interpretation," Koremenos said. "If the Commission and its members had been more open and forthcoming, DOJ would have welcomed their partnership and input on the investigation."
"It is a sad day for Wisconsin when the appointees designated by the legislature to oversee the Ethics Commission spend more time defending government employees who created 'opposition research' files on Republicans than actually overseeing the agency they were tasked with leading," he added.
Schimel's office earlier on Twitter said it was evaluating whether the commission violated the open meetings law by convening in closed session without posting notice 24 hours in advance.
Halbrooks said he and vice-chairwoman Katie McCallum agreed to call an emergency meeting because one of the members was to be on vacation starting at noon Friday for two weeks.
Former John Doe special prosecutor Francis Schmitz in an interview Friday disputed Schimel's characterization that he violated a judge's January 2014 order quashing the John Doe subpoenas when in February 2014 he gave permission for staff to review documents that had been previously subpoenaed. He said those documents were part of subpoenas the judge didn't quash until later.
"I wish the DOJ investigators had taken me up on my offer to provide additional information," Schmitz said. "One of the things I believe I could have shown is I never gave anyone permission directly or implicitly to review materials in violation of court orders."
The Wisconsin Elections Commission, which still employs one of the former GAB employees recommended for contempt of court charges, plans to meet Tuesday to discuss the report and will issue a statement afterward, spokesman Reid Magney said.
Meanwhile, the judge now overseeing the investigation and possible contempt-of-court charges against nine officials whom Schimel recommended be disciplined, including Schmitz, has stepped down from the case.
State Supreme Court Chief Justice Patience Roggensack announced the move Friday afternoon.
It comes after the Milwaukee Journal Sentinel reported the judge, William Hue of the Jefferson County Circuit, made Twitter posts about the case before he was assigned the case earlier this year.
Roggensack said in her statement that "although I have no doubt that Judge Hue would continue to fairly and impartially preside over the John Doe as he has in the past, today I have accepted Judge Hue's decision to withdraw" from the case.
"Hue has raised the concern to me that his continued participation in the John Doe matter over which he has presided could become a distraction from legal issues that may arise in that matter. I agree with his concern," Roggensack wrote.
It was not immediately known who the director of state courts would name to replace Hue.
Schimel, a Republican, said in a report made public Wednesday that he's recommending contempt-of-court charges against six former employees of the now-defunct Government Accountability Board, including its former chief, Kevin Kennedy, and three Milwaukee County district attorney employees who were involved with the John Doe investigation.
Schimel said the employees violated court orders and "grossly mishandled secret John Doe evidence and related materials and then failed to turn over all evidence as ordered by the Wisconsin Supreme Court."
Schimel also recommended in the report that former GAB lawyer Shane Falk be referred to the Wisconsin Court System's Office of Lawyer Regulation for discipline.
Falk told the Milwaukee Journal Sentinel he acted appropriately and that Schimel had misrepresented what happened.
The report, commissioned to investigate a 2016 leak of John Doe records to the U.S. arm of the British newspaper The Guardian, blasted officials involved with the investigation for what Schimel described as its excessive scope and bias against Wisconsin Republicans, who were its targets.
The state Supreme Court ended the John Doe investigation in 2015, saying the investigation's legal theory was invalid. The investigation looked at coordination between Walker's campaign and outside conservative groups in the run-up to the 2011 and 2012 recall elections.
The Guardian ran an article based on the leaked documents in September 2016, just before the U.S. Supreme Court decided not to review the state Supreme Court's decision to end the investigation.
The Associated Press contributed to this report.
[Editor's note: This story has been updated to reflect a correction. The original version misstated the year a judge quashed the John Doe subpoenas and the year special prosecutor Francis Schmitz gave permission for staff to review documents that had been previously subpoenaed.]