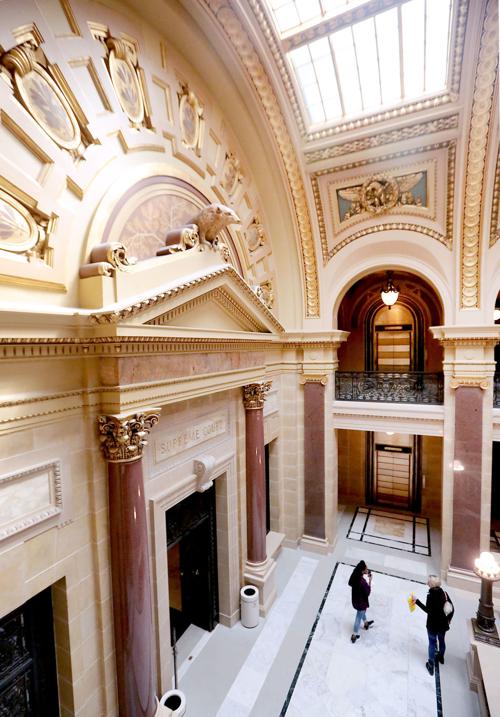 Republican businessman Eric Hovde, of Madison, who closely eyed a 2018 bid for the seat held by Democratic U.S. Sen. Tammy Baldwin, now says he won't enter the race.
The announcement leaves Kevin Nicholson, a Delafield businessman, and state Sen. Leah Vukmir of Brookfield as the top Republican candidates for the nod to oppose Baldwin, D-Madison, in November.
Hovde made the announcement to WISN TV in a segment to air Sunday morning. A clip of the interview was posted online late Saturday.
Hovde, a prominent Madison real-estate developer, banker and investor, had sent signals for months that he was looking at entering the race. He told the Wisconsin State Journal in December that he was "taking certain steps" to be ready to run.
But Hovde told the station that he decided "for my life right now — and my wife — we just finally, after a lot of prayer and a lot of discussion, said it's just not the right time for us."
Hovde said he made the decision Sunday, before Tuesday's spring election handed a big win to the state Supreme Court candidate backed by liberals and Democrats, Rebecca Dallet.
Asked if those results affected his decision, Hovde acknowledged he found the results "interesting" and that 2018 is shaping up as a potentially tough year for Republicans. But Hovde added that he ran in a contested primary for U.S. Senate in 2012 against several formidable GOP opponents.
"I'm not afraid of getting into a tough race," he said.
Hovde declined to immediately make an endorsement in the race, but said, "Leah was a big supporter of mine last time."
"The one thing about Leah, I know she and I view most of the issues very similar," Hovde said. "Kevin, I just don't know that well. There's some issues that cause me a bit of concern. But you know, I want to give him a fair hearing."
Wisconsin Democrats seized on the announcement as a sign the GOP U.S. Senate primary in Wisconsin has grown increasingly divisive.
"It's a real testament to how nasty this GOP primary has become that yet another prominent Wisconsin Republican — this time famously aggressive campaigner Eric Hovde — is declining to throw (his) hat in the ring," Democratic Party of Wisconsin spokesman Brad Bainum said.