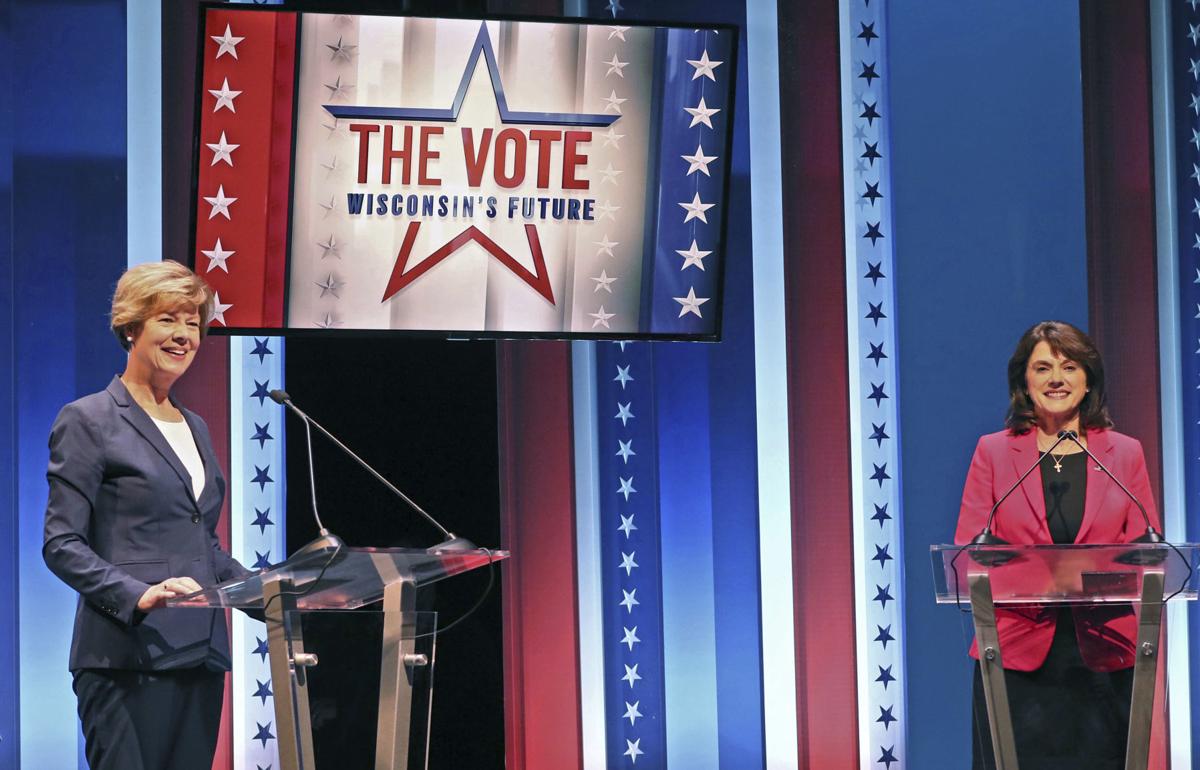 In recent years Wisconsin voters have elected Republican Gov. Scott Walker three times, conservative U.S. Sen. Ron Johnson twice and President Donald Trump.
And yet, even as Walker faces a close re-election match, U.S. Sen. Tammy Baldwin, a liberal Democrat from Madison, continues to enjoy a double-digit lead in polls as she seeks a second six-year term.
"If that holds up through election day that would be a real change from other recent elections," said UW-Madison political science professor Barry Burden, who has studied ticket splitting, the phenomenon of voters supporting candidates from both major parties.
"To have a bigger divide this year really is new and runs against the trend we've seen for nearly a decade," Burden said.
Vukmir, a nurse practitioner, has spent the past 16 years in the Wisconsin Legislature where she's built a reputation as one of the most conservative lawmakers, helping pass some of Walker's key policy measures such as the anti-union Act 10 and "right-to-work" legislation.
A staunch opponent of abortion, Vukmir wants to repeal the Affordable Care Act, also known as Obamacare, which Baldwin helped craft.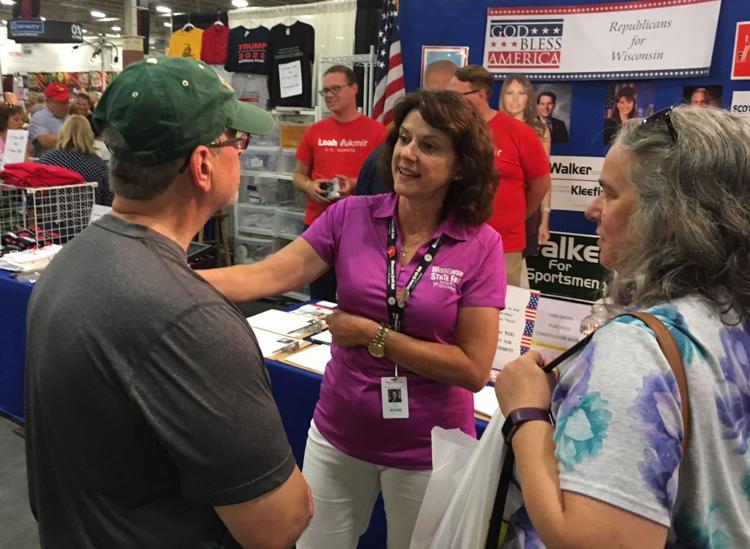 Vukmir is closely aligned with Trump, saying in a recent debate that she gives him an "A" on his first two years in office. She supports the president's crackdown on illegal immigration and plans to build a wall on the nation's border with Mexico.
An attorney by training, Baldwin has held elected office for more than three decades and is seeking a second term in the Senate, where she is among the most liberal Democrats, according to nonpartisan vote trackers such as voteview.com.
Baldwin backs universal government-sponsored health insurance, a plan known as "Medicare for All." She supports abortion rights, favors fixing the immigration system instead of a border wall, and has made clean water one of her signature issues.
Baldwin leads in polls
Baldwin holds a more than 10-point lead in Real Clear Politics' average of polls conducted since August. Both the Cook Political Report and Sabato's Crystal Ball list the race as a likely win for Democrats. Baldwin had a 54-40 advantage over Vukmir in a recent NBC News/Marist poll and a 10-point lead in the latest Marquette Law School Poll.
That lead was virtually unchanged from September, even as Walker and Evers drew to within 1 point and the overall sample of voters skewed toward Republicans.
"It really shows that these are … separate races with different personalities and issues," Marquette poll director Charles Franklin said. "Voters, and especially independents, are responding to the campaigns a little differently."
Opponents point out that Baldwin has benefited from the power of incumbency, not having to endure a bruising primary and lots of cash.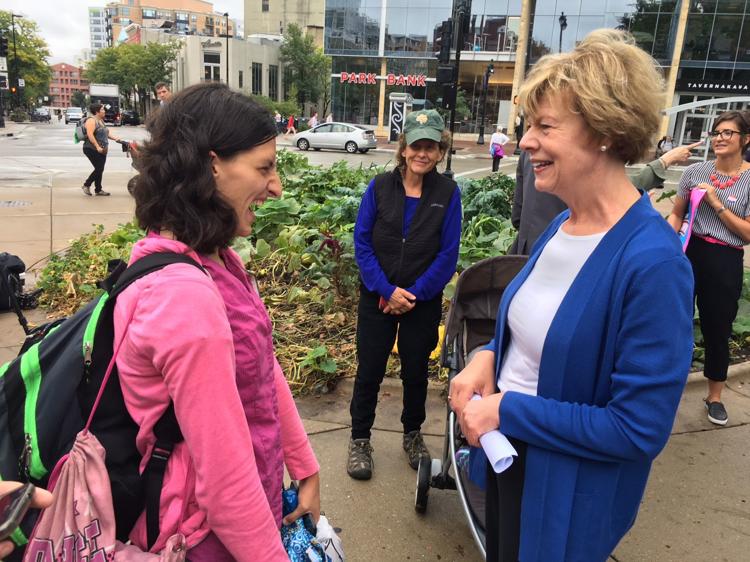 That's allowed Baldwin to define Vukmir, said Bill McCoshen, a Republican strategist and Vukmir supporter who's not affiliated with her campaign.
"Vukmir in many ways has had to play defense. That has stunted her campaign," he said. "When you take on an incumbent you want the race to be a referendum on the incumbent."
McCoshen said Vukmir may be able to turn the tables with her latest ad, in which a woman with lung disease says she fears Baldwin would take away her private health insurance and right to choose her doctor.
"If the primary issue on voters' minds is health care," he said, "I think that's a smart strategy."
Political scientists point out that Baldwin, who spends much of her time in Washington, D.C., working on issues that don't always get a lot of attention in Wisconsin, has a different profile than Walker, who is the public face for some controversial policies like Act 10, which stripped public workers of most collective bargaining rights.
"She's a different kind of politician than him," Burden said. "He was polarizing right out of the gate, galvanizing for Republicans."
"Baldwin has a liberal voting record for sure. She's been looking for ways to appeal to broad sectors and emphasize those over more polarizing issues."
Vukmir's campaign provided a statement saying Baldwin has used her cash advantage to shape her public persona.
"Senator Baldwin raised over $28 million from out-of-state, special interest groups, and while money can't buy you happiness, it apparently can buy you a new image," campaign manager Jess Ward said.
Ticket splitters
Marquette polls over the last three months reveal a puzzling trend for political scientists: about 8 percent of registered voters support both Walker and Baldwin.
Conversely, just 2.5 percent favor Evers and Vukmir.
"It's not just that they're generically splitting," Franklin said. "They're splitting in favor of Tammy."
A deeper dive into the poll numbers shows the Baldwin/Walker supporters tend to be less ideological, less engaged and more likely to come from outside the state's three largest cities.
They're more likely to consider themselves independent, though about 8 percent of Republicans and 4 percent of Democrats say they will split their tickets.
Women are more likely to favor Walker and Baldwin than Evers and Vukmir.
But not every crossover voter fits the mold.
Peter Favre, a building contractor from La Crosse, considers himself a conservative Walker and Trump supporter, but he also backs Baldwin and U.S. Rep. Ron Kind, D-La Crosse.
Favre, 39, said he generally avoids media coverage and does his own research on candidates. He cites Baldwin's votes on bipartisan bills and her support for trade protections and defense spending among the reasons he supports her.
"She doesn't seem like a hard-left radical," he said.
Outstate appeal
Data show Baldwin, a Madison native who represented the liberal Madison area in Congress for seven terms before being elected to the Senate, has managed to win over constituents from other parts of the state.
While unpopular in the Fox Valley and deeply conservative Milwaukee suburbs, Baldwin enjoys a 15-point favorability spread outside the three largest population centers in the latest Marquette poll.
"Unlike a lot of people, she doesn't forget the west side of the state," UW-La Crosse political science professor Joe Heim said.
Baldwin won her first statewide election by beating three-term Gov. Tommy Thompson in 2012 as President Barack Obama carried the state by a 7-point margin on his way to a second term.
While Baldwin may have benefited from Obama's coattails, voters in Chippewa, Pierce and Wood counties split their tickets for Republican Mitt Romney and Baldwin, and Baldwin won a larger portion of the votes than Obama in 16 mostly rural northern counties.
That's no accident, said David Canon, a professor of political science at UW-Madison.
In the state Legislature, Canon said, Baldwin earned a reputation for working with the other party, and even as a member of the House of Representatives she was cultivating rural voters, developing an interest in agricultural issues and a reputation for constituent service.
"She is a pretty liberal Democrat, so she does well with the Democratic base, but she does better than a lot of Democrats in the rural part of the state," Canon said. "She's not winning, but she's not losing by as much."
Baldwin, who has tried to bolster her out-state credentials with "Buy American" legislation and touting her gun ownership, said her first Senate race challenged her to expand her knowledge of the state.
"I had a big learning curve about ways in which the economy of the state varied," she said, "depending on whether you were in the North Woods, on the Mississippi River, or the Great Lakes or in between."
Health care key
Health care has been the dominant political search topic on Google this year, according to search engine trend data.
A slim majority of likely voters in the Marquette poll favor preserving the Affordable Care Act, the law Baldwin helped craft in 2010. But more than three quarters of those polled say it's "very important" to require insurance plans to cover pre-existing conditions, one of the key components of the law.
"I think that is an issue that's getting a lot of attention and definitely plays to Baldwin's favor," Canon said.
Vukmir has said she would "fall in front of a truck before I let people with pre-existing conditions go without coverage" though critics say the high-risk pool system she supports was too expensive for many people to afford and included lifetime coverage caps.
On the other hand, voters are split on universal health insurance.
Roughly a third of those polled either strongly oppose or favor such a plan to replace the current insurance system with a government-backed plan.
Favre, the Baldwin/Walker supporter, doesn't like Medicare for All, which he believes would bankrupt the country, but he also doesn't think the bill could pass and figures it will lose steam before the 2020 election.
Down the stretch
While Baldwin's advantage in the polls hasn't really moved in months, observers expect the race will tighten in the coming weeks.
McCoshen, the GOP strategist, expects Trump's visit to Mosinee Wednesday will help Vukmir shore up support from rural Republicans who largely favored her primary opponent and have not gotten behind Vukmir yet.
Wisconsin is no longer a state where a politician can win with 60 percent of the votes, like Tommy Thompson did in the 1998 gubernatorial race, UW-Madison political science professor Kenneth Mayer said.
He expects the results on Nov. 6 will be much closer than the polls.
"This is less of a forecast than it is a snapshot," he said of the latest polls. "It's important to keep in mind that even with three weeks to go there are a number of things that could change."
"It's important to keep in mind that even with three weeks to go there are a number of things that could change." Kenneth Mayer, UW-Madison professor of political science

"Voters, and especially independents, are responding to the campaigns a little differently." Charles Franklin, director of the Marquette Law School Poll
Get Government & Politics updates in your inbox!
Stay up-to-date on the latest in local and national government and political topics with our newsletter.