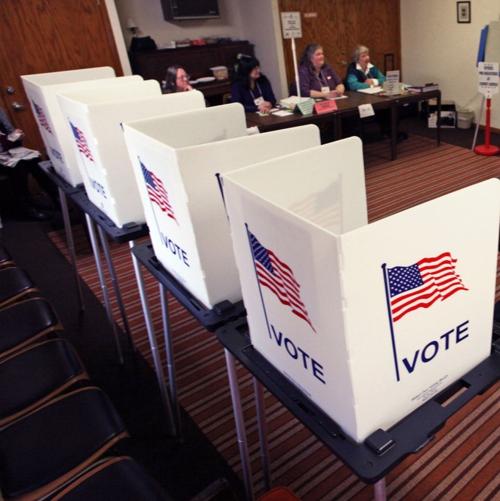 Mitt Romney chomping on deep fried cheese curds? Rick Santorum taking a brewery tour?
The chances of those scena rios playing out soon in Wisconsin appear ever more likely as the two Republican front-runners in the race for the GOP presidential nomination head toward the state's April 3 primary.
It was feared the contest could be over by the time it reached here after Wisconsin Republicans decided to push back the election by six weeks as part of a nationwide shakeup of the GOP presidential primary system.
The change was prompted by the boost Democrats got in 2008 when Barack Obama and Hillary Clinton remained locked in a heated battle for months, said Charles Franklin, a Marquette University visiting law professor. By contrast, Arizona Sen. John McCain clinched the 2008 GOP nomination on Feb. 5 — six months before the national convention.
"The Republican Party had McCain all wrapped up (as the nominee) by Super Tuesday," Franklin said. "They thought it was too premature, and then they watched the Democratic primary go all the way to June getting all of the attention. It started to look better to have the longer, more drawn out primary campaign."
One of the new strategies has been to reduce winner-take-all contests, allowing candidates to stay in the race and rack up delegates even if they aren't winning statewide vote counts. "It's looking very much like our April 3 primary could be a very important primary for Romney and Santorum," Franklin said.
If Republicans wanted more competition, they got it. So far, none of the four remaining GOP candidates appears ready to concede, and none is assured of accumulating the required 1,144 delegates any time soon.
Still in the hunt are Romney, the former Massachusetts governor, with 495 delegates; Santorum, former senator from Pennsylvania, 252 delegates; former House Speaker Newt Gingrich of Georgia, 131; and U.S. Rep. Ron Paul of Texas, with 48 delegates.
The field could shrink over the next two weeks as Puerto Rico, Illinois and Louisiana hold primaries. Then it's Wisconsin's turn.
In all, 42 delegates are at stake here. The winner of Wisconsin's open primary will get 18 delegates, and three delegates will be awarded to the winner of each of the state's eight congressional districts.
"We do anticipate seeing a great presence from all of our Republican primary candidates," said Ben Sparks, spokesman for the Republican Party of Wisconsin. Both Santorum and Romney have scheduled appearances in Wisconsin later this month.
Santorum will participate in a forum and dinner sponsored by Americans for Prosperity on Saturday in Milwaukee alongside U.S. Sen. Ron Johnson and Rep. Paul Ryan, R-Janesville.
Romney will hold a March 31 fundraiser, also in Milwaukee, said former state Sen. Ted Kanavas, who is heading up the state campaign for Romney with co-chair Sen. Alberta Darling, R-River Hills.
"Wisconsin will definitely become a factor in the upcoming presidential primary race," Sparks said. "Obviously it's too early to speculate how much."
Last week, the first pro-Romney TV commercials began popping up in markets across Wisconsin.
The Romney campaign has purchased $516,000 in airtime through Monday, while Politico reported an ad buy of $460,000 by the pro-Romney super PAC, Restore Our Future.
Kanavas said the campaign is busy lining up county chairmen and has campus coordinators across the state.
He said he's not aware of the other campaigns hitting the streets yet in Wisconsin, but said that could happen within days of the April 3 contest since no candidate can afford an ongoing 50-state presence.
"It's got a kind of circus quality to it," Kanavas said. "You go to town, set up the big tent, then move on to the next town."
Despite having a head start on the ground in Wisconsin, Romney may have a hard time defeating the more conservative Santorum, who in recent polls appeared to have a commanding lead among fellow Republicans.
A survey released March 1 by Public Policy Polling showed 43 percent of Wisconsin Republican primary voters backed Santorum, compared to 27 percent for Romney, 10 percent for Gingrich — whose wife, Callista, hails from Whitehall in western Wisconsin — and 8 percent for Paul. Twelve percent said they were unsure or voting for someone else, according to the poll taken Feb. 23-26.
When put up against President Obama, however, the PPP poll showed all GOP candidates losing Wisconsin, with the smallest projected margin of loss of 6 points in a hypothetical matchup with Santorum.
Even if Romney doesn't win Wisconsin in the April 3 primary, Franklin said the candidate may be able to continue adding to his already formidable delegate count by winning some congressional districts.
Kanavas contended the field has shifted so wildly that it's impossible to project a winner. Three-week old polls, he said, "might as well be from 2007."
"It's been a remarkable, volatile campaign cycle," he said.
Get Government & Politics updates in your inbox!
Stay up-to-date on the latest in local and national government and political topics with our newsletter.