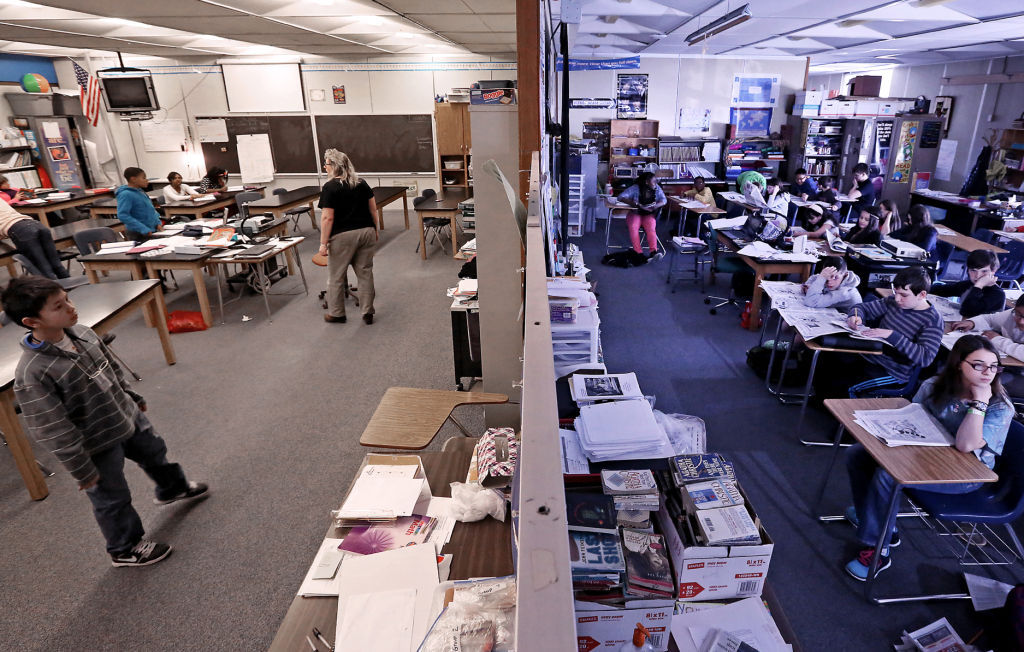 Voters on Tuesday overwhelmingly chose to support a $41 million referendum that will upgrade and expand 16 schools in the Madison School District.
More than 80 percent of voters approved the proposal, which expands five significantly crowded school buildings and makes upgrades in accessibility and major renovations to others.
Madison School District superintendent Jennifer Cheatham said on Tuesday that the landslide approval "not only says a lot about the support for the facilities referendum but more importantly, for public schools."
School district officials plan to begin construction on projects that will relieve crowding this summer, said district spokeswoman Rachel Strauch-Nelson.
The district will expand Hawthorne, Kennedy, Midvale and Sandburg elementary schools, and the shared Van Hise Elementary and Hamilton Middle school building. All five buildings are considered to be near or over capacity.
"The rest of the projects we would move on a more standard timeline with construction starting early next year," she said. 
Those projects include making upgrades to Allis, Franklin, Kennedy, Lake View, Lowell, Midvale, Randall and Shorewood elementary schools, and Spring Harbor middle school, making them more accessible to students by adding elevators, wheelchair ramps and lifts in some cases.
Intense renovations to Jefferson Middle School also will be scheduled, including more permanent partitions between classrooms and replacing the building's elevator, electrical system, windows, doors, ceilings and lighting. Huegel and Mendota elementary schools each will get new windows, ceilings and heating and cooling upgrades among other fixes. 
You have free articles remaining.
East High School's auditorium, which has fallen into disrepair in recent years, will receive a multi-million dollar face lift to improve seating, sound and accessibility to the stage and dressing rooms. 
Tuesday's ballot question is the 13th referendum proposal posed to Madison voters in the last 20 years and the 10th to pass. 
School board president Arlene Silveira, who has been on the board since 2006 and did not seek re-election, said she does not remember during her tenure on the board or as a parent working with referendum campaigns when a proposal was passed with such a wide margin. She said it speaks to the direction of the district and the nature of the proposals.
"The projects made sense, and it was a referendum that a lot of people could relate to," she said. "Older buildings, like your older home -- you need to upkeep. It wasn't asking for anything extravagant."
Board member T.J. Mertz said he was surprised at the size of the victory but not that the referendum passed. He said the victory speaks to a wider recognition of the importance of Madison's public schools to the community. 
The referendum raises property taxes about $62 on the average $237,678 Madison home for 10 years. The district is still paying off $30 million in referendum debt for the construction of Olson and Chavez elementary schools in the late 2000s, according to the district. The final payment, for the Olson project, is due in 2026.
Meanwhile, the school district faces at least a $12 million gap in its operating budget for the upcoming school year. The referendum included $2 million in technology costs, reducing pressure on next year's budget. 
Cheatham said the district will work on a long-term facilities study over the next year that will inform project lists for future referendums. 
Reporter Jeff Glaze contributed to this report.
Unofficial results by ward.