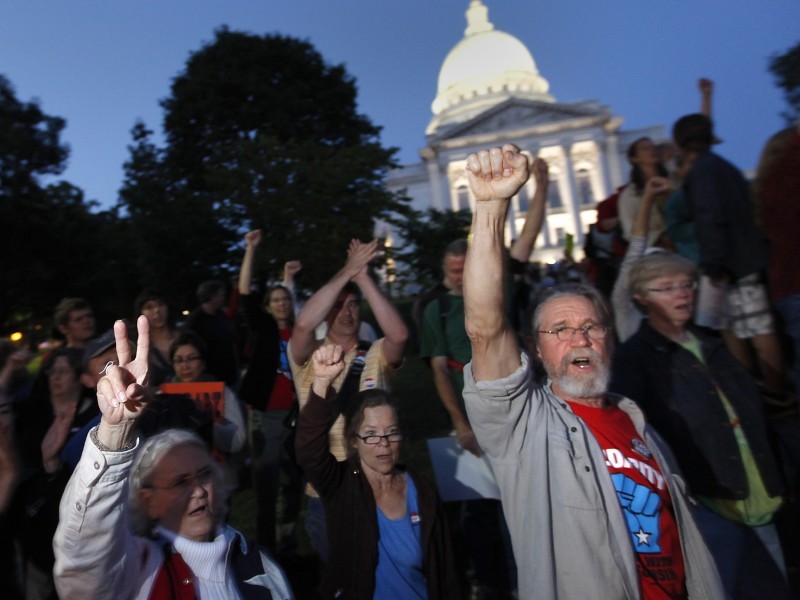 Democrats were not the only losers in Tuesday's election. The state's recall process — utilized 15 times in less than a year — also received a resounding "thumbs down" by voters who felt the political mechanism had been abused.
Gov. Scott Walker soundly defeated Democratic Milwaukee Mayor Tom Barrett in the historic recall, winning by 7 percentage points. And while Republicans considered the win an affirmation of Walker's policies, leaders from both parties on Wednesday agreed the results also proved to be a repudiation of recall as a political tool.
"The costs both in time and expense of a recall election did not go unnoticed in Green County," said Gary Luhman, chairman of the Green County Republican Party. "I believe that also had an impact in how people voted."
Luhman said he was surprised by the outcome in his southern Wisconsin county, which in 2010 was only "lukewarm" about Walker and ended up tipping slightly to Barrett.
Fully 60 percent of statewide voters believed recall elections should be used only in the case of malfeasance or criminal activity, according to exit polls conducted by Edison Research for news networks and The Associated Press. The polls also showed that 18 percent of Walker voters favored President Barack Obama, a disparity that to some indicated a voting bloc more "against recalls" than "for the governor."
"I think it's pretty safe to say there was a substantial anti-recall faction that played a big part Tuesday," said Sen. Tim Cullen, D-Janesville. "This is something we will have to think about going forward, how the state handles recalls, especially the part that allows incumbents to raise unlimited amounts of money."
Wisconsin's recall law is fairly broad and does not require the targeted politician be convicted of a crime or even accused of any form of malfeasance. Any change to the law would require altering the state's constitution, a move that takes approval in two consecutive legislative sessions.
The law also allows the recall target to raise unlimited amounts of cash for an extended period of the campaign. Walker used this wrinkle to stockpile more than $30 million, six times the amount raised by Barrett.
The state's recall laws were the subject of debate even before the latest round of recalls. State Rep. Robin Vos, R-Rochester, authored legislation that he dubbed "Recall the Recalls," which would allow a recall only if the lawmaker has been charged with a serious crime or guilty of a serious ethics violation.
The proposal was sent to the state Senate, but leaders there never took it up. But following Tuesday's humiliating loss, even Democrats — who, pending a very close recall outcome in one district, it seems now control the Senate — are saying that "recall fatigue" is real. Some are even open to discussing potential changes to the law.
"Maybe it's worth taking a look at," said Assembly Minority Leader Peter Barca, D-Kenosha. "I would be open to talking about it. But I am always hesitant to react in a knee-jerk fashion to something that occurs once or twice."
Senate Democratic Leader Mark Miller, of Monona, said much the same thing. During a press conference Wednesday in which he assumed the mantle of Senate majority leader, Miller said he would entertain the possibility of tweaking the law.
"I certainly think we need to take a look at the amount of money people being recalled are allowed to raise," he said. "I look forward to talking to Vos about it."
Vos said Wednesday he would welcome any cooperation on the issue. "This round of recalls cost taxpayers at least $18 million to elect Gov. Walker a second time in his first term," he said.
The governor on Wednesday stopped short of backing any particular proposal, but said he supports the idea of changing the law.
"Ending the permanent election cycle in Wisconsin will create certainty in the economy, which helps private sector employers create jobs," Walker said.
— State Journal reporter Dee J. Hall contributed to this report.