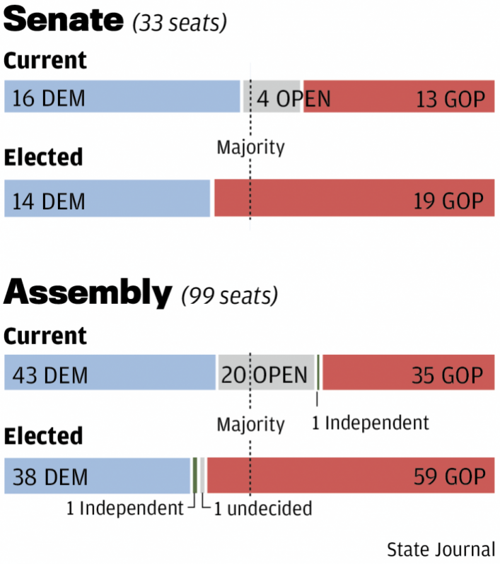 MILWAUKEE — A Republican typhoon swept across Wisconsin, just as predicted, carrying the GOP to control of the state Legislature in Tuesday's elections.
Republicans also won control of the governor's office with Milwaukee County Executive Scott Walker's defeat of Milwaukee Mayor Tom Barrett. The election marks the first time since Republicans seized control from Progressives in 1938 that both houses of the Legislature and the governor's office flipped from one party to another.
Democrats went into Election Day with a 50-45 edge in the Assembly and an 18-15 advantage in the Senate.
But Republicans hammered on the economy, blasting Democratic lawmakers for raising taxes and blaming them for persistent unemployment. The strategy worked. Early Wednesday morning, Republicans held a 59-38 majority in the Assembly with one independent and one race still undecided. They won a 19-14 majority in the Senate.
Republicans unseated six Democratic Assembly incumbents. Joe Knilans delivered the GOP's biggest victory, unseating Speaker Mike Sheridan, D-Janesville. Sheridan's district has been reeling since General Motors closed its Janesville plant in 2009, leaving hundreds out of work. Both Knilans and Sheridan worked at the plant, Knilans as a supervisor and Sheridan as a union leader before he was elected to the Assembly in 2004.
In the 72nd District, which covers portions of Adams, Marquette and Wood counties in central Wisconsin, former sheriff's jailer Scott Krug, R-Wisconsin Rapids, ousted Democrat Marlin Schneider, also of Wisconsin Rapids. Schneider, the longest-serving state representative, joined the Assembly in 1970.
Republicans also took out four incumbents in the Senate. Pam Galloway, a breast cancer doctor from Wausau, defeated Senate Majority Leader Russ Decker of Weston, ending his 20-year career in Madison.
Brian Pleva, a strategist with the Republican Assembly Campaign Committee, said voters thought Republicans were their best hope for pulling the state out of its economic woes.
"There certainly was a wave," Pleva said. "A large majority of our candidates actually brought private sector experience into play. People were looking for candidates like citizen legislators like our Founding Fathers envisioned. That's what we presented to them."
Sheridan issued a statement saying Democrats were caught up in a national Republican wave.
"People were frustrated and we understand that frustration," the statement said.
Now Republicans must govern. Their first order of business will be dealing with a projected $2.7 billion shortfall in the upcoming state budget.