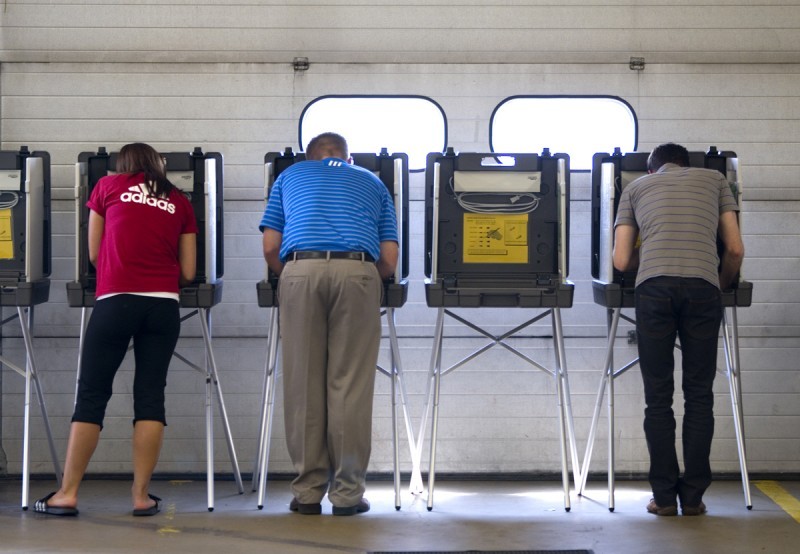 Voters in Tuesday's historic recall election turned out in unprecedented numbers, forcing clerks to order up extra ballots and resulting in long waits in some areas — made longer by large numbers of same-day registrations.
Before polls closed, state elections officials predicted up to 65 percent of the voting age population, or about 2.6 to 2.8 million people, would cast a ballot.
In Madison, some 80 percent of registered voters — a different metric used to measure voter turnout — had voted as of 5 p.m. With so many new voters registering at the polls, turnout in some wards was projected to exceed 100 percent of previously registered voters, city clerk Maribeth Witzel-Behl said.
"We're swamped," said one harried worker in the clerk's office, which ordered 5,000 additional ballots Tuesday afternoon on top of the 165,000 printed initially.
Similar results were reported throughout the state.
"Just wild," exclaimed Dane County Clerk Karen Peters, who said Tuesday afternoon the county could hit 88 percent of registered voters. Peters, also, ordered extra ballots be made available "if the clerks feel they may run short."
Getting voters to the polls was key for the parties going into Tuesday's vote, since most voters had long ago made up their minds about whether they supported Republican Gov. Scott Walker or Democratic Milwaukee Mayor Tom Barrett.
The recall is widely viewed as one of the most significant contests nationally this year outside of the presidential race. The lieutenant governor's job, along with four state Senate seats, are also up for recall.
"Everything leading up to this election, it completely felt like a presidential" election, Witzel-Behl said.
Despite the heavy turnout, state officials reported relatively few problems, with most related to identification and residency requirements.
The 17 teams of lawyers and agents sent around the state to monitor the election for the state Department of Justice found no major voting fraud problems as of 3 p.m., said DOJ spokesperson Dana Brueck.
GAB officials said they received complaints about robocalls, including some saying petition signers don't have to vote Tuesday to be counted in the election.
Other hiccups included a voting machine in the town of Rothschild, near Wausau, that was damaged overnight and had to be replaced Tuesday morning, GAB spokesman Reid Magney said. And a polling place in Milwaukee was reportedly asking voters to show identification to vote even though that is not required, Magney said.
In Deerfield, some confusion about whether an ID was necessary to vote was mixed up with the requirement of an ID needed to register to vote, was cleared up by GAB officials, Magney said.