In December, with then-President Donald Trump continuing to falsely claim that massive fraud and other voting irregularities had denied him a second term, top Republicans in the Wisconsin Legislature said they were reviewing "thousands of complaints" about the Nov. 3 election.
There were indeed thousands of complaints in the emails sent between Nov. 3 and Dec. 8 to lawmakers investigating the election.
The majority of them, however, were mass-generated form letters making nonspecific claims about alleged irregularities, a right-wing fraud-finding effort and a clip from Fox's Sean Hannity show. Others implored Republican lawmakers to overturn an election they were convinced was rigged, even though local, state and national officials have confirmed its integrity.
The Wisconsin State Journal was able to identify just 28 allegations of election fraud or other irregularities that were specific enough to attempt to verify, but could only partially substantiate one, involving 42 votes. Interviews with dozens of prosecutors, election officials and people who lodged complaints made clear that most, if not all, of the allegations could be chalked up to hearsay or minor administrative errors.
Republican Rep. Ron Tusler said the Assembly Committee on Campaigns and Elections, which he chaired last session, has so far been able to substantiate only one case of potential voter fraud in the Nov. 3 election: A Cedarburg woman was charged in November after she allegedly submitted an absentee ballot for her dead partner.
Yet Tusler continued to insist, without evidence, that the November election was more fraudulent than any previous election while acknowledging that, "I don't believe it will add up to enough votes to doubt President Joe Biden's success."
Biden won the state by 20,682 votes.
The form emails generated by the online campaign-creating platform FreeRoots tout a right-wing effort called Every Legal Vote and a Dec. 4 clip from "Hannity" but do not include any concrete claims that could be investigated.
"I am shocked by the mounting evidence of rampant fraud in the 2020 elections," reads one of the emails, sent on Nov. 12 by an "Alex Do," who does not provide a hometown.
"Newly 'found' Biden votes. Votes by deceased individuals. Forged postal mailing dates. Counties with more registered voters than eligible voting-age citizens. Military ballots thrown away. And lawful observers being blocked," the email goes on to say, repeating a litany of false or debunked claims about the election.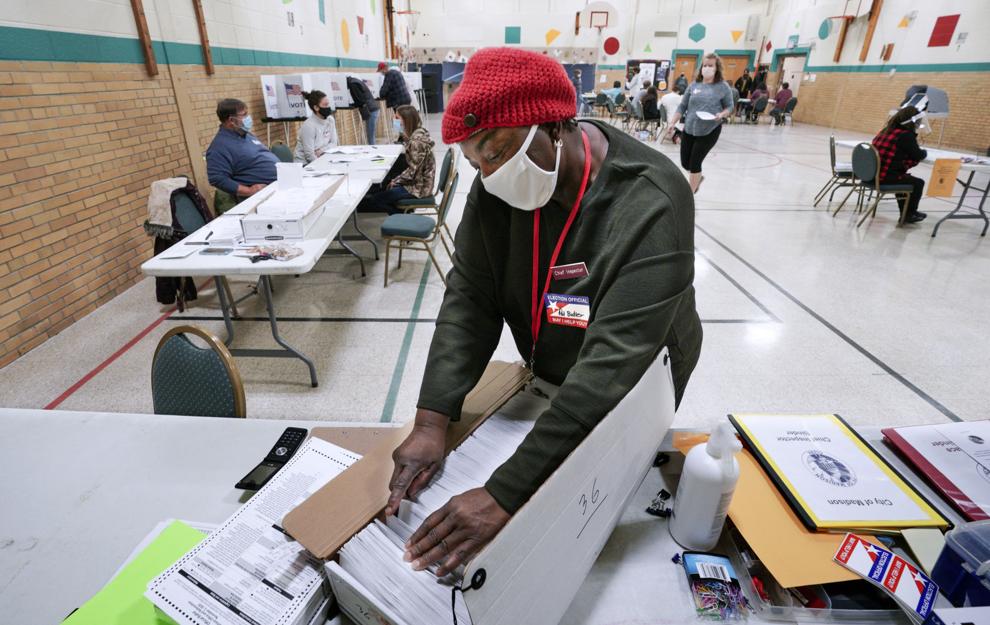 Tusler and Sen. Kathy Bernier, who chairs the Senate's elections committee, released more than 10,000 pages of emails to the State Journal in response to a public records request for communications pertaining to the election.
Besides allegations of fraud, the emails released to the State Journal are also ones containing questions from GOP staff to the Wisconsin Elections Commission, Legislative Reference Bureau and individual city clerks; questions about voter software firm Dominion; complaints about the GOP's handling of COVID-19 and election fraud complaints; media interview requests; press releases and meeting agendas; references to comments and guests on conservative Dan O'Donnell's talk radio show; demands to support Trump and award him Wisconsin's electoral votes; and links to right-wing media stories.
Some of the emails called for immediate action, such as one from Tony Magnavito, who urged Republicans to "take the low life Democrats out and shoot them for TREASON."
Others featured pleas from people who simply wanted lawmakers to determine whether there had been fraud, and others demanded lawmakers simply hand the election to a president they deeply admired.
"This is 1776 all over for the United States," wrote John Scharlau. "If we allow this election to be stolen from the greatest president since Lincoln, we will be destroyed from within by America hating, flag burning commies."
Hardly any offered evidence to support their claims of widespread voter fraud, but instead repeated falsehoods about the election, such as those pushed by Trump attorney Sidney Powell about Dominion Voting Systems tabulating software.
Others saw conspiracies in the large number of votes reported for Biden early in the morning after the election, even though election officials had warned for weeks not to expect results from hundreds of thousands of absentee ballots until 3 a.m. or later. In Wisconsin, absentee ballots may not be opened before Election Day, and in some areas, aren't reported until all of them are counted.
Local election clerks are required to report suspected fraud or irregularities to county district attorneys, and the state Elections Commission issues an annual report on those allegations.
The WEC report covering the Nov. 3 election is not expected to be released until later this year. But in its last such report, released in September and covering the period from Feb. 16, 2019, through Aug. 21, officials were able to document just 15 cases of suspected fraud or other election problems.
Fond du Lac County clerk Lisa Freiberg said the false claims about mass election irregularities and fraud from Trump and his state and federal allies have had a real effect in a "Republican county like mine."
"It's going to take us years to get people to trust elections again," she said. "My goal now is to educate legislators on what we do here in Fond du Lac County."
The State Journal attempted to substantiate each of the specific claims reported to lawmakers. Here's what the newspaper found.
No poll book, no ID
A town of Watertown man let Rep. John Jagler's office know that when he and his wife voted early at the town's office, there was no poll book to check their names against and no requirement to provide a photo ID, a violation of the state's photo ID law.
The man's family later received a call from the Elections Commission letting the couple know that a new poll worker had erred in not requiring IDs and was told to start requiring them of everyone. Town Clerk James Wendt said the worker hadn't been asking for IDs from people she knew.
As for the poll book, Wendt said, it was late to arrive from Jefferson County but that, before it did, election workers kept track of who had voted and later transferred the information to the poll book to ensure no one was able to vote twice.
Ballots 'looked different'
John Christy, a member of the Monroe County Board of Canvassers, told four Republican lawmakers in a Nov. 24 email that he was "extremely distressed and disturbed" by the election and wrote of three or four ballots with unspecified problems in one town.
But in response to questions from the State Journal, he said the board took no action to toss the ballots, and he couldn't specify exactly how the ballots were problematic.
They "looked different for some reason," Christy said in an email. "They all had initials or signatures on reverse of ballot; but on first glance, they looked different."
Monroe County Clerk Shelley Bohl said that "no claims of fraud were documented" by the board of canvassers.
Under state law, ballots cast on Election Day should be initialed by two poll workers, and absentee ballots should be initialed by the clerk or a deputy clerk.
"However, if a clerk or poll worker forgets to initial a ballot, nothing in state law says that it must be rejected," Elections Commission spokesman Reid Magney said. "It's a general principle that you do not punish a voter if the clerk makes a mistake, as long as the ballot was properly issued to an eligible voter."
In a separate complaint, a Middleton woman complained that her ballot was not initialed by a clerk but was told to feed it through the voting machine anyway. Middleton city clerk Lorie Burns confirmed that some people on the morning of Election Day didn't have their ballots initialed but, again, the vote still counts.
Ballots or ballot applications?
Eighteen people alleged to Republican lawmakers they'd received several blank, unrequested ballots in the mail.
Two of the people said they didn't fill out or retain what they thought were ballots and did not report the mailings to police. One declined in an interview with the State Journal to say whether what she'd received were actually absentee ballots or absentee ballot applications. Of the others the State Journal was able to contact, many declined to provide sufficient detail to investigate their claims.
One couple, Scott and Mary Joyce of Jackson, told Republican lawmakers they believed they received unsolicited absentee ballots. But in a phone interview, they described what they got in the mail as missing Trump's name and not featuring any other political races. That suggests what they thought were ballots probably other campaign-related material or absentee ballot applications.
Clerks don't send out unsolicited ballots, but the ballot application form is publicly available and anyone can send those out, as multiple groups looking to boost voter turnout did prior to the election. This was a trend seen across the country, as well.
"My strong sense of this is that these people are confusing absentee ballots with absentee ballot applications," Magney said.
Some people interviewed, however, were adamant that they received unsolicited absentee ballots, but said they'd already torn them up and in some cases declined to provide details, leaving no way to verify their claims.
Brenda Woolsey said she, her husband and her adult daughter received unsolicited ballots mailed to them by the town of Union in Eau Claire County.
But town of Union Clerk Beverly Christopherson said Woolsey only alleged to her that one ballot was sent to her household unsolicited — for her husband — and that she showed Woolsey that her husband had checked a box on an absentee ballot request form indicating he wanted ballots sent to him for all elections in 2020. Woolsey did bring one ballot in to show her, Christopherson said, but she didn't have the ballot envelope, so it was impossible to know to whom it had been sent.
Dead voters
Nicole Granato of Menasha said that just by going through publicly available obituaries and the state's voter information website, she said she was able to find 42 people who voted early but who died before Election Day, meaning that under state law, their votes shouldn't have been counted.
Another man, who did not respond to a request for comment, emailed Tusler and Assembly Speaker Robin Vos on Nov. 17 alleging that someone he did not name in the village of Brandon in Fond du Lac County "voted and has been dead for many years."
Fond du Lac County Clerk Lisa Freiberg said that after speaking with officials in Brandon, she thought she knew who the deceased person in Brandon was but that his ballot was never returned and there was nothing in the village's post-election numbers to suggest anything amiss.
Granato provided records from the state's MyVote website, which allows people to track a person's voting history if they have the voter's name and date of birth. She found 42 people from around Wisconsin who are listed as having voted in the Nov. 3 election but who also appear, according to obituaries that bear the same name and birth date, to have died before that date.
"The fact that I was able to easily find 42 people who voted who died before 11/03 is concerning," she wrote Assembly Speaker Robin Vos in a Nov. 18 email. "It warrants investigation."
Granato acknowledged to the State Journal that there's no way to know how those 42 people voted and that the small number of votes weren't enough to swing the presidential election.
Magney said that the WEC gets lists of people who have died from the Department of Health Services and those names are checked against the state voter list. When it appears there's a match, an alert is sent to the local clerk so the clerk can update the poll book, he said. "I can't say that every single registration list alert was addressed before the election, but I know we did a lot of work to bring that number down."
Duplicate registrations
Another man emailed Tusler's office on Nov. 12 with screen shots from the state's voter data website and of online phone directories and an obituary in an attempt to show that in a handful of wards in Dane and Milwaukee counties, eight people might have voted more than once under a duplicate registration or under similar names.
Reached by the State Journal on Friday, the man did not want to named but made clear he was not making any allegations of widespread fraud and thought Wisconsin had handled the election well.
Magney said the state's voting system flags voters registered under similar names and dates of birth and notifies local clerks so that they can investigate and correct poll books, if necessary.
"The system isn't perfect in any way, and occasionally these things come up," he said. "But that doesn't mean that somebody's been voting multiple times."
Trouble with the count
Two people made specific allegations about vote-counting irregularities in Milwaukee County on Election Day and during the county's recount. In the first case, a man complained some ballot bags hadn't been properly sealed in West Allis after being removed from machines after the polls closed. In the second, a man reported that some absentee ballot envelopes from the city of Milwaukee were missing witness information. Neither returned messages left by the State Journal.
The complainant in the West Allis case, Alan Marsch, filed complaints with the WEC against three West Allis officials, but in a Jan. 19 letter to the commission, West Allis city attorney Kail Decker said the failure to properly seal ballot bags was a mistake that was "immediately corrected" and that Marsch had not pointed to any evidence that it led to fraud.
In the second case, city of Milwaukee elections staff erred in not properly signing 72 absentee ballot envelopes, according to Milwaukee Election Commission executive director Claire Woodall-Vogg. The county's Board of Canvassers decided to count the ballots, in line with state guidance not to punish voters whose ballots are marred by errors made by elections officials.
Ballot to go
Elizabeth Klein, a local clerk in Sawyer County, wrote to lawmakers to say her mother went to vote early in person at the the Sheboygan Public Library but then took the absentee ballot with her to fill out later, something not allowed under the law. Sheboygan City Clerk Meredith DeBruin, however, said the library wasn't open for in-person absentee voting, but rather only on Election Day.
In any event, DeBruin said, people aren't allowed to carry out ballots. Klein declined to provide further information.
Observer troubles
A number of people involved in the Dane County recount effort complained about seeing ballots without ward numbers, stamps or clerks' initials. They also made less specific complaints the State Journal didn't attempt to verify, including that Dane County recount tabulators flipped too quickly through ballots or that it was difficult for Trump observers to get close enough to see.
Dane County Clerk Scott McDonell said not all ballots use stamps or ward numbers, and instead are differentiated by ballot style. And while state law requires ballots to be initialed, again, it does not say ballots must be thrown out if they lack initials.
Madison city clerk Maribeth Witzel-Behl said in every election some ballots slip through the cracks and are not initialed, something that could have been a larger problem in November due to the high number of absentee ballot requests.
Regarding the recount, McDonell said he told tabulators to slow down so observers could see ballots but that he hadn't heard that watchers couldn't get close enough to observe.
Residency rules
A man who said he observed the voting at a ward in the city of Racine claimed he witnessed multiple instances in which poll workers asked new registrants to confirm they had lived at their current address for 10 days, even though the law now requires voters to have lived at their address for 28 days.
The man declined an interview request, and no one from the Racine Clerk's office responded to a request for information. Either way, voter registration forms and the certificate on absentee ballot envelopes state the 28-day residency requirement. Clerks are allowed to use forms that contain the old 10-day requirement but are supposed to modify them to reflect the new 28-day requirement.
'U.S. citizen'
A Middleton woman provided a grainy black-and-white photo, allegedly from a WMTV-Ch. 15 report about Madison's "Democracy in the Park" event, that showed an absentee ballot witness certification signature form in which the words "U.S. citizen" were blacked out. The source of the photo is unclear.
Witzel-Behl said the city of Madison prints its envelopes with the full witness certification language on them. Witnesses for overseas voters, who frequently submit their ballots while in the U.S., aren't required to be U.S. citizens, however, Witzel-Behl said such ballot envelopes shouldn't have the words "U.S. citizen" blacked out.
Watch now: Madison celebrates election of Joe Biden; reaction muted elsewhere
Watch now: Celebration and relief on Madison's Capitol Square
Watch now: Williamson Street celebrates Joe Biden's election
Watch now: Reaction to Biden victory from Western Wisconsin
Watch now: Southern Wisconsin has mixed reactions to election results