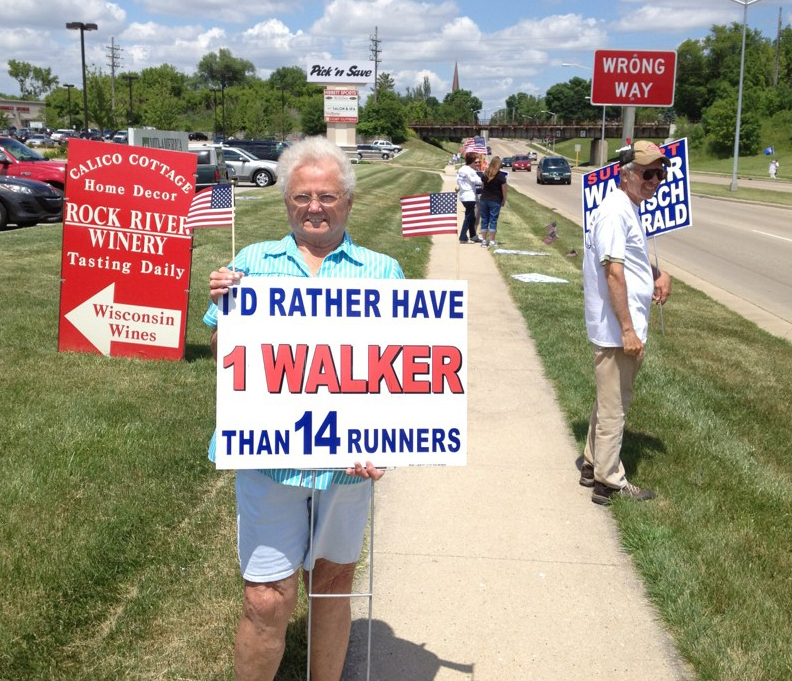 HATLEY — The lumber yard is closed, along with Hedtke's IGA, but like most other communities in the state Tuesday, the voting booths in this village of 476 east of Wausau were busy.
This is a region of the state where Tom Barrett signs are far outnumbered by the red, white and blue signs supporting Gov. Scott Walker in the state's first gubernatorial recall election. The area historically favors Republican candidates, a stark contrast to liberal stronghold Madison.
"I think he's doing a good job," Chuck Anderson, 49, an insurance claims adjuster in Hatley whose father was a union member in Eau Claire, said of Walker. "I think everyone should pay their fair share."
Whether it was in this small Marathon County village, a town hall in Portage County or main drags east and northeast of Madison, many knew weeks or even months ago who they would vote for in the historic election.
"We voted him in and he should stay in, whether we like him or not," said David Lange, an independent from Jefferson.
Watertown looked like a community full of Walker voters. Supporters lined Church Street near where a train station would have been built had Walker not killed the $800 million high-speed rail project from Madison to Milwaukee.
"I was with him cutting things that needed to be cut," said Patricia Laehr, 59. "At my job they cut some things and it hurt, but it did a lot of good. So I believe the cuts he has made will do a lot of good, too."
But in Waupun, home to three prisons where some unions have chosen not to recertify since Walker stripped them of many collective bargaining rights last year, voters who switched from Walker to Barrett were plentiful.
"I was 90 percent Republican before Walker took office," said Michael Heeringa, who, along with his wife, Dawn, works at Dodge Correctional Institute.
Many voters who chose Barrett in places like Jefferson, Waupun and Fond du Lac admitted they were voting more anti-Walker than pro-Barrett.
"I wasn't too happy with the field," said Scott Volkaitis, 52, a production assistant at a manufacturer in Fond du Lac who voted for Barrett. "I don't like the word loser, but Tom Barrett and Kathleen Falk are two-time losers. I just wish they would have ran a better candidate."
South of Stevens Point in the town of Pine Grove, Rodney McIntee, 79, said he was probably among just a few people he knew who voted for Walker.
"He's a good man," McIntee, a retired lumber worker said. "Why couldn't they just take their licking and come back the next election?"
Closer to Wausau, Karl Kersten said he voted for Barrett when he cast his ballot at Weston Village Hall but voted for Lt. Gov. Rebecca Kleefisch because he knew little about challenger Mahlon Mitchell.
"I don't quite agree with Walker, but I just know more about her," said Kersten, 56.
Gene Mengel, 46, of Weston, voted Tuesday for the first time since he was 18 years old. He worked 17 years at a Goodyear tire outlet but is now on disability. Mengel voted for Walker.
"He's got some good ideas and bad ideas, but I don't think the recall is right," Mengel said. "This (recall election) is a big waste of money."