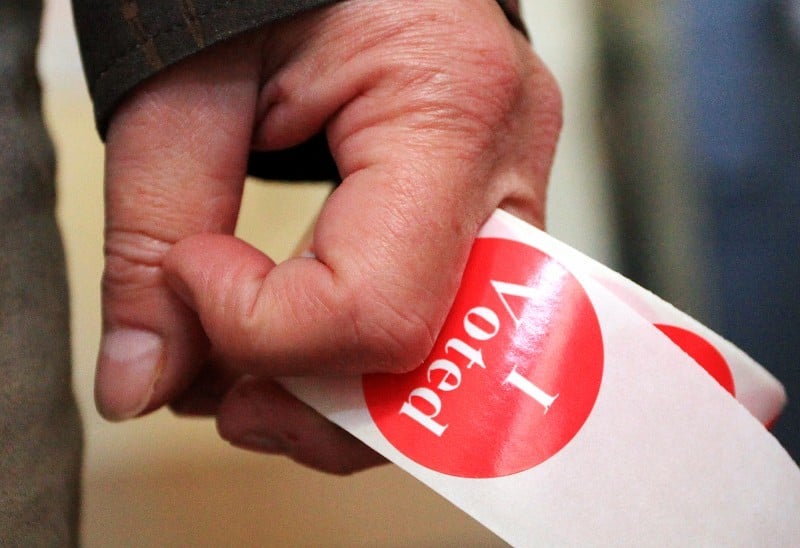 Steven Prieve saw a lot of interesting things in his 10 years of running a polling place in Madison.
The 59-year-old retired repairman watched as groups of Hmong immigrants arrived with translators in tow. He witnessed droves of students vote in their first elections. And he helped many elderly take part in some of their last.
But despite the thousands of people he helped over the years, Prieve never witnessed someone voting twice or trying to vote under a fake name.
"I just don't see the fraud," he said. "Not around here."
This week the state Legislature will debate a controversial measure requiring voters to show a photo identification before they can cast a ballot. The legislation, which proponents say will prevent people from voting illegally, would give Wisconsin arguably the most restrictive voter identification law in the country.
Proponents say combating voter fraud, no matter how rare, is a good thing. And they say it is reasonable to expect the same level of scrutiny for voting as for cashing checks, renting cars or using credit cards.
But critics say the measure is a solution without a problem. They say fears of voter fraud are overblown, and photo ID laws discourage many people from voting, especially college students, seniors, minorities and people with disabilities.
Few substantive studies back up either claim. Widespread voter fraud remains unproven, as does the allegation that photo ID laws suppress turnout. One thing is clear: The bill could cost the state millions at a time when Republicans are also fighting to dramatically cut the budget.
On election night in November, after it was clear Republicans would take control of the Legislature, the soon-to-be Senate Majority Leader Scott Fitzgerald, R-Juneau, listed passage of photo ID as one of his top priorities.
This week the Legislature's Joint Finance Committee and the Assembly are both expected to take up the bill. It is expected to pass easily and be sent to the Senate, where Fitzgerald says he will shepherd it through. Gov. Walker, also a Republican, has said he'll sign it.
"This is something that 80 percent of people agree with," Fitzgerald said. "I think it is a pretty low threshold to have someone show a photo ID to vote."
Wisconsin's bill, according to the Legislative Fiscal Bureau, would cost more than $5.7 million to implement. The measure would require voters to use a driver's license, state ID, military ID, passport, naturalization papers or tribal ID at the polls. Student IDs would be allowed, but would have to include a current address, birthdate, signature and expiration date. Currently no college or university ID used in the state, including UW-Madison, meets those standards.
Critics say Wisconsin's law could be more restrictive than the four states with photo ID laws on the books: Florida, Georgia, Indiana and Kansas.
Minimal impact on turnout
Indiana passed its law in 2005. Democrats feared the measure, which cost the state $10 million to put in place, would suppress turnout among certain groups.
"I still worry about the disabled, the poor and the homeless and whether their votes are being suppressed," said Luis Fuentes-Rohwer, Indiana University law professor and voting rights expert. "But so far no one has been able to prove disenfranchisement."
Fuentes-Rohwer said Indiana's law hasn't been around long enough for researchers to paint an accurate picture of the law's effect. The closest seems to be a 2009 study conducted by Michael Pitts, a law professor with Indiana University-Indianapolis. Pitts' study concluded that of the 2.8 million Indiana voters in the 2008 election, 1,039 arrived at the polls without a valid ID and were forced to cast a provisional ballot. In the end, only 137 of those voters returned with a valid ID and had their votes counted.
Similar concerns were expressed in Georgia, where lawmakers passed photo ID in 2007. To quell fears, officials there conducted an $850,000 education and outreach campaign that included thousands of radio ads.
Matt Carrothers, spokesman for the elections division of the Georgia Secretary of State, said the state has gone through 35 state and local elections since the law passed and so far there do not appear to be any problems with voter turnout. "If anything, the numbers have increased," he said.
In Georgia, minority voting increased dramatically between the 2004 election and the 2008 election. Indiana also experienced an uptick in minority voting. But election experts point out that the 2008 election, in which the United States elected its first black president, skews the results.
According to the Fiscal Bureau, about 20 percent of Wisconsin residents do not have the type of identification required under the bill. A 2005 UW-Milwaukee study found that as many as 55 percent of black men and 46 percent of Latino men did not have a state driver's license. That same study found that 49 percent of black women and 59 percent of Latinas do not have licenses. It's not known what percentage of those groups have other acceptable forms of photo ID.
The state's nonpartisan election watchdog, the Government Accountability Board, has also urged Wisconsin lawmakers to consider making "significant changes" to the legislation, citing the burdens it would place on local election officials and potential problems that could arise with absentee ballots.
Fraud concerns 'overblown'
Despite the fears raised by some, widespread voter fraud remains more myth than reality. Wendy Weiser, of the Brennan Center for Justice at the New York University Scool of Law, said most studies have shown that voter fraud is typically isolated and almost never affects the outcome of elections. Weiser said that in problem cases, the issue is almost never someone voting under an assumed name, but rather issues with procedures followed by election officials or improper handling of ballots or election machinery. 
"This issue is way overblown," Weiser said. "And to the extent that there is any problem at all, photo IDs would help nothing."
Still, the fear of voter fraud has energized the Republican Party across the country, and several photo ID drives are under way. A 2004 study in Ohio showed that the voter fraud rate for that state was .00004 percent. Yet, this year Ohio lawmakers are debating two voter ID bills.
One would require a photo ID. The other, supported by Ohio's Republican Secretary of State John Husted, would allow voters to use their Social Security numbers to verify their ballots.
"Elements on both sides of the argument are true," Husted said. "But the goal should be to create an adequate level of security, while also maintaining enough simplicity to encourage participation."
On a recent weekday afternoon near the UW-Madison Memorial Union, several students said the new law would not affect them because they have driver's licenses. But others said they would no longer be able to vote here because either their driver's licenses are from other states or their student IDs don't list their current address.
Michael Lasecki, 24, said he thinks the law would discourage a lot of student voters.
"They want to do this because of voter fraud, but I haven't seen any evidence that this is a serious problem," he said. "To make a big change like that, they should at least take more time to seriously look at the problem."