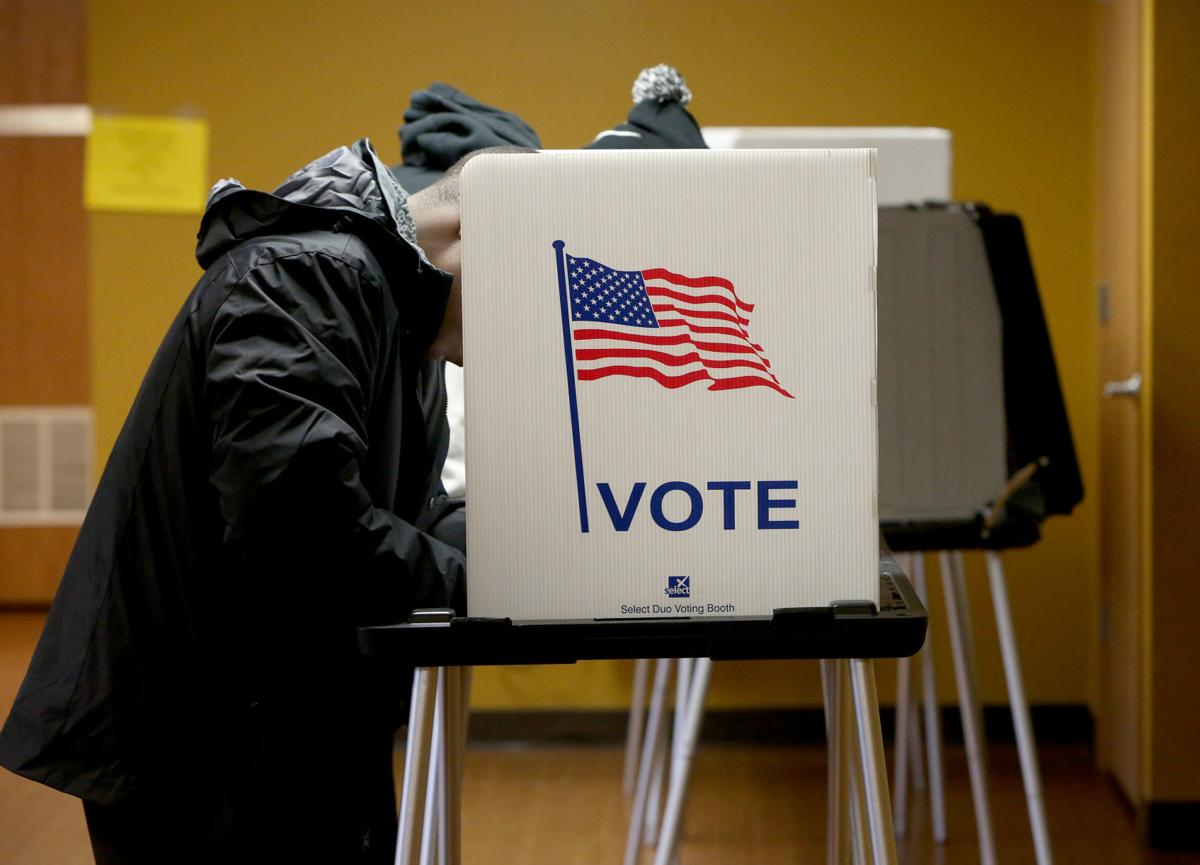 Top Republicans signaled Monday that changes may be needed to a proposal to move the 2020 presidential primary date, even as they charged ahead with plans to curtail early voting that could land the state in court.
The two measures affecting elections administration are among dozens of proposals in sweeping lame-duck legislation Assembly and Senate Republicans are considering on the floor Tuesday that would strip the incoming governor and attorney general, both Democrats, of some of their powers.
Two Republican senators, Rob Cowles, of Green Bay, and Luther Olsen, of Ripon, have spoken out against one provision that would uncouple the state's presidential primary from the April nonpartisan election and move it to March starting in 2020.
And Senate Majority Leader Scott Fitzgerald, during a Capitol news conference Monday afternoon, declined to confirm whether his caucus had the votes to pass the measure.
"I wouldn't say no," Fitzgerald said. "I think depending on what it would look like and how you move those dates ... it depends on how you approach it."
Gov. Scott Walker at an event at the governor's mansion later Monday indicated to reporters he expected lawmakers to make changes to the 2020 proposal.
Gov.-elect Tony Evers has said he believes there's still time to stop the plan, which he said would thwart the will of voters in the Nov. 6 election.
"This is a direct rebuke of the people of the state," Evers said in an interview.
Walker's and Evers' comments came as the Wisconsin Elections Commission said Monday it would be "extraordinarily difficult" to move the 2020 presidential primary.
The bipartisan panel voted 6-0 on a motion to inform lawmakers of the difficulties of moving the election, which could cost as much as $6.8 million and which a top Republican leader has said is aimed at helping re-elect conservative state Supreme Court Justice Daniel Kelly.
"It would be extraordinarily difficult to accomplish an additional election date given existing statutory framework," the motion says. "We are aware of multiple conflicts not resolved with this legislation and are concerned that completion of mandatory election tasks may not be feasible."
The presidential primary is set to coincide, as it has for decades, with the nonpartisan general election in April. Republicans are considering breaking off the presidential primary — which is a partisan election — and moving it to March 10.
If the nonpartisan Supreme Court election were held on the same day as the presidential primary, turnout among Democrats could be higher because the Democratic nomination for president is likely to be contested, whereas Republican President Donald Trump is likely to be unopposed for a second term. But moving the presidential primary date would result in three spring elections, including the spring nonpartisan primary on Feb. 18.
Republicans are also looking to shorten the window for in-person absentee voting to roughly two weeks before an election, which commission staff noted could make the state vulnerable to a legal challenge, as the proposed restrictions are similar to those struck down by a federal judge in 2016.
Fitzgerald said legislators are considering changes to that part of the legislation to lessen the likelihood of a successful challenge.
"Nothing is absolutely final but we're tweaking that," Fitzgerald said. "As a result of that, it might be in a better position when it goes to the federal courts."
Bruce Spiva, one of the attorneys who argued the 2016 case on behalf of the liberal group One Wisconsin Institute, said it's possible plaintiffs would again ask the courts to intervene if Republican lawmakers move again to restrict early voting.
The Elections Commission, made up of three Democrats and three Republicans, declined to take an official position on legislation to add a third spring election.
But commissioners from both parties said it would run up costs, confuse voters and create severe logistical challenges.
"I think the logistics of putting this together is a nightmare for the clerks," said Republican commissioner Beverly Gill.
Republican and Democratic members of the commission did differ on some provisions of the legislation, however.
Republican commission chairman Dean Knudson echoed Walker's comments last month in asking why partisan and nonpartisan elections are held on the same day.
Knudson said presidential preference primaries usually result in higher turnout for one party, and questioned whether holding partisan and nonpartisan elections on the same day makes sense in the long run.
Democrats on the commission criticized the proposed restrictions on early voting and the cost of moving the primary — something the state's county clerks overwhelmingly oppose.
In only two cases over the last two decades was the presidential primary not held on the same day as the nonpartisan spring election, and in both cases it was held the same day as the nonpartisan spring primary in February. The state has never held a completely separate presidential primary, according to the Elections Commission.
Since 1948, turnout in presidential primaries has averaged 37 percent of the state's voting-age population, with a high of 50 percent in 1960 and low of 22 percent in 2000. Turnout was 47.4 percent for the 2016 primary, according to the Elections Commission.