EAU CLAIRE — From the fourth-floor community room at software developer Jamf, employees can grab a local craft beer from the fridge, teleconference with mentors at Fortune 500 companies and take in postcard-perfect views of a revitalized downtown riverfront.
It's all part of company founder Zach Halmstad's strategy to create a vibrant work and living environment in Wisconsin's eighth-largest city — and a model state officials say should be replicated to draw the workforce of the future and to help address a growing worker shortage right now.
"It's not just hanging out a 'Help Wanted' sign and paying a competitive wage, it's the whole holistic environment," University of Wisconsin System President Ray Cross said of attracting workers. "It's creating the whole environment where these people want to live and hang out."
On a tranquil August day, Jamf employees in shorts and flip-flops walk their dogs through the office. Work notes are scrawled on glossy walls in meeting rooms decorated with local artwork. There are ping pong and bumper pool tables set out where software developers might hash out the next big idea.
"People work really hard," said Halmstad, 39, explaining in a manner as casual as his charcoal T-shirt and jeans how the work environment fosters stress relief, creativity and community.
The company has grown from 150 employees four years ago to 700 today, with 219 in Eau Claire, another 273 in Minneapolis and the rest spread around the world. The retention rate hovers at 98 percent, said talent acquisition manager Natalie Johnson.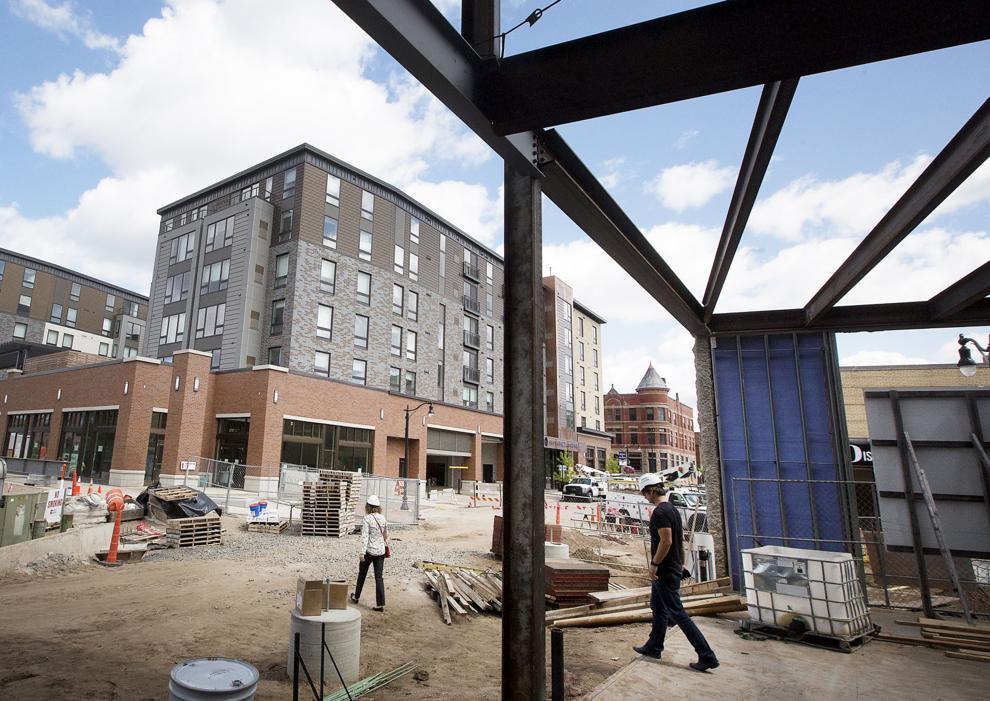 Yet, the secret to Jamf's success in attracting young talent to a city of 68,000 an hour-and-a-half east of the Twin Cities isn't just the trendy environs.
Johnson said the company decided in 2013 to build its talent development internally, reaching out to the local technical college and university systems and even local high schools to recruit interns, 80 percent of whom have become full-time employees.
Jamf — which produces device management software for schools, businesses and government organizations — offers opportunities for career development, management training and peer mentoring opportunities with companies in much larger cities that have much longer commute times than Eau Claire. Those big city companies also don't have an air hose and river tubing launch within a stone's throw of the front entrance.
"You can work in Silicon Valley without having to work in Silicon Valley," Johnson said of the Jamf experience.
Still — perhaps in a sign that Eau Claire and Wisconsin still have hurdles to overcome — the company's official headquarters and mailing address are in Minneapolis because of its size, access to other companies and proximity to an international airport.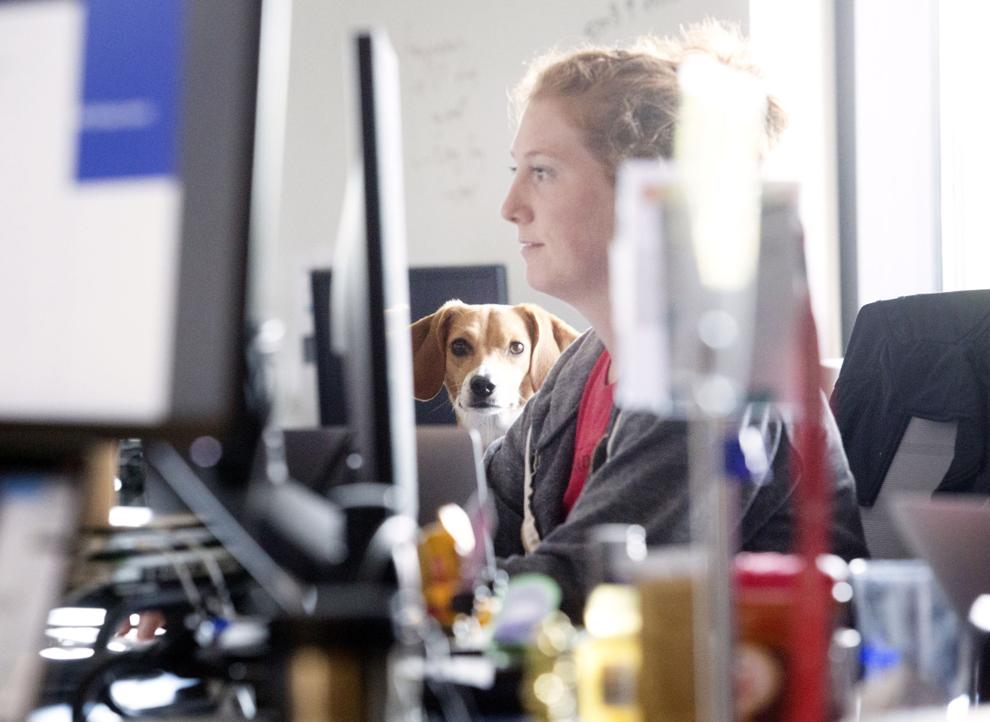 Laid-back atmosphere
The laid-back, millennial-friendly atmosphere extends beyond Jamf's luminous windows into the biweekly summertime music performances in adjacent Phoenix Park and across the Eau Claire River to the Confluence Arts Center under construction in what was once a blighted downtown.
"It's just a place full of opportunities," said Zac Scherr, 27, a Marshfield native who first came to Eau Claire in 2011 and has moved back twice.
Scherr works as an account representative at Royal Credit Union, which kicked off the downtown revitalization in 2003 when it used tax increment financing to build its headquarters in an area once known for crime and open-air drug dealing.
The city hosts half a dozen music festivals a year drawing a national audience. Railroad bridges that once serviced the shuttered Uniroyal Tire plant have been converted into pedestrian trails. The plant itself, after closing in 1992, became Banbury Place with repurposed office space, art studios and apartments.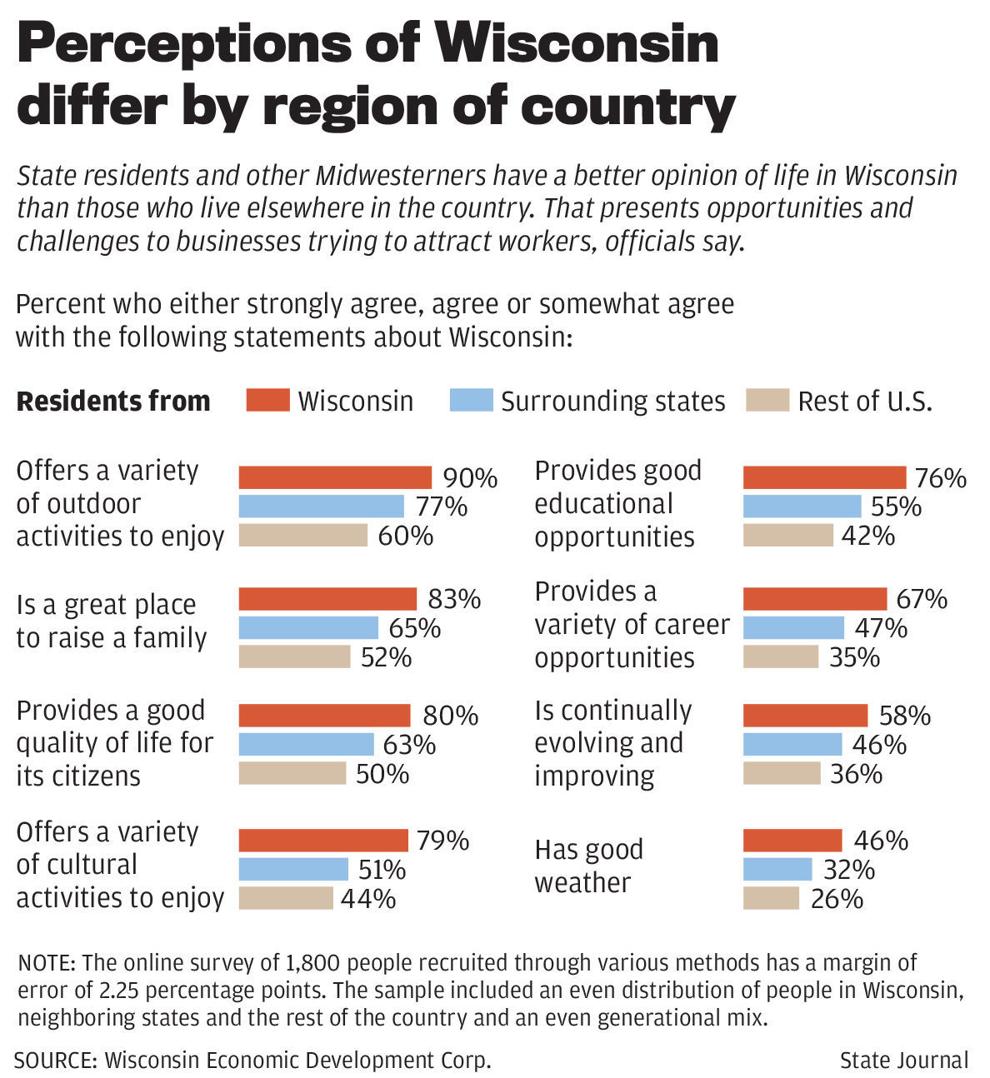 Visitors and people who grew up in Eau Claire but left for places like California, Colorado and Texas are returning to open shops and restaurants downtown, said Scott Rogers, workforce director for the Eau Claire Chamber of Commerce.
"If you talk to people you hear more stories about somebody moved back because they heard of what's going on," Rogers said. "We're probably just on the edge of that starting to happen."
Halmstad has emerged as a major booster of the city's renaissance.
The Eau Claire native studied music and computer science at UW-Eau Claire hoping to become a teacher, like his parents. Instead he turned the administrative software he developed while working for the university's IT department into Jamf in 2002. Within a few years he hired his first employees, working on a blue couch in an 1,800 square-foot storefront across the street from a rundown motel.
He has since taken a lead role in rallying the financial and political capital to revitalize the area.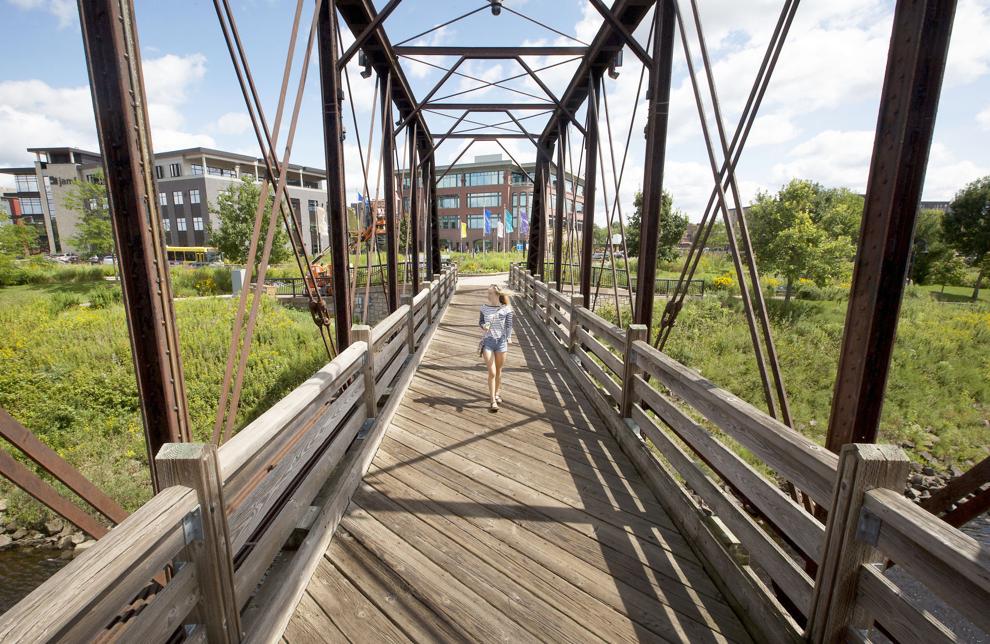 When opponents of the Confluence project pointed to the rundown motel across the street saying no one wanted to locate downtown, Halmstad and other investors, including Eau Claire native and Bon Iver front man Justin Vernon, bought it and turned it into an upscale Hilton named The Lismore, after Eau Claire's Australian sister city.
The investment in downtown is part of a broader philosophical approach about building the workforce of the future, specifically the importance of "placemaking."
The nature of the workforce has changed, Halmstad said in an interview with the Wisconsin State Journal. In the past people were looking for jobs and moving to where the jobs were located. Now they are moving to places where they want to live.
"We have a moral and financial responsibility to be giving the best quality of life," Halmstad said. "This is a healthy and happy kind of place for them to exist."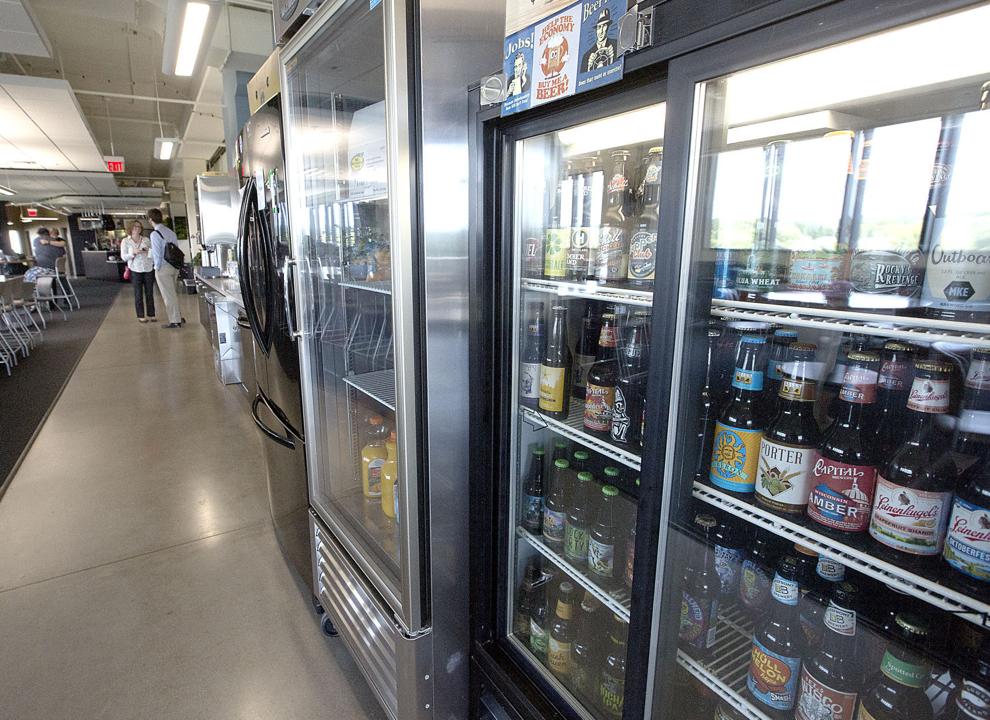 Addressing the shortage
There are other companies around the state like Jamf that are successfully navigating the tight labor market by offering good wages and benefits, creating nurturing work environments and developing a pipeline with the local K-12, university and technical colleges.
At Plymouth-based food producer Sargento the starting salary for entry-level workers with a high school diploma is $18.45 an hour — about $38,000 a year — with pay rising to $21.45 after 18 months.
The company offers full health benefits, bonuses and profit-sharing, and tuition reimbursement so workers can get a degree while working and later move on to other ventures.
Applicants have to demonstrate proficiency in reading, writing, math and work skills.
"We are keeping our standards high and we're not seeing a decrease in the number of applicants," Sargento human resources director Marilyn Morrissey said. "Part of that is word of mouth in the area about our culture and how we treat people and how Sargento is a good place to work."
Morrissey said Wisconsin has always struggled with attracting workers because of its proximity to Chicago and Minneapolis — major urban centers that draw young people.
"Once we are able to tell the story of Wisconsin — cost of living is great and there's great companies here — then we'll be better," she said.
Matt Guse, president and owner of MRS Machining in Augusta, has found success building a talent pipeline through a training program at Eleva-Strum High School. The program has about 70 participants in grades 7 through 12, or roughly a fifth of the total student population.
Students learn metalworking skills and eventually work in teams on actual repair projects. The program charges customers $30 an hour, with a third of that going back to the program, a third going to the school and a third going to the students, who last year each made $1,700.
"This program could save the schools money," Guse said.
Students who graduate out of the program work summer internships then get their engineering degree at a technical college or UW-Stout. After graduation they can make $17 an hour at the factory, with experienced workers making in the mid- to upper-$20s. Guse is able to hire one or two program graduates a year.
Retaining workers is a matter of creating a family atmosphere, Guse said.
"You have to cater to your employees," Guse said. "You can't be really rude, mean and discipline them. That's what people are looking for, they're looking for a comfort. If you're looking to be a number, you're not going to find that here."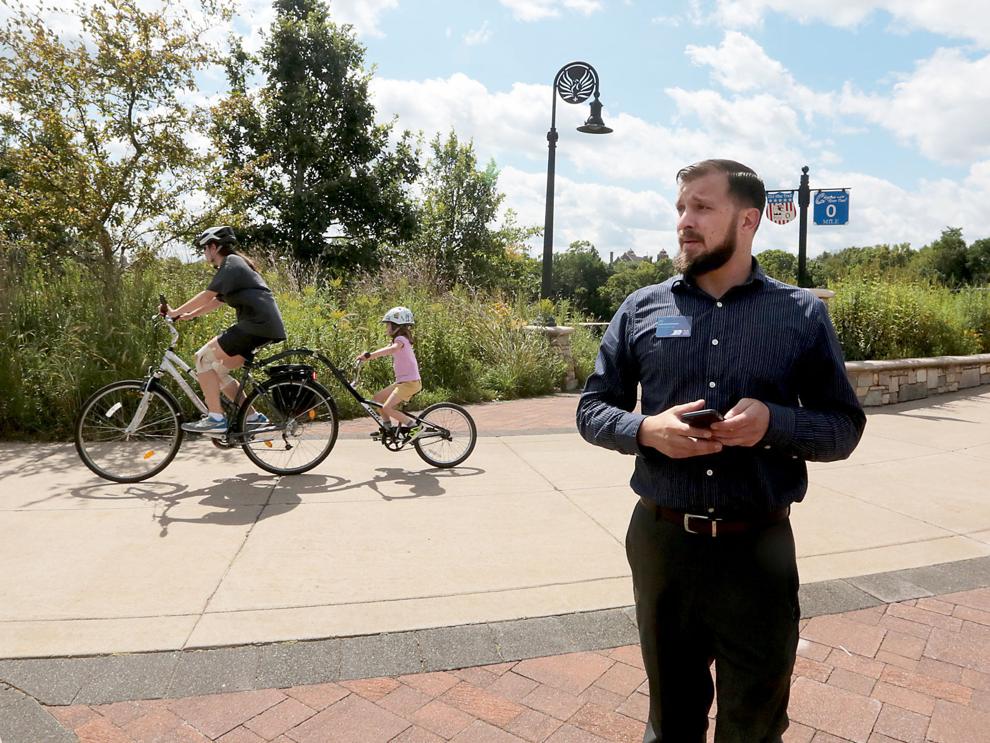 Workers first
State officials and business leaders point to Jamf's example and other companies and efforts to attract and retain workers as important in addressing the growing worker shortage.
Economic development organizations around the state that have focused for years on business attraction are now turning more of their attention to retaining and attracting workers.
"We've got to do things to recruit young professionals and millennials," said Steve Jahn, executive director of Momentum West, a regional economic development group in northwestern Wisconsin. "We need an all-out effort to recruit people back to Wisconsin. That cycles back to quality of life."