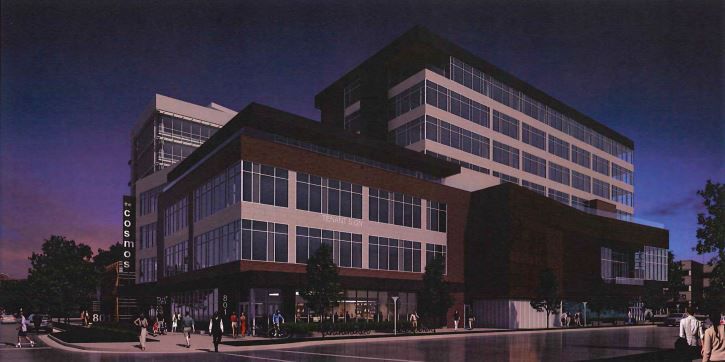 The Madison Plan Commission on Monday granted land use approval for an eight-story version of a major East Washington Avenue development, paving the way for office space and a music venue to join the burgeoning area of the city.
Members voted unanimously to allow conditional use permits for the construction of the $12 million Cosmos building. The 148,000-square-foot project by Gebhardt Development is planned as 100,000 square feet of office space, 8,000 square feet of retail and a 2,500-person-capacity music venue to be operated by Frank Productions.
"What we've seen up to now on East Washington has all been residential above commercial. To show the confidence in providing this amount of office space is significant," Chairman Ken Opin said.
Commission members approved a four-story concept of the Cosmos in December, while Gebhardt worked on design changes to satisfy requirements to build up to eight floors.
You have free articles remaining.
Roundly hailed by the commission as a good project for the space, changes were made, such as additional bike parking and rearranging loading zones, that addressed members' concerns from the previous meeting.
Coupled with the Cosmos on the 800 block, the eight-story Spark, developed by American Family Insurance, will hold company offices and provide space for the city-sponsored entrepreneurial hub StartingBlock Madison.
The eight-story Cosmos project will need to go back before the Urban Design Commission to gain final design approval. Gebhardt hopes to begin construction next month and finish by February 2018.A public plaza will separate the Cosmos and Spark buildings. Some Plan Commission members urged the Gebhardt development team to plainly mark the area as open to all.
A mixed-use, 10-story apartment complex is being constructed two blocks east of the Cosmos site, while Gebhardt built the Constellation and the Galaxie high-rises at the same intersection of Livingston Street and East Washington Avenue that will hold the Cosmos and Spark.
With the recent influx of residents and visitors to the Near East Side corridor, commission member Michael Rewey expressed interest in examining how to make crossing the avenue more pedestrian friendly, while acknowledging its out of the commission's purview.
"We have to take a better look at how we get people across East Wash," he said. "How do we get the people back and forth safely and comfortably? That's going to be a long-term issue we'll have to be looking at as we develop East Wash."