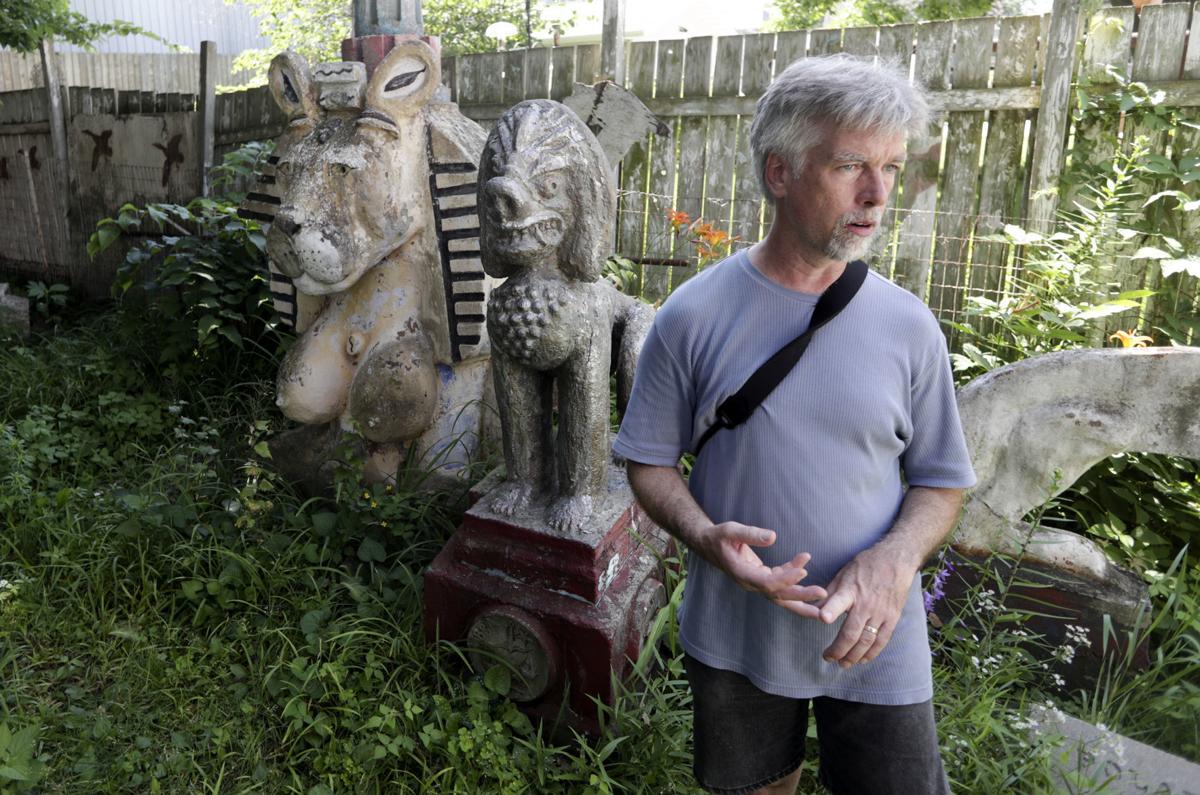 The dilapidated and long-vacant home of an East Side Madison folk artist whose quirky sculptures dot the Schenk-Atwood neighborhood is being purchased and much of the remaining art on the property moved to new locations for display.
Sid Boyum's home at 237 Waubesa St. — just south of Madison-Kipp Corp. and the Goodman Community Center — has been mostly unlived-in since 1991, when Boyum died, and today lacks electricity and running water and is considered uninhabitable.
Boyum is probably best known to Schenk-Atwood residents through his concrete sculptures in local parks and other public spaces — the polar bear chair in Elmside Circle Park, the hippo at Wirth Court Park, the man-eating mushroom along the Capital City Trail near Jackson Street.
Those and other pieces were moved from Boyum's property by volunteers beginning nearly 20 years ago, but plenty of other concrete pieces remain, including a pelican, a gargoyle and a fountain in the shape of a person's rear end. The interior of the home was similarly stuffed with sketches, paintings and sundry art pieces by Boyum and others, including some that Boyum had affixed to the ceiling and walls.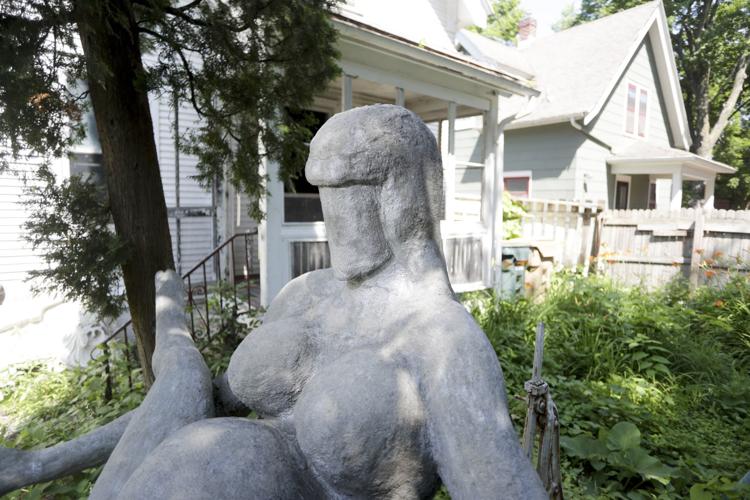 About 18 months ago, after the death of Boyum's son and heir, Steve, and with Dane County looking to foreclose on the 1,169 square-foot, 109-year-old home, a group of neighbors purchased the property for back taxes of about $28,000.
Since then, the Friends of Sid Boyum have fixed a raccoon-sized hole in the roof, rebuilt the front porch steps and done just enough work to keep the home from being a health and safety hazard, according to board member Brian Standing.
It has also held gallery-like open house tours and cleared out what board member Karen Bassler called "stacks and stacks of drawings, sketches and paintings." The good stuff went to the State Historical Society, she said, the rest into storage.
There were "easily 1,000 pieces," Bassler said. What's left includes cypress knees mounted on the front-room ceiling to resemble stalactites and the head of a carnival clown on a wall in the kitchen recreated in a circus motif.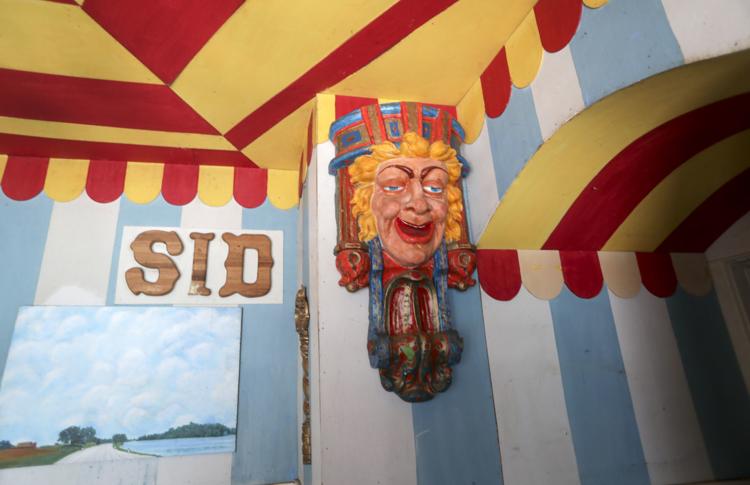 Although there has been talk in the past among Boyum aficionados of turning the home into a museum, Bassler said her group's intention was always to move out the remaining art and sell the home, with proceeds from the sale going to a trust that will pay for the maintenance of Boyum's work in new locations.
That long-term plan appears to be coming to fruition.
Bassler said the house was on the market for 10 days after being listed in late May for $100,000. There were 10 bids, all at or above the asking price, she said, including from a couple of buyers who wanted to knock the property down.
The group went with a local couple, both artists, who plan to renovate and live in the home, she said.
"It's really a tear down to the studs and rebuild," she said, although the foundation and basic framework of the home are solid and the new owners might incorporate some of the wall- and ceiling-built art into their renovation.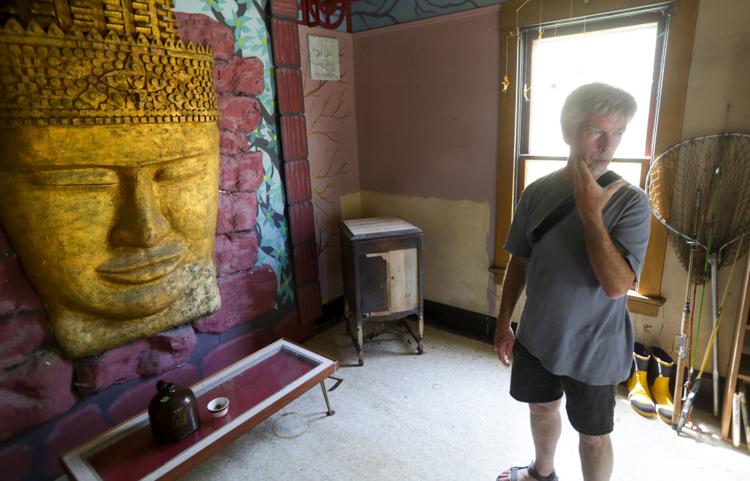 Bassler and Standing didn't want to reveal the names of the buyers or the exact purchase price until closing in late July. Standing worried that revealing the buyers' identities could imperil a sale that Bassler called the "best-case scenario" for maintaining Boyum's work.
The Friends will have access to the remaining 26 backyard pieces for 12 months after closing. Bassler said the group plans to get them assessed, and that many of them will need some restoration, but as of mid-June, the group had found homes for all but eight of them.
Various new locations
Among their new locations will be Greenleaf Media near Schenk's Corners at Atwood and Winnebago Street.
It has a back lot with a garden that is expected to become home to two pieces, including a three-item piece consisting of a gargoyle, a mustachioed man whose gaping mouth serves as an archway, and a star, according to Greenleaf principal Mary Walsh.
Walsh said she's toured Boyum's home and admired his other works around the neighborhood.
"I think they're nice public sculptures," she said, and Greenleaf is also offering to make wall space inside its offices available for some of the two-dimensional materials found in Boyum's home.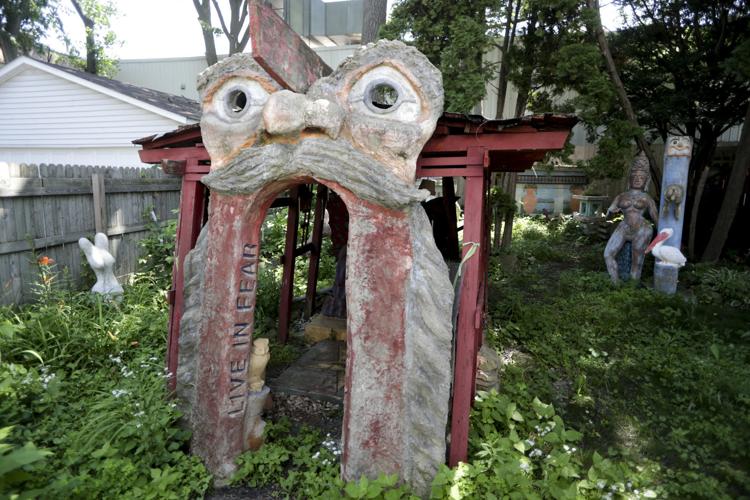 Edgewood College is taking five or more pieces, including a painting of a carnival horse and a print of one of the posters Boyum used to do for this newspaper for the opening of the fishing season.
"These give a good cross-section of the modes of Boyum's work, are of a scale that we can take care of and fit with our collection of works by other self-taught artists," said David Wells, director of the college's gallery.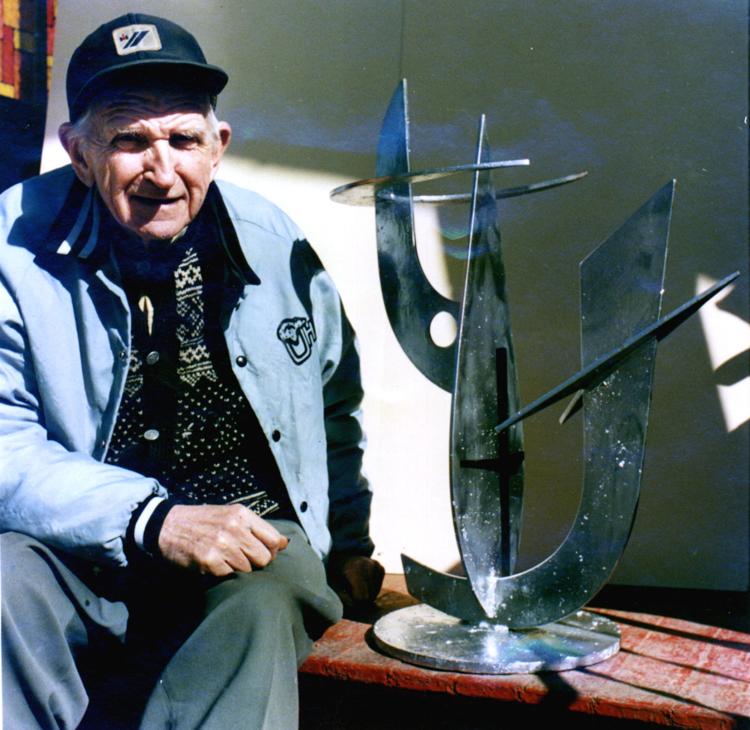 City of Madison arts program administrator Karin Wolf said the Friends group and the city are just in the "initial stages" of figuring out which Boyum pieces would be displayed on what city-owned properties.
Bassler said one idea is to have a couple in McPike Park, formerly known as Central Park.
Approvals needed
A formal proposal will need approval from the city Park Board and Arts Commission, and City Council, Wolf said, and "as with all of Sid Boyum works that the city has previously accepted, private contributions to an endowment will provide for the future care of the work."
Bassler said the group is also reaching out to the owners of the Garver Feed Mill — now undergoing a $19.8 million renovation for use as an artisan food-production facility — and the Union Corners mixed-used development at Milwaukee Street and East Washington Avenue to see if they might want some of the sculptures.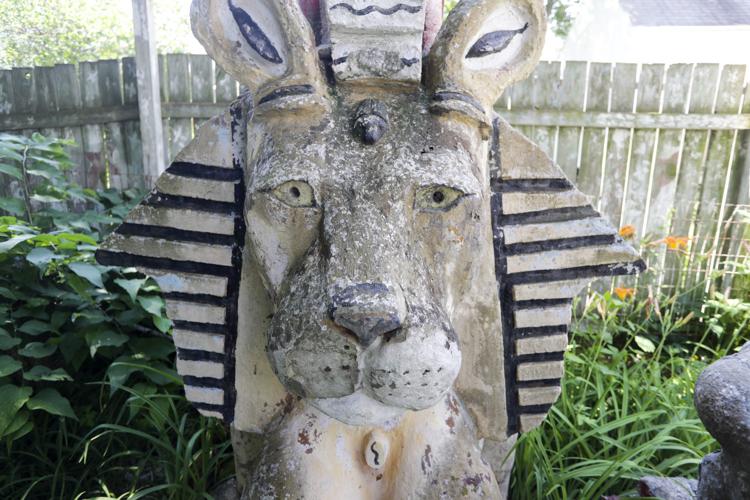 Ownership of the pieces placed on private property would likely remain with the Friends group, while Wolf said the city would own the ones donated for city-owned sites, just as it owns the other public Boyum pieces.
The second Boyum sculpture planned for what Walsh described as Greenleaf's "semi-public" back lot is a concrete nude of a woman in a Buddhist-like headdress. It's one of several female nudes in the Boyum backyard, including one of a seemingly pregnant woman with her hands outstretched in welcoming and her legs spread as if in giving birth.
The future owners have shown some interest in keeping that one, Standing said, but for other nudes, "we think we've got locations for most of them if not all of them."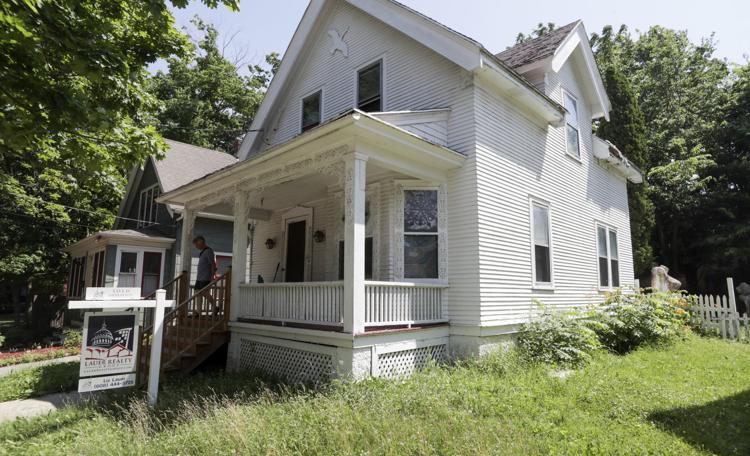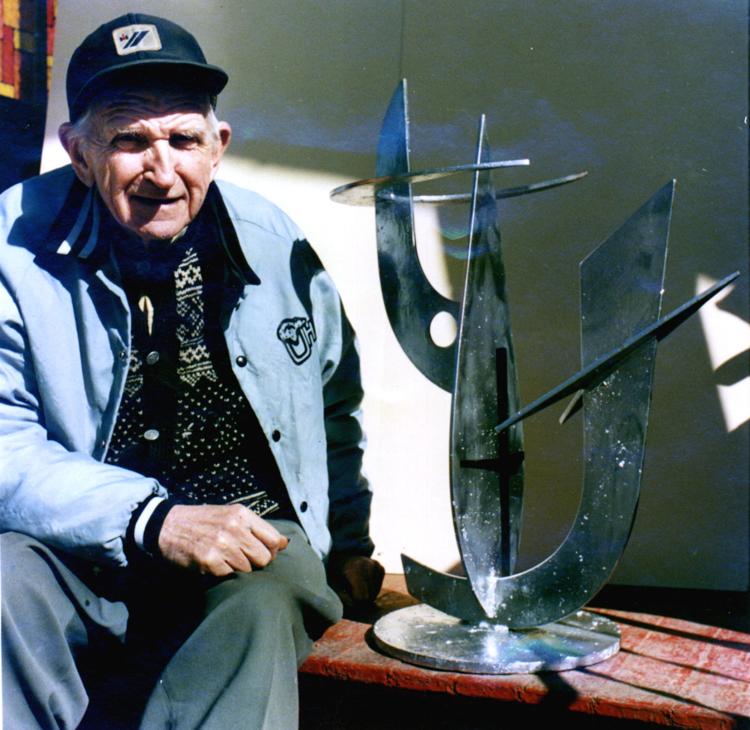 Get Government & Politics updates in your inbox!
Stay up-to-date on the latest in local and national government and political topics with our newsletter.