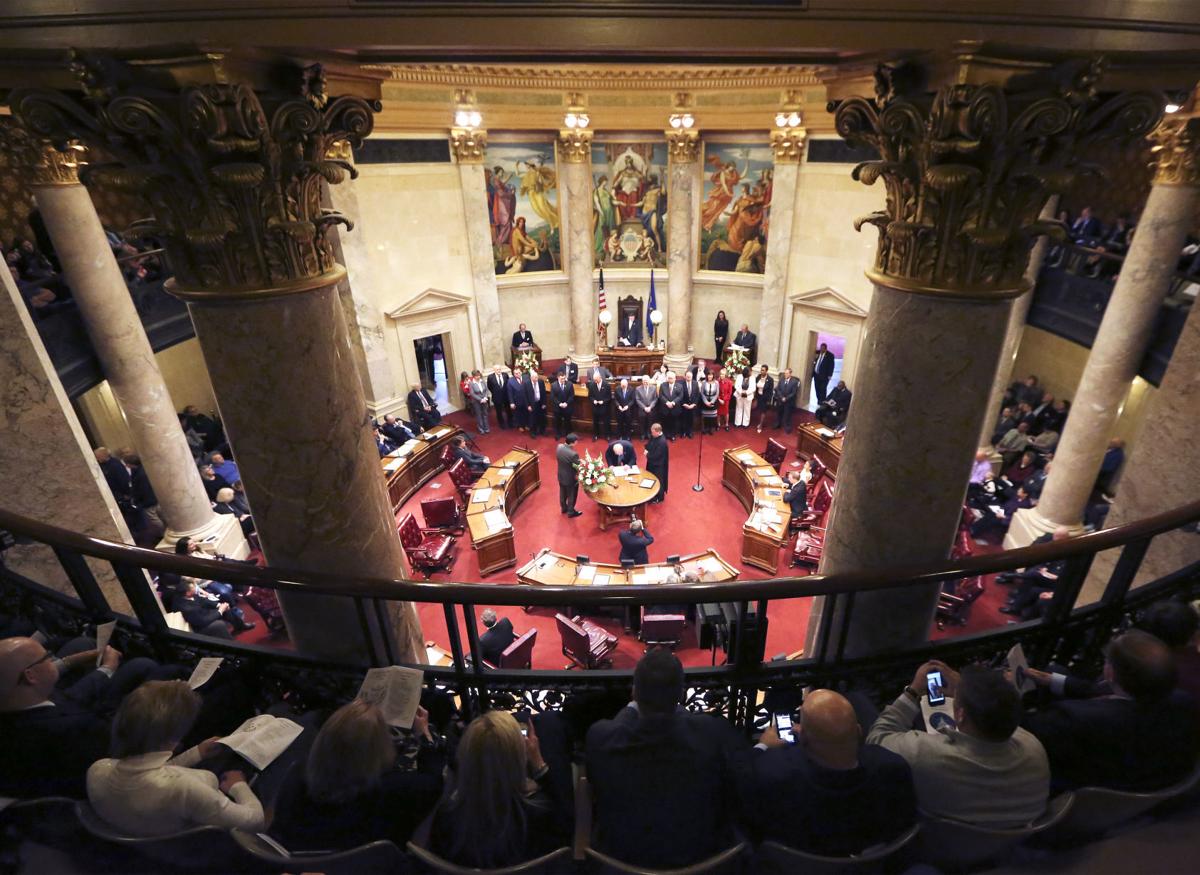 The bipartisanship on criminal justice issues that Wisconsin lawmakers demonstrated in 2018 when they passed a monumental juvenile justice overhaul appears to be fading.
Republican lawmakers this week introduced a package of "Tougher on Crime" bills that would provide increased criminal penalties and likely expand both the adult and juvenile prison population.
Less than a week before, Democratic Gov. Tony Evers and fellow Democratic lawmakers unveiled a package of criminal justice legislation of a seemingly opposite approach, setting incarceration limits for non-criminal supervision violations, expanding earned release eligibility and allowing for shortened community supervision options.
The substantial differences between each party's approach underscore the fact that movement on nearly every legislative issue has been hampered by discord between the parties under split government. Not even criminal justice reform is immune. It's a subject that once seemed promising for bipartisan progress after both Republicans and Democrats voted in 2018 to close the troubled Lincoln Hills/Copper Lake youth prison and approve a rewrite of the state's juvenile justice system.
"Criminal justice reform is a bipartisan issue," said Rep. Evan Goyke, D-Milwaukee, who helped Evers and others unveil a number of Democratic criminal justice bills last week. "It's one of those issues this session that really was the victim of the breakdown of bipartisanship in the Capitol."
An Evers spokeswoman said that while the governor needs to review the Republican bills in more detail, he opposes any measures that would increase the state's prison population.
For Republicans, the two criminal justice packages throw into sharp relief the difference between how Democrats and Republicans view criminal justice reform.
"(Democrats') version is everything they possibly can to prevent people from being incarcerated and our idea of criminal justice reform is to do everything we possibly can to protect society and build safer neighborhoods." said Rep. Joe Sanfelippo, R-New Berlin. "At times those concepts will clash."
The Republican approach is directly at odds with that of Democrats, who have prioritized reducing the state's prison population by as much as half while calling for investments in rehabilitative community programs they say would prevent crime. Republicans argue the Democrats' approach is misguided and wouldn't decrease crime rates.
"These bills push us in the wrong direction," Goyke said. "Forty-five states plus Congress have enacted some degree of criminal justice reform aimed to reduce penalties or reduce the prison population. The sky has not fallen in those states. You can reduce the prison population without compromising public safety."
Goyke had worked with a handful of Republicans on his criminal justice bills, but they later declined to name themselves as co-authors.
One of those Republicans, Sen. Alberta Darling, R-River Hills, said in a statement she decided to focus on the Republican bills because they have strong support in the Legislature. Sanfelippo said he expects the majority of the Republican bills will pass the Legislature this session.
Tougher approach
The GOP's legislation would toughen the state's approach to crime. Among other things, the bills would require the Department of Corrections to recommend revoking a person's extended supervision, parole or probation if the person is charged with a crime while under any of those programs. They would also prohibit certain violent criminals — those convicted of any violent felony or misdemeanor — from qualifying for early release from prison or early discharge from probation.
Under current law, for example, a number of violent offenses remain eligible for early release programs, such as child trafficking and abuse, bank robbery, arson and armed burglary. One of the proposed Republican bills would exclude offenders guilty of such crimes from being eligible for early release.
These bills would almost certainly boost the state's adult prison population, which is already slated to surpass an average of 24,500 inmates in the next fiscal year without any changes to policies. Despite a possible increase in prison population the bills would cause, Republicans didn't introduce any legislation that would provide the funds to expand the state's already overcrowded prisons.
In early 2018, Republicans advanced a similar bill that would have toughened parole revocation standards, but also tried to authorize $350 million in borrowing for a new prison and additional assistant district attorneys. At the time, the DOC had estimated the bill would have led to an increase of 600 inmates per year and prison costs of $57 million per year.
Another Republican bill would impose a 180-day mandatory jail sentence for third-offense retail theft, and another would seek to make it more difficult for prosecutors to dismiss charges of illegal possession of a firearm by felons convicted of violent crimes.
Youth prison
And as lawmakers struggle with closing down Lincoln Hills in time and providing smaller, regional replacements, another one of the bills would likely increase the state's juvenile prison population by expanding the crimes for which a youth offender may be placed in a juvenile correctional facility.
Already, the plan advanced by a key committee to partly replace Lincoln Hills with smaller regional facilities seeks millions of dollars more than the funding lawmakers provided and still doesn't meet the capacity needed.
Sharlen Moore, executive director of Urban Underground, a youth grassroots group, criticized the GOP's new juvenile justice bill for expanding the number of young people sent to juvenile prisons, preventing them from accessing restorative justice programs that allow youth to better understand the harm they've caused and how to repair it.