To the delight of pooches and their owners, Madison is preparing a $350,000 redesign — maybe with the city's first artificial turf for canines — for the popular but worn Brittingham Dog Park.
The near half-acre dog park, opened in the late 1990s, is the only fenced, off-leash dog park Downtown and is highly visible from John Nolen Drive between Bassett and Broom streets near Monona Terrace. It's part of a larger, 3-acre park parcel that also holds a basketball court and four tennis courts and much larger green spaces along Monona Bay that make up Brittingham Park.
"Despite its relatively small size, the Brittingham Dog Park has long been heavily utilized," said Downtown Ald. Mike Verveer, 4th District. "Many of my constituents report it serves as a social gathering place. The reality is, it's not only used by Downtown residents over the years. The dog park is used by non-Downtown residents as well."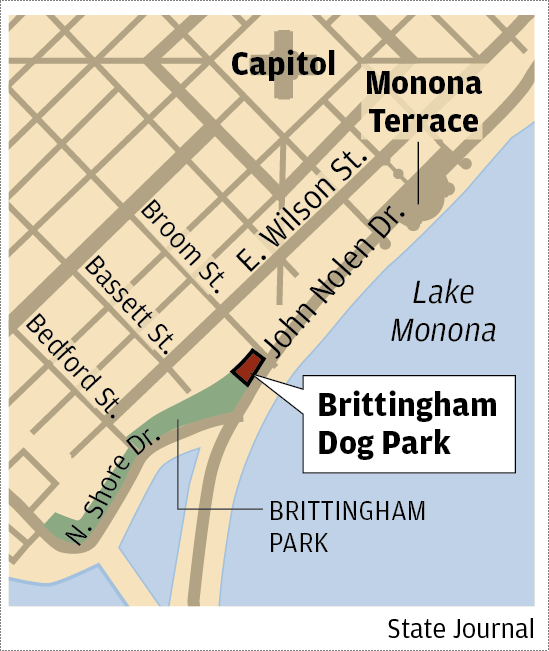 It's one of the city's eight fenced parks for off-leash dogs.
Despite its prominent location and high use, Brittingham Dog Park isn't much to look at, has drainage problems and lousy turf.
"The turf there is worn from so much use," said Sarah Lerner, a landscape architect with the city Parks Division. "The turf is having a hard time becoming established. It gets muddy during wet weather. It's not always the most pleasant to walk on. Right now, it's kind of like your backyard."
In 2016, after hearing concerns from dog owners, the city installed a double gate to prevent accidental dog escapes from the enclosure, which is near lots of traffic.
Last fall, Verveer secured $350,000 in the 2018 budget to make more improvements. He has scheduled a neighborhood meeting for 7 p.m., Wednesday in the Grand hall of Capitol Lakes Retirement Community, 333 West Main St., to discuss options to make the space more usable and inviting, and to produce a more attractive design.
"There's no denying the park could use a facelift," he said.
"We need to enhance the landscape architecture of the site so it reflects the aesthetic of the Downtown," Lerner said.
Possibilities include expanding the dog park without impacting the basketball and tennis courts, new fencing, landscaping, improved drainage and a different surface, officials said.
The surface options are pavement, stone, pea gravel, grass and a new synthetic material, the latter the most expensive and appealing because it drains well, is easier navigated by those with physical disabilities, and works well in all types of weather, Lerner said.
"It's designed a little bit different than what's used for athletic fields," she said. "A lot of urban areas are using this for dog parks."
If the community of dog park users is supportive, the use of artificial turf at Brittingham would be a pilot for use at other city dog parks, Verveer said.
City residents need a dog license and a Dog Park Permit, daily or annual, for any dog visiting an off-leash dog park or any of Madison's 26 on-leash parks.
Marissa Abbott, who was at Brittingham Dog Park with her dog, Clark, a mini schnauzer, and about half a dozen other owners and their pets on Tuesday afternoon, said the park is a great amenity but has some problems.
"It gets real muddy. That's the biggest disappointment," said Abbott, who said she is at the dog park every day. "It makes me feel great as a dog owner that they would invest like this."