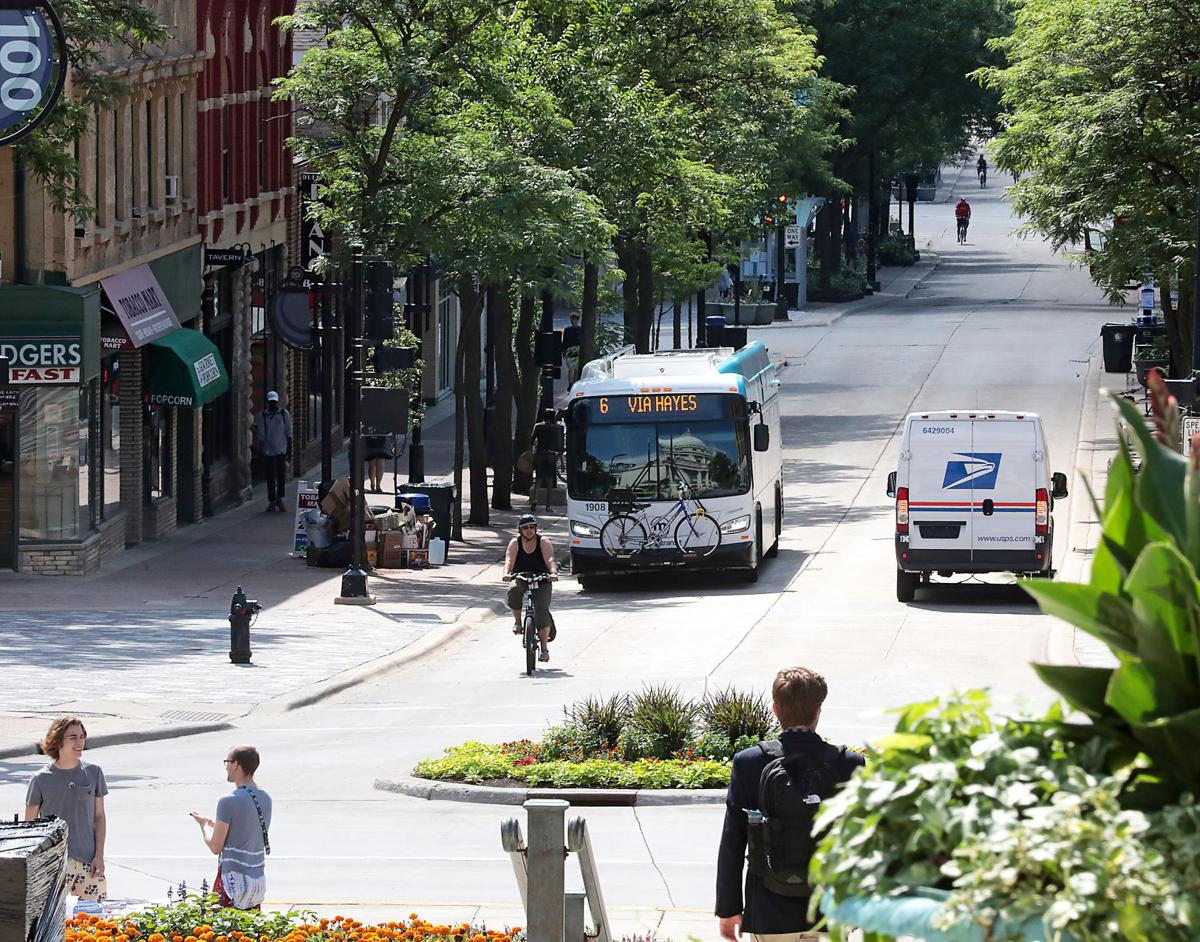 Downtown businesses are intensifying opposition to bus rapid transit and associated larger bus stations on State Street and are calling for a new, post-pandemic plan for the city's most famed thoroughfare.
But Mayor Satya Rhodes-Conway's administration is firm on keeping the bus rapid transit, or BRT, route on State while promising that stations will be "right sized" to reduce their visual impact, and said new initiatives are being investigated for the street, hard hit by the COVID-19 pandemic and destructive protests last year.
In a letter to Rhodes-Conway and city officials, the city's Central Business Improvement District, or BID, which represents more than 270 properties and 500 first-floor businesses, voiced support for the $160 million first phase of BRT but strong opposition to running the buses and placing the stations on State Street.
Running the route on State Street will set the future of the street for at least the next 50 years, making it harder to create an alternative vision to ensure the area remains an active, vibrant place for all, the letter says.
"We think that a small adjustment to the route could and should be considered," BID executive director Tiffany Kenney said. "Nothing is built, the plans are still being made, there is time and room to improve this plan."
The last Downtown plan was completed in 2012, but much has changed since then, the letter says. Commerce has evolved exponentially, something the BID said the city seems to recognize in planning for the future of the East Towne and West Towne areas but not the Downtown.
"A new Downtown Madison plan could and should take time to make sure it is inclusive and reflective of the needs of our community," Kenney said. "But in the meantime we can't have the BRT, which is only one element of a vibrant downtown, set the whole agenda and the future for State Street."
An informal group of business owners, employees, property owners and community members has also organized as "No BRT on State Street."
Capitol Square and State Street were identified as part of BRT's initial 15-mile route in 2013 and reaffirmed many times with substantial public input, city transportation director Tom Lynch said.
BRT, the city's biggest transit upgrade in 20 years, will run only on the 100, 200 and 300 blocks of the street, result in combining 10 bus stops into two and result in 50% less bus traffic on the street than in 2019 with a majority of the buses electric, Lynch said.
Sidewalk cafes and street vending areas won't be affected, although some sidewalk seating and trees would be affected, and BRT's 6 a.m.-to-midnight service would make it a viable option for those going out to dinner or shows or working late, he said.
"We believe the end result will be much less impactful that what is currently being portrayed," Lynch said.
Concerns with route
Opponents stress they are not protesting BRT, a high-frequency, high-capacity, limited-stop service that would run 60-foot-long buses on city streets and dedicated lanes with special stations.
Currently, the city intends to place two of the roughly 50-foot-long, 10-foot-wide stations on Capitol Square and two on State Street and another 30 or so on the initial route running from East Towne to West Towne.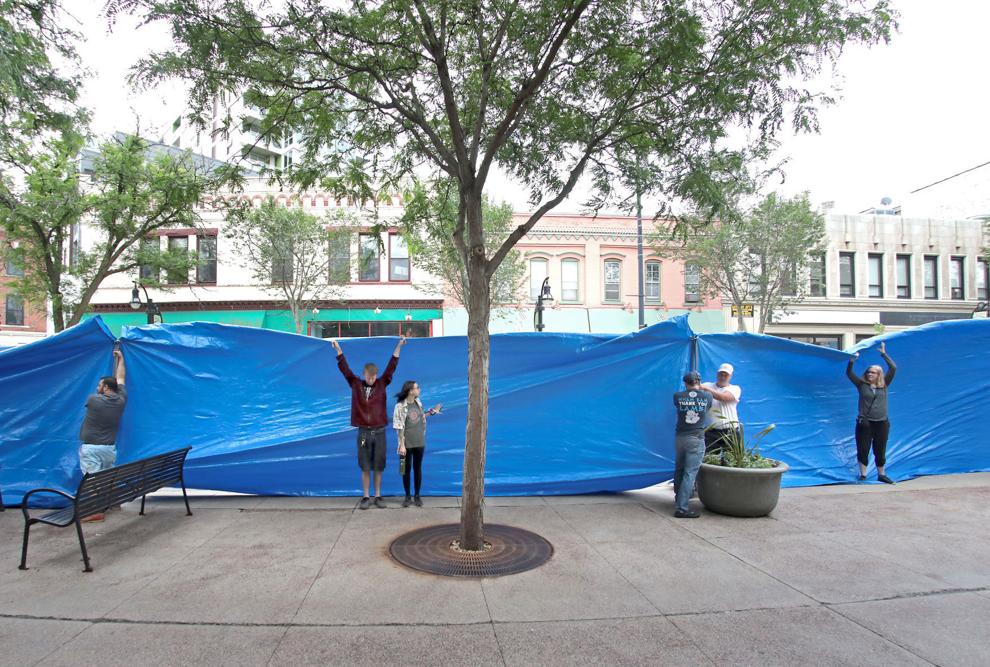 In March 2020, the City Council and Greater Madison Area Metropolitan Planning Organization approved a preferred alternative route that includes BRT buses running on State Street from Gorham Street to Capitol Square.
But Downtown Ald. Mike Verveer, 4th District, said he and others were assured the routing was an initial concept to help with a federal funding application and that it would be revisited, which led to a unanimous council vote with no discussion. Also, he said he was under the impression that stations would be similar in scale to those now on the Square and State Street.
BID members are concerned about an eastbound station on the 200 block of State Street and a westbound station on the 300 block. The scale and station locations may interfere with views of storefronts, create safety hazards in emergencies, attract negative behaviors and require trees, planters and other street amenities to be moved, they say.
Downtown also hosts hundreds of community events each year, and buses will need to be rerouted for the events to survive, the BID's letter says.
"A BRT that has to be rerouted more than 70-plus times a year is not a good plan," the letter says. "Why not choose an alternative, close-by route that does not require riders to find another bus stop when events are held."
"We ask the mayor and city leadership to rethink this small area of the BRT line," it says. "As a first step, we ask leaders to find alternative locations for the route and stations in the State Street area to minimize the negative and permanent impacts of the BRT — what should be an exciting and highly-anticipated feature to our Downtown."
Verveer, a member of the BID board, said he "wholeheartedly agrees" with the sentiment of the letter.
Alternatives sought
No BRT on State Street has offered an alternate route that removes BRT from Capitol Square and State Street.
"The community has several really good ideas, including (station) locations on Johnson and Gorham Streets, but a collaborative effort with the Metro team to explore them would be the best solution," Kenney said.
Changing the route is likely a hard sell to the council because the Rhodes-Conway administration has said it could lead to a delay in implementing BRT, Verveer said.
Construction is supposed to begin in 2022 with BRT buses in operation in 2024.
A route change would probably delay the project at least a year, Lynch said. "We would have to evaluate an alternate route, which also will have impacts with other stakeholders," he said, adding that a revised route would also have to be approved by committees and the City Council and forwarded to the federal government for re-evaluation.
There's also a small risk to the federal funding, he said. "Currently the political climate is amenable to implementing BRT, and we believe it is important to move forward while we have funding and support," he said.
Also, options that would reroute BRT a block off Capitol Square and on Gorham and Johnson streets to the west would limit the type of station that could be built and likely increase congestion since the bus would need to stop in lanes of traffic, Lynch said. Stations on those streets would also add substantial delay for riders each day, he said, undercutting the most important goal of BRT: speed.
"In short, Johnson and Gorham can be used as temporary stations for rerouting special events but are not a good site for permanent stations," he said.
Verveer said he believes a realistic compromise could rest in the location and scale of BRT stations, and that a State Street plan should be pursued.
"At a time we're devoting significant staff resources to plan for the East Towne and West Towne areas, it's critical we give equal treatment to State Street," he said.