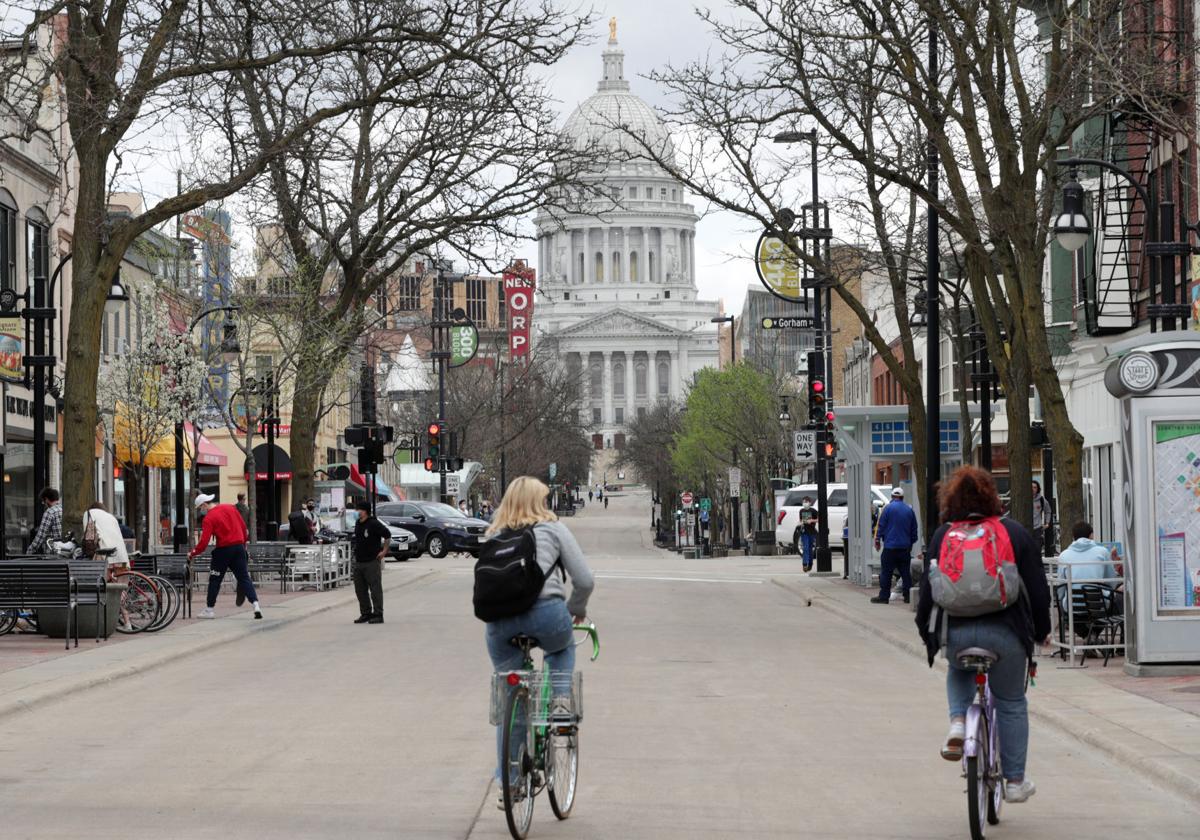 Downtown advocates are shelving a proposal to turn State Street into a pedestrian mall most weekends this summer.
But the push to transform one of the state's most famed thoroughfares isn't over.
Dubbed "Summer on State," the proposal would have allowed restaurants and retailers more space in the sidewalk and terrace areas to place dining tables or display merchandise, while pedestrians could use State Street without worrying about buses or the other limited vehicles allowed to drive there.
But at an April 14 meeting, the city's Transportation Commission heard concerns about accessibility, potential congestion and impacts on Metro Transit if buses are moved off State Street and asked the BID to provide more detailed information on its proposal. Commission members were largely against closing the entire six-block length of State Street but asked what the impacts could be of a temporary pedestrian mall on the 400 through 600 blocks, which are closest to the UW-Madison campus.
The commission may recommend or oppose the idea, but ultimately it's up to city staff to decide whether to approve it. The proposal doesn't need City Council approval.
In an April 21 email, BID executive director Tiffany Kenney informed officials that the BID did not intend to come back for an approval, saying it would require too much staff time and resources to only work on closing half the street and that the approval process was taking a lot of time — "time our businesses do not have to waste."
Kenney said the BID intends to direct its resources into supporting events and other projects that can enliven the Downtown.
"Our hope was to drive people to come Downtown to experience expanded cafes, outdoor shopping, art, music and more," Kenney said Thursday. "It would have and could have meant a lot. Not only would it have helped increase traffic to the businesses; it would have created a vibe on the street that was more positive, and we believe it would have shown a signal of support for our Downtown."
City Transportation director Tom Lynch declined comment on the BID's decision but said the city was willing to work with the group "to provide new ways to attract patrons to State Street."
"We believe that the Transportation Commission is open to exploring a pilot on the 400 to 600 blocks of State Street on weekends," he said. "The commission just needs more information about where the sidewalk would be occupied and how disabled access would be provided — similar to information provided for Streateries in other parts of the city."
Downtown Ald. Mike Verveer, 4th District, who supported the BID's proposal, said, "I'm disappointed we won't be able to enjoy reduced bus and other vehicle traffic on State Street this summer," but that he understands the BID's rationale and reluctance to pit one block against another and is looking forward to more special events that will allow the street to be used by pedestrians.
He has said he backs continuing efforts to explore closing the street to traffic.
Last year, the mayor and city staff used their unique pandemic orders to authorize closing State Street from Thursdays through Sundays, Kenney said. But few businesses took advantage of the program as most were boarded up or were otherwise affected by the waves of civil unrest. The BID wrongly assumed the city would authorize the program again, she said.
The BID, which represents property and business owners all along State Street, Capitol Square, King Street and the 100 blocks all around the Square, declined a partial closure for several reasons, she said, adding, "we need an effort that benefits a majority."
Businesses on the 100 and 200 blocks of State Street need the most support, and lack of help from city staff made the request for the detailed application too challenging, she said. "Time is of the essence. We need to support our remaining businesses now and begin to create an environment to draw in new businesses," Kenney said.
For this summer, the BID's first goal will be to support efforts to hold Maxwell Street Days, which historically is the street's second-busiest weekend of the year. It also hopes to add some creative lighting on the street and introduce new programs, Kenney said.
The BID still has long-term hopes to change State Street "but with a better, organized plan," she said.
"This long-term conversation may have hurt this short-term request," Kenney said. "Supporters of (Bus Rapid Transit) on State Street may have feared our program would have had great success and lots of community support."