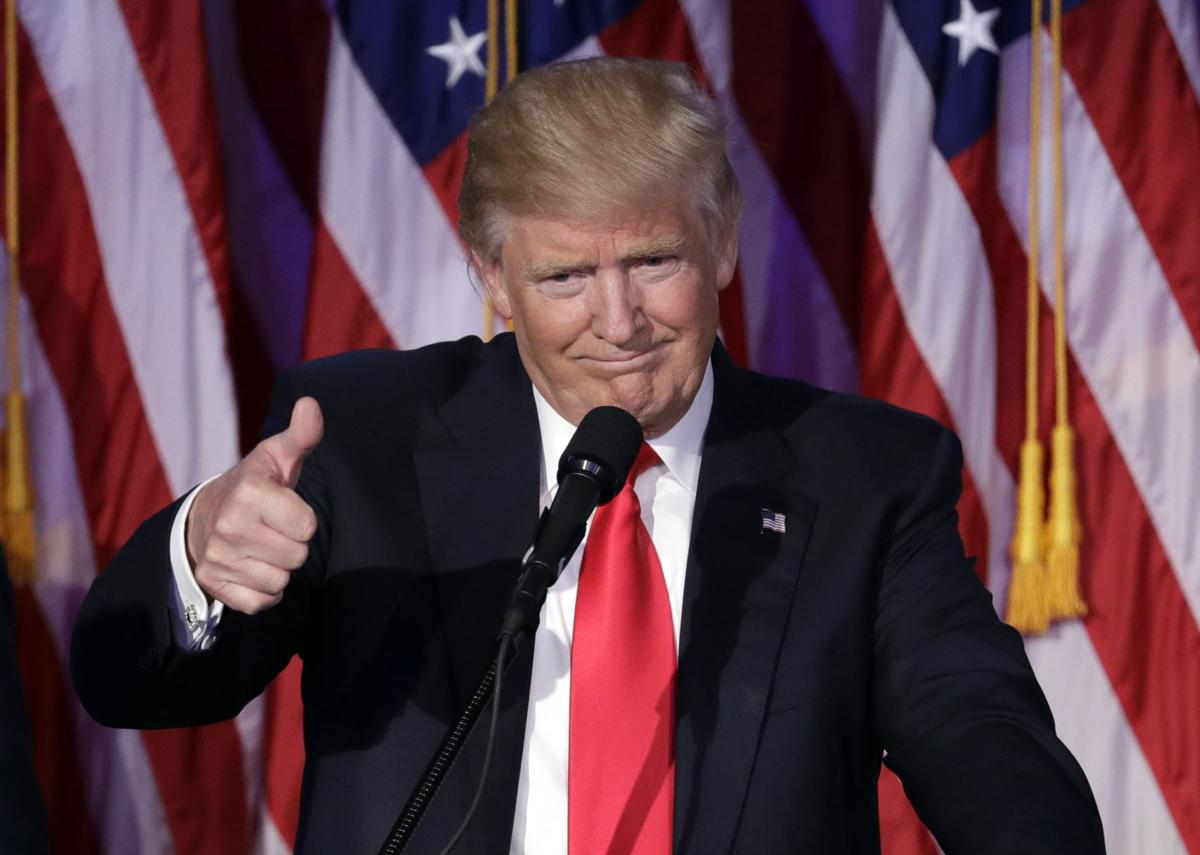 Republican Donald Trump won a stunning upset victory Tuesday in Wisconsin — part of a series of Rust Belt victories that propelled him to the White House.
The Associated Press called Wisconsin for Trump just after 1:30 a.m. Wednesday, immediately triggering a projection that Trump would win the national election after he was already declared the winner in Pennsylvania and Ohio.
Former four-term Republican Gov. Tommy Thompson, who ran for president in 2008 and Senate in 2012, said he called Trump briefly Tuesday afternoon and told him that he had a good feeling about the Badger State.
"It is the most incredible election I've ever been involved in," Thompson said. "The results are so overwhelmingly for Donald Trump and the Republicans that it is a smashing, smashing victory that is utterly incredible."
Based on polling, Democrat Hillary Clinton was positioned to win the state's 10 electoral votes despite becoming the first major-party nominee since 1972 not to set foot in the state. She held a six-point lead in the final Marquette School Law Poll conducted just over a week ago.
Sen. Tammy Baldwin said Tuesday afternoon she saw no signs that Clinton's absence created an enthusiasm gap among Democrats heading into Election Day.
"I can't tell you how many women my age, maybe older than me, whisper to me, 'I think we're going to make history tonight and start to tear up,'" Baldwin said.
UW-Madison political science professor Barry Burden said Clinton's decision not to visit or invest heavily in the state proved to be a mistake.
"This is one of the only states where the Trump ads outnumbered the Clinton ads," Burden said. "This may have been the only state where her ads were drowned out by his."
Trump faced a steep climb to become the first GOP presidential candidate since 1984 to win Wisconsin, a feat that became even loftier after he lost the state's primary to Texas Sen. Ted Cruz. Several top Republicans, including House Speaker Paul Ryan, initially kept the brash billionaire at arm's length, though they eventually came around to backing him.
Thompson, who embraced Trump shortly after he secured the GOP nomination, said Trump's win will put Ryan in the driver's seat if he wins re-election as House speaker — an outcome that seemed boosted by Republicans retaining a strong majority in the House.
"Trump doesn't have the policies, Paul Ryan does," Thompson said. "You've got Wisconsin in the catbird seat with Paul Ryan."
Thompson also said Trump's success Tuesday was a big win for Republican National Committee chairman Reince Priebus, of Kenosha, who was the architect of Trump's ground game in many states, including Wisconsin.
Thompson also predicted Trump could call on Gov. Scott Walker to serve in his cabinet. Walker has previously indicated he isn't interested in serving in a Republican administration.
"The best thing Republicans can do is get out there and govern, and govern correctly," Thompson said. "If you do, you could become the majority party in the United States for a long time."
Assembly Majority Leader Jim Steineke, R-Kaukauna, an early anti-Trump Republican in the state, credited Trump "for bringing a heck of a lot of new people into the process."
"It's obvious the pollsters missed it, everybody missed it," Steineke said. "A whole bunch of people in the country have felt disenfranchised over the years. They saw something in him that they could latch on to. The important thing now is we learn something from it and be responsible with the powers we (Republicans) have been given."
Trump campaigned hard in the state, making five visits over the past three months. In the final month his campaign spent nearly $2 million on advertising in the state. Clinton topped that amount in ad spending here in the final week, dropping nearly $3 million, according to figures compiled by The Associated Press.
And yet, unlike the past several presidential cycles, Wisconsin played second fiddle to other battleground states in the waning days of the campaign.
In 2012, President Barack Obama held a campaign rally with Bruce Springsteen in Madison on the day before the election. This year both campaigns sent their vice presidential nominees in the final weekend. The Clinton campaign's top surrogate to the state was Vice President Joe Biden.
Trump canceled an event originally scheduled Sunday during a Green Bay Packers game, the second time his campaign canceled a visit to southeast Wisconsin, the region that appeared to be the candidate's Kryptonite.
The final Marquette poll showed Trump tied with Clinton in the region surrounding Milwaukee, an area 2012 GOP nominee Mitt Romney won by nearly 20 points.
But election night results showed Trump improving on Romney's performance in every county in the state.
Sue Lynch, of La Crosse, past president of the National Federation of Republican Women, said in conversations with other GOP women around the country she kept hearing about the number of people coming out to Trump rallies and new people coming to headquarters and getting involved.
"That's what you saw," Lynch said. "Those people turned around today and voted for Mr. Trump."